Chasing his goals to the finish line: Alex Korczynski looks back on his cross country journey
Recently declared CAA Men's Runner of the Year for the second year in a row, graduate student Alex Korczynski sees no end in sight to his running career.
His list of accolades includes three first-place finishes, the title of CAA Individual Champion and a trip to the NCAA Championships this past November, where he was the first Husky to qualify in eight years. 
A dual athlete, Korczynski considers cross-country, or XC, more of a challenge, as track is his main sport, his specialty being the 3000m steeplechase. 
Cross country is on "the higher end of [his] range," he said. 
Korczynski started the sport his freshman year, after being admitted to Northeastern to join the school's track team. Since he was running the 1600m and 3200m races during track season, he would be running during the XC season as well. 
"It helps build a base for the other seasons after," he said. "It was mostly a guarantee I was going to be running it." 
Despite the initial challenge, Korczynski has more than excelled in the sport. 
"The first couple goals were to try and do well at conference and be in the top seven and top five for the team," he said.
After achieving that, he worked towards racing faster times at the regional meet every year, with the final goal of making it to the NCAA Championships. 
His coaches and teammates have been impressed with his success and growth. 
"To see an athlete like Alex, really, really begin to understand and tap into how good he can be, how far he can take this — that's one of the most exciting things," said Tramaine Shaw, the head coach of men's and women's cross-country and track and field teams. 
Shaw has been coaching the Huskies since 2009 and is currently in her fifth year as the head coach of both sports. She has witnessed Korczynski's journey since his freshman year. 
Shaw calls Korczynski a "true leader by example" and describes him as "thoughtful, pretty fearless and really intentional." She said Korczynski has more than met coaching expectations. 
"The goal is for [athletes] to grow with the program and grow with the coach and become more of a partner in the process as things go along," she said. "He's done exactly that.
Korczynski has been working with assistant head coach Matt Lonergan on a training regimen specific to him and his goals. This training is what led him to qualify for the NCAA Championships this past year.
In the 2022 NCAA Northeast Regionals, Korczynski finished with a time of 29:39.9, his best 10K time in his five-year career. His seventh place finish in the race gave him a ticket to the November championship meet.
He described how he felt during the race and his excitement "even coming down to near the end of the [Regionals] race." 
"I was pretty happy about it and tired at the same time, but glad I was able to at least go and experience that … I knew by the time I finished the race, where I was at, that I was gonna qualify. So I was just happy I was actually able to accomplish what I knew I could do," he said.
His teammates shared Korczynski's excitement.
"When we heard that he qualified, everyone was jumping on him and freaking out," said teammate Matthew Schaefer. "I mean, he was laying on the ground, he could barely breathe because he was so tired, but everyone else was really excited for him."
Korczynski's teammates are aware of his attitude of determination and goal-setting, and knew he could make the tournament.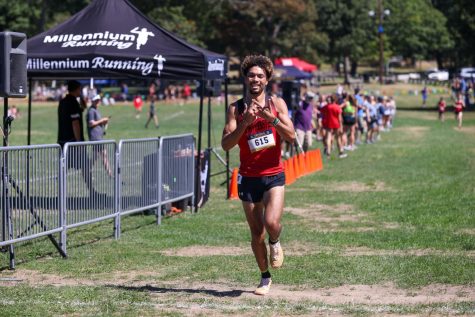 "We weren't really surprised. He'll do anything to reach his goals. He will set some crazy goals that no one will believe is possible. And then somehow he does it," Schaefer said.
Despite his excitement and happiness at the result of the race, Korczynski joked about his reservations about attending the race. 
"I just kept thinking about, 'Oh man, you know, I gotta do this again in like a week' because it was a pretty painful race," he said.
His teammates weren't able to make the trip to Oklahoma but watched the race on ESPN, where Korczynski was interviewed before his race.
"We had a big watch party in a classroom," Schaefer said. "So we all got to watch it and he did get a good amount of screentime right in the beginning of the race so it was fun to watch."
In the actual race, Korczynski said that his strategy was to get out ahead, but also to pace himself, not overdoing it. 
"I started to catch a cramp from 41/2 k to 51/2 k, and between that span, I went from being I think 48th to 104th," he said. "So I knew at that point, my goal was to be around 60th or 70th at the 5k because that's a good range to end up, like top 40. So I knew once that happened that I probably wasn't getting All-American and for me it was just about continuing to grind it out from there." 
Korczynski finished 96th of over 250 runners throughout 31 teams.  
Korczynski said he owes a lot to running itself, learning from traveling to high-level meets all across the country for both his sports. 
"While [the other runners] are incredible athletes, and it seems supernatural almost, they're all normal people," he said.
Despite his own "star status," Korczynski is described by his friends as "a funny guy" and "fun to be around," taking time out of training to have Nerf gun fights with his roommates and joke around.
Korczynski has made an impact on and off the course, leaving indelible marks both on Northeastern athletics and in the lasting relationships he's formed with his teammates.
"[Korczynski is] just a good guy, one of my best friends, proud of him, whatever he's done," Schaefer said.
Schaefer has been his roommate for five years, since freshman year, running both track and cross-country alongside him.
They met on move-in day, and have since become lifelong friends. 
There was a race this past season where the pair ended up running side-by-side. "We ran almost the entire race together. Every time one of us passed each other, we were patting each other on the back and saying, 'Come with me, Come with me.' And it was definitely my best race in my life…and he really dragged me to that, just wanting to beat him, which is something that doesn't really happen often," Schaefer said.
Schaefer remarked that Korczynski is a leader on the team, usually in front of the pack. 
"[He's] always feeling good somehow," Schaefer said. "He never has any bad days, which is really weird in a sport like running."
Korczynski explained that Schaefer's interpretation is due to a system he's stuck to since the beginning of his career.
"A lot of the time I set my goals really high, so that if I fall short it's still improvement," Korczynski said. 
He hopes to continue to chase his goals in the upcoming indoor and outdoor track seasons and have fun along the way for the remainder of his time at Northeastern. 
As for the future, it's still up in the air, Korczynski said, but "the goal is to go pro" and continue to inspire young runners.
"The way I've been able to be empowering through the sport has helped me inspire many others from back in my hometown," Korczynski said. "I want people back home to have those same visions that I've had — chasing and achieving their goals as long as they keep belief in themselves regardless of the limits other people may try to set on you."