On Thursday, Sept. 21, graduate student workers at Northeastern officially became a certified union in a vote that has been awaited since 2015.
After a surge of organizing in 2022 and 2023, Graduate Employees of Northeastern University, or GENU-UAW, held an election from Tuesday, Sept. 19 to Thursday, Sept. 21 in tents on Robinson Quad to certify themselves as a bargaining unit. Labor organizers canvassed outside of Snell Library, coordinated "voting parties" and left chalk messages across campus to direct graduate workers to the polling location during voting hours.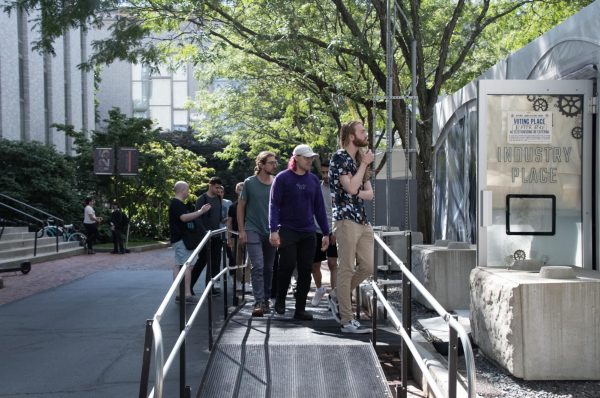 "We saw the pile [of ballots] get higher and higher, and of course you [know] it's a landslide, but you don't know which way," said Tim Rupprecht, a doctoral candidate in computer engineering, in an interview with The News after votes were tallied Thursday night. "Then you see that first check mark on the yes column go on the top of the tall pile and it brings a tear to your eye. It's invigorating and it restores your faith in your community and campus."
GENU-UAW is the most recent success story of graduate students unionizing. United Auto Workers, or UAW, is active in more than 45 U.S. colleges and universities, according to GENU-UAW's website. 
UAW represents more than 60,000 graduate workers, including the graduate employees of New York University, University of Massachusetts and California State University, according to GENU-UAW's website. 
Because it is now certified and recognized by Northeastern, GENU-UAW will soon begin the bargaining process with the university, in which it hopes to secure higher wages, improved medical coverage and equitable treatment of international students, among other demands.  
"Northeastern applauds those students who took the time to participate in the election," Renata Nyul, vice president for communications, wrote in a statement to The News Thursday night. "Now that voting has concluded, we will move to the next phase of this multi-step process. Our existing appeal of the proposed bargaining unit and other errors of law is currently pending with National Labor Relations Board, which has yet to issue a decision. We will assess next steps once the Board rules on our appeal, which may include commencing the collective bargaining process or additional avenues of federal review."
On Wednesday, while polls were open, the university petitioned the National Labor Relations Board, or NLRB, to review the regional director's decision and direction of the election, arguing the director erred permitting graduate students to vote to unionize.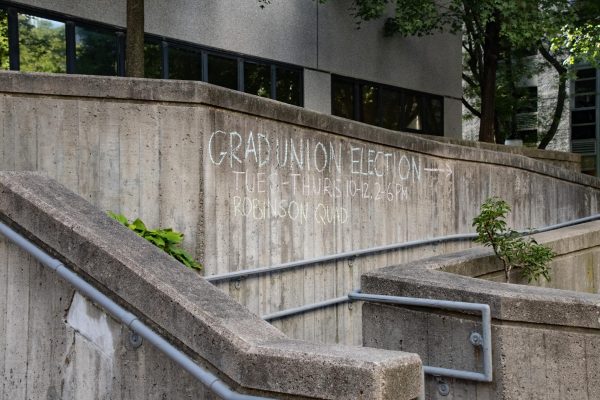 "We're feeling overjoyed. I think we feel like all our hard work has absolutely paid off," said Hunter Moskowitz, a doctoral candidate in history and organizer with the union, Thursday night. "It feels just like a great community effort. We all just feel like we supported each other so much and really looked out for each other, and that was the only way that we could make this happen." 
Established in 2015, GENU-UAW delayed efforts to unionize after the 2016 presidential election due to then-President Donald Trump's anti-union policies and the university administration's refusal to voluntarily recognize the union or support an election. In May 2023, GENU-UAW filed an unfair labor practice charge against Northeastern for harassing organizers, resulting in a condemnation of the university by the Boston City Council. The NLRB dismissed the charge.
In July, the NLRB issued a ruling directing the university to allow graduate students a vote to unionize, a crucial victory for union advocates.
"We're ready to keep working and bring them to the bargaining table," said Shahinaz Geneid, a JD student at Northeastern's law school and doctoral candidate in the School of Criminology and Criminal Justice. "I'm really excited. It's taken a long, long time to get here. I think I'm most looking forward to just like a renewed sense of excitement amongst all of the grad workers as we then start to try and organize to bargain a contract."
Members of the union have expressed concern for the implications of inflated costs and poor working conditions on graduate workers who are from lower socioeconomic backgrounds or are working internationally for wages that are considered unsustainable compared to Boston's rising prices. 
"Obviously we're gonna enjoy this for a little bit," Moscowitz said. "But the next thing is to get the university to the table. We're gonna fight for a contract."
Editor's Note: This story was updated Thursday, Sept. 21 at 11:20pm to include Northeastern spokesperson Renata Nyul's statement to The News.
Editor's Note: This story was updated Friday, Sept. 22 at 5:35 p.m. to accurately quote Tim Rupprecht.