Northeastern Crossing to engage community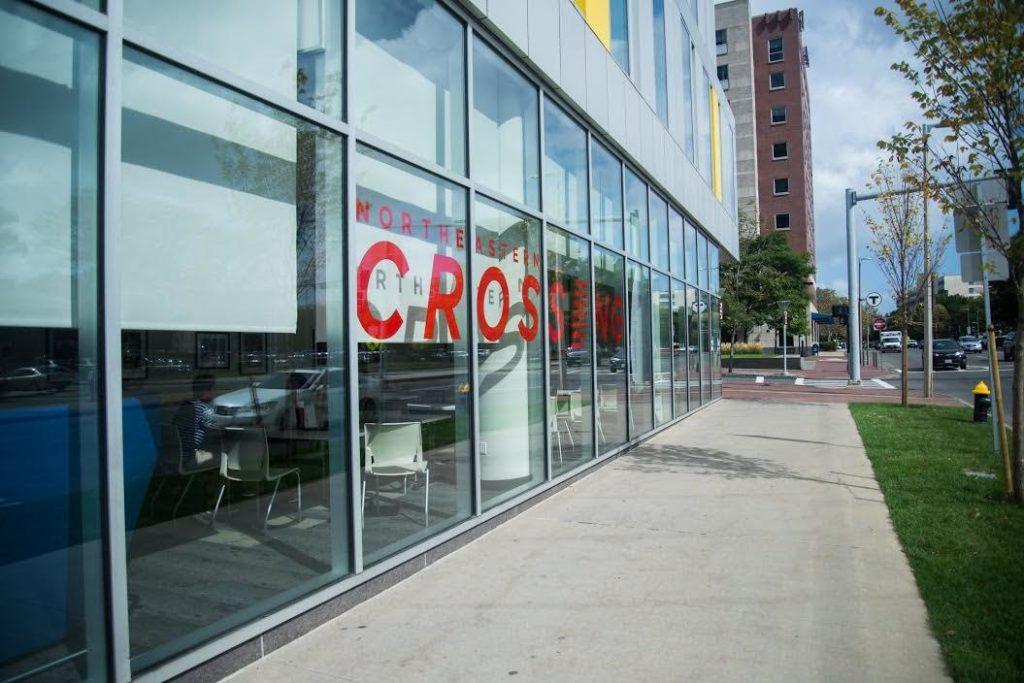 By Elise Harmon, news editor 
Northeastern Crossing, a new center intended to be a gateway to the university for local residents, formally opened with a ribbon-cutting ceremony on Monday.
Northeastern Crossing is located at the former site of Peet's Coffee & Tea and Jamba Juice on Tremont Street. The space was created as a part of the 2013 Institutional Master Plan (IMP) and is meant to be a bridge between Northeastern and the surrounding community. During IMP meetings with university officials and community members, local residents requested a space that they could come to without feeling out of place.
"Apparently, community members felt uncomfortable coming to campus even though Northeastern has resources available," Derek Lumpkins, the Crossing's director of neighborhood partnerships andprograms, said.
Mayor Martin J. Walsh, Northeastern President Joseph E. Aoun, Vice President for City and Community Affairs John Tobin and City Councilor Tito Jackson all attended the ceremony, which was open to members of the university, residents of the surrounding neighborhoods and community groups.
"The purpose of the Crossing is not only important for the community but important for every member of Northeastern," Aoun said. "We want the worlds not only to collide but to innovate. In so doing, we are not just making the community better, but also making ourselves better."
Walsh praised the university for engaging with the City of Boston and supporting the surrounding community.
"Northeastern connects students with the Boston community as well as with the international community," he said. "Making connections is what defines this school."
Jackson, who represents the Roxbury neighborhood as well as parts of the South End, Fenway and Dorchester, pointed out the huge disparities in the city. In Boston, he said, an average white family has $256,000 in net assets while a black family has $750. These numbers coincide with a report published by the Federal Reserve Bank of Boston in March.
"Higher education brings people higher, and we want to make sure that people who live across the street are also taken to the next level," Jackson said.
Northeastern Crossing includes four public computers, a conference room, a classroom and an art gallery displaying the work of local artists. Currently on display is the work of Ekua Holmes, a Roxbury resident.
The conference room will be open from 9:30 a.m. to 2 p.m. on weekdays for whoever wants to work there.
Lumpkins envisions the space as a place for coworking, where people with different interests and projects initially work separately, but have the opportunity to influence each other's work and collaborate.
At other times, the conference room can be reserved. The classroom, which seats 30 people in desks or has space for 70 without furniture, is also available for free by reservation.
Four public computers are open for public use by students and community members with a photo ID. The building is Wi-Fi-enabled.
Aneudy Gonzalez, a South End resident, attended the ribbon cutting with St. Stephen's Youth Programs, an organization that provides out-of-school opportunities for disadvantaged youth.
"This would be a great place for people," he said. "I see it as a community center, and I see it as a place where people can walk in and do what they want without any problems."
Currently, a language class called "English for New Bostonians" meets at the center every Tuesday,Wednesday and Thursday. Northeastern students in the Civic Engagement Program help tutor immigrants on the English language.
According to Lumpkins, Historic Boston Incorporated, a preservation organization, has expressed interest in holding its board meetings in the conference room and opening up parts of the sessions to those interested in its work.
Lumpkins wants people to see the space as something beyond a community center.
"Thinking of it as a community space really limits the scope," he said. "We didn't just want this to be a community space. We're referring to it as a portal [between the school and the surrounding neighborhoods]."
Northeastern Crossing is intended to have community-driven programming, so the university is looking for input on how to use the space.
"We're not going to say we know what projects the community needs to work on," Aoun said. "We're here in a listening mode."
Photo by Scotty Schenck