NU changes Title IX sexual assault hearing process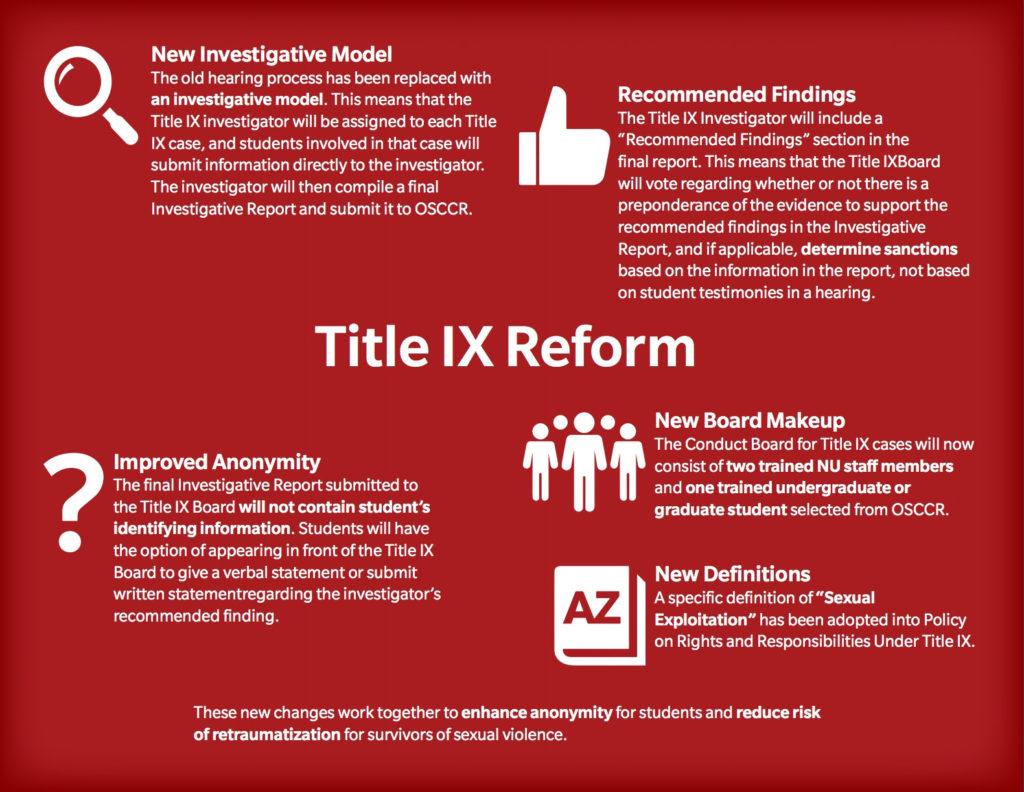 By Jasmine Heyward, news staff
The Northeastern Student Government Association (SGA), Office of Gender Equity and Compliance (OGEC) and the Sexual Assault Response Coalition (SARC) released a joint statement announcing changes to the university's Title IX policy on  Aug. 31. The policy went into effect Sept. 6.
The majority of the changes address how reports of sexual assault, sexual harassment, sexual exploitation, domestic violence, stalking and other prohibited offenses are investigated and tried. In the new policy, Title IX cases will be heard by a panel of two trained faculty members and one student instead of the general conduct board of five students. Evidence and statements will also be given to an investigator who will prepare a report with a recommended course of action. The report will include no names or pronouns.
Martha Durkee-Neuman, a former SARC e-board member and a senior human services and international affairs major, said that the past hearing process was draining and re-traumatizing for some students who had to tell their story multiple times and testify to a panel of five students in the same room as the accused party.

"Hopefully [the new policy] will encourage reporting because it will allow more students to feel comfortable coming forward," she said.
SARC policy advocate Allegra Mangione said that an increase in reports may not occur immediately due to a lack of trust among sexual assault survivors in Northeastern's administration's ability to handle Title IX cases in a survivor-centered way.
"I think it will take some time for the new policy and process to gain some rapport among students," said Mangione, a senior human services and international affairs major.
SARC campaigns for survivor-centered policies, but Mangione said the new policy is better described as "trauma informed." Both alleged victims and accused parties are permitted to request a variety of accommodations including housing and schedule changes. This helps students avoid triggering situations, but Mangione said it still wasn't survivor-centered to make a victim choose between staying in that triggering environment or uprooting their life with an unexpected move.
"You can change your own housing, but you can't change someone else's," she said. "I think we had hoped to make a couple things more survivor-centric but OGEC and other offices pushed back on that language. They wanted it to be fair first."
OGEC declined a request to comment.
For student advocates in SARC and SGA, changing the makeup of the conduct board was a priority. With a panel of five students, it was possible that a conduct board member would know someone involved in the case. While that student would be required to recuse themselves, they may see detailed information about the case first, Durkee-Neuman said. It was also possible that a survivor would see those students again after the hearing.

If the accused was found not responsible, it could be triggering for a survivor to see one or more of the people responsible for that decision in their daily life, Durkee-Neuman said.

Now Title IX cases will be heard by a panel of two trained faculty members and one student. SARC members, including Durkee-Neuman and Mangione, hoped to have no students on the panel. The final decision was a compromise with administration, which thought the student perspective on campus culture was important, Durkee-Neuman said.
"In our eyes, students should not be the determinants in cases of sexual violence at all," she said.

Administration representatives from the Office of Student Conduct and Conflict Resolution did not respond to requests to comment.
Another major change in the policy is a reduction in the number of people who are given identifying information for the students involved. Under the new policy, the majority of the investigation is conducted by an investigator appointed by the Title IX coordinator, Mark Jannoni. The investigator will write a detailed report of the incident, ending with a recommended verdict. This document will be reviewed by the Title IX Hearing Board with all identifiable information removed, including pronouns.

"The new reports are going to refer to people as affected party, accused party, witness one, witness two, witness three and we're going to remove all pronouns," Jannoni said at an SGA Senate meeting. "In cases where we're dealing with same sex partners or transgender partners, what we have seen—not just on this campus but across the country—is that there has been some bias."

SARC and SGA members including Mangione and Student Body President Suchira Sharma said that the lack of privacy may have been a barrier to students reporting their experiences with sexual assault.

"I hope there's more education around the anonymity surrounding a potential Title IX incident so that more students feel comfortable seeking resources, whatever that may look like for them," Sharma said.

SGA has been advocating for Title IX policy changes since 2014. Sharma, a senior finance and management major, campaigned on the issue with Vice President Paulina Ruiz when they ran for office in the spring.

Students who are victims of sexual assault or other offenses are permitted to request a variety of accommodations including housing and schedule changes, counseling and university "No Contact" orders. Sharma said she personally knows students who didn't feel comfortable asking for these accommodations because of the number of people who would find out about the incident during the investigation process.

"Our goal is allowing students to feel more empowered to take advantage of the resources that are offered to them," she said.

While the new policy is a win for student advocates who have been trying to remove students from hearings for more than three years, the conversation continues, Jannoni said. OGEC will meet with SARC bi-weekly, and is looking to establish connections with other campus groups, including Greek life.

"I think we've identified some reasons why maybe fraternities and sororities aren't quick to report these issues," Jannoni said. "What we'd like to do is collaborate with SGA and other organizations as well as fraternity and sorority life to come up with a plan."

SGA and SARC have also identified other areas where Northeastern can better serve survivors on campus, including creating more on-campus confidential resources, Sharma said. Currently, students find that they can't talk about an incident unless they're ready for an investigation.
All Northeastern faculty and staff—except employees at University Health and Counseling Services and the Center for Spirituality, Dialogue and Service—are Responsible Employees under Title IX, meaning that they are legally required to inform OGEC if they are made aware of a sexual assault or other prohibited offense. This includes resident assistants (RAs).
"[The large number of Responsible Employees on campus] has almost the adverse effect," Durkee-Neuman said. "The desired effect is to encourage reporting, but what it does is create a climate of fear."
Durkee-Neuman explained that students are not only discouraged from speaking with trusted faculty members or RAs, they also can't share their experiences in class discussions.

"Hopefully [the new policy] will encourage reporting because it will allow more students to feel comfortable coming forward," she said.
After successfully changing the investigation policy, Sharma hopes this type of collaboration between SGA, student advocacy groups and university administration can continue.
"We do believe that this collaboration can become the model for student advocacy and student organization at Northeastern," she said. "I'm excited to start the year off with such a success."