Occeus' return from injury sparks tournament run
Matchup ability has roots in his high school playing days
Shawn Occeus' habit of matching up with the opponent's top scoring threat, and often coming out on top, goes back to his high school playing days at Grandview Prep in Boca Raton, Florida. His junior year, his first year at Grandview, was a challenge because he wasn't used to coming off the bench. He had to adapt to playing against top-flight players.
"Grandview is the reason why I'm here today," Occeus said. "It taught me to play with great players and to play against great players because before that I was just playing against dudes that I was better than or weren't really challenging me."
In a two-day span last week, Occeus matched up with two of the best players in the CAA and finished the week with the upper hand, and a CAA trophy for his team.
After a year of dominance on the defensive end of the floor in 2017-18, most expected the 6'4" wing to pick up right where he left off in 2018-19. In many ways, he did — but he did so in significantly fewer games.
The junior guard's injuries were a well-noted storyline during the Huskies CAA championship-winning season. The reigning CAA Defensive Player of the Year only appeared in 14 of Northeastern's 33 games, and only started seven. He missed time from the start of the season until Dec. 8, returning for a matchup with Oakland. After catching fire and making the starting lineup for a stretch of games during the conference slate, he missed a big game against Hofstra on Feb. 2 and didn't play again until the conference tournament.
It was a difficult year for Occeus, but he was able to work his way to being ready to go for the CAA tournament, when his team needed him the most.
"A lot of people didn't see the work I put in when I was out, and I think I just owe that to the man above, my teammates and my coaches for giving me the support," Occeus said. "I knew I was ready, I looked Coach in his eyes, and I wouldn't want to go out there and disappoint my teammates if I wasn't.
"Once I told him I was 100 percent, I was 100 percent."
"A defensive stopper"
Occeus shined in the final two rounds of the CAA tournament, making his presence known against Charleston and Hofstra. He dropped 17 on Charleston while defending All-CAA First Team member Grant Riller. Riller was held to 10 points across 36 minutes of action, much lower than his 22.3 points per game average during the regular season.
Against Hofstra, Occeus drew Justin Wright-Foreman, the CAA Player of the Year and the second highest scorer in the country (26.8 points per game in the regular season). Occeus held Wright-Foreman to just eight points in the first half in a dominant NU display, before Wright-Foreman became unhinged in the second half and added 21 more during the Hofstra comeback. Occeus totalled four steals and a block on the defensive end and added 11 points in the championship game.
"Just try to make it tough for him and make sure he sees a hand in his face, especially him being a top-five or 10 scorer in the nation," Occeus said of his approach to the matchup. "It wasn't really just me. Donnell [Gresham Jr.] drew him a lot during the year and a lot during that game, so it was everybody collectively and the coaches gave us a great gameplan."
The Huskies beat Hofstra, 82-74, to secure their ticket for the NCAA Tournament and an opening-round matchup with Kansas on Thursday. Despite holding a 16-point lead at halftime, the Huskies allowed Hofstra to come back and tie the game at 54. They then went on a 17-6 run to put the game out of reach and made clutch free throws in the final minutes to seal the win.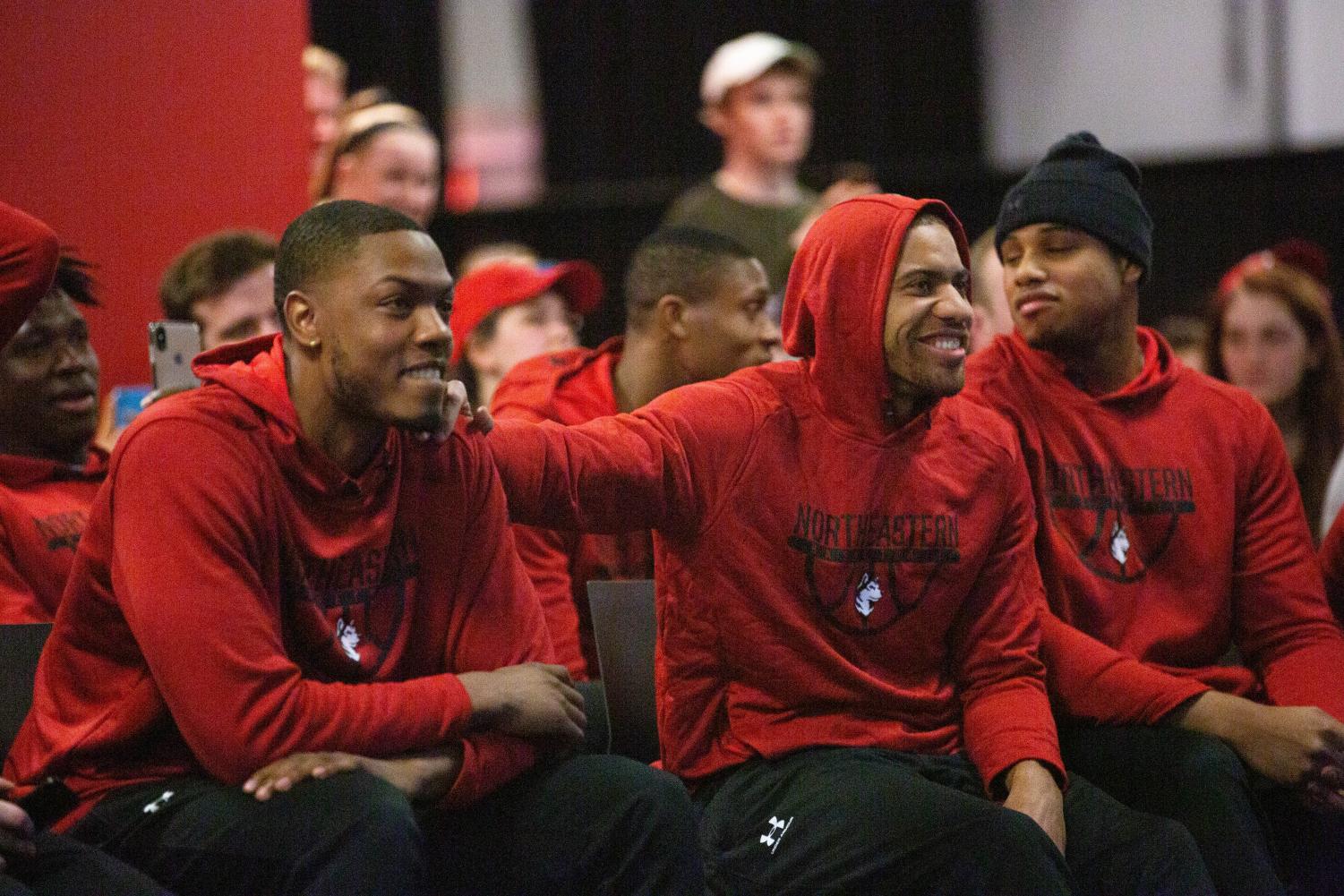 Occeus' CAA tournament performances earned him a place on the conference all-tournament team alongside star senior guard Vasa Pusica. Eleven points per game, 11-25 shooting from the field and 2.3 steals per game were his tangible stats, but his stout defense against some of the top players in the conference cannot be shown as stats alone.
"If you took a look at the CAA championship, you know what Shawn means to us," said head coach Bill Coen. "For him to go out there and play that type of defense on two of the premiere guards in the country — not in the conference, in the country, when you're looking at Grant Riller and Justin Wright-Foreman. To be able to give us that chance by being a defensive stopper and to help keep those guys under wraps, he's invaluable."
Occeus averaged 10.1 points per game this year in just 26.9 minutes per game. In his seven starts however, he averaged 13.7 points and set season highs in points (21 at William & Mary), rebounds (six at James Madison), assists (eight at William & Mary) and blocks (four at Hofstra).
"He's got really good players around him, they run a nice system, and he's got to guard the other team's best perimeter player up there," said Joe Dawson, Occeus' former high school coach at Grandview Prep. "On offense, he takes what's given to him and if he has an open shot or an open three, he's able to take it and knock it down. Obviously he's good in transition. Coach Coen and that staff really elevated his game since he's been there, put him in a great position to be a successful college player."
Not an ounce of negativity
During Occeus' two years at Grandview, Dawson said he came in as a player who did not have much experience playing with and against great players, but he adapted his game and became a more well-rounded player because of it.
"In his junior year he came off the bench, he didn't start for us and we were really good," Dawson said. "Then his senior year he started and obviously we went 32-0 and won the state championship that year. He was a big part of that. Again, he was, just like he is at Northeastern, our best perimeter defender."
Occeus averaged 13.5 points and 5.2 rebounds per game coming off the bench in his junior year at Grandview. Those numbers shot up in his senior year, as he scored 19.5 points per game and added 9.4 rebounds to go with that. He was named the Florida Association of Basketball Coaches 2A Player of the Year as a result of his strong senior year.
Some of Occeus' teammates at Grandview are playing at the Division II or Division III level, including Matthew Schner, who plays at Emory and averaged 13.5 points this season as Emory made the D-III NCAA Tournament.
"My first year [at Grandview] I came off the bench and I'm not used to coming off the bench, but I had to adjust because I was playing with guys who play Division I, Division II," Occeus said. "So it really helped me and prepared me to take on different roles, and also build the brotherhood and the family that I carried on to Northeastern, and really care about my teammates and my coaching staff."
Dawson praised Occeus' effect on his program as a leader on and off the court, with some of his biggest impacts at Grandview stemming from his attitude.
"He's a really hard worker and he's a very unselfish kid out there," Dawson said. "It doesn't matter if he scores, he wants his team to win and he'll do whatever it takes for his team to win."
Occeus spent the first two years of his high school career at Park Vista Community High School before making the switch to Grandview. The transition to the new school brought more challenges, but Occeus never lost sight of his goal.
"We heard a few things before he got to us that were kind of negative about him, but coaching him for two years, I've never seen that one ounce of negativity in him at all," Dawson said. "He was so driven to be a good player, and all he wanted to do was play in college."
Occeus and the Huskies face off against the Kansas Jayhawks Thursday afternoon in Salt Lake City. Despite the Jayhawks being NU's highest-profile opponent of the season and the game being on the biggest stage, the Huskies are not making changes to their approach.
"We scout their players, we scout their plays, and we just find the ways that we can pick them apart and their weaknesses," Occeus said. "This game is not anything different from the rest of the games that we've played, it's just another matchup, another team."