Fake Giving Day posters go viral, spark debate over NU fundraising
On Thursday, fake posters for Northeastern's annual Giving Day fundraiser popped up around campus with statements such as "You pay $67,800 to go here. Why not an even $70,000?" "Tired of having no place to study? Your donation could add one more seat in Snell!" and "ISEC was a $225 million dollar project. We need more of your money for Phase II."
Many Northeastern students did not know what to think.
"When I first saw it, I couldn't tell if it was real or not. But honestly, if it was, I wouldn't be surprised," said Elena Boggio, a first-year combined business administration and design major.
The posters linked to a website, www.givingdayneu.com, that listed some of the possible recipients of donations as "science," "college of science," "maybe housing" and "clubs or whatever." A photo of the fire on Hemenway Street last semester was laid behind the text.
Other than one section toward the bottom, the website mimicked the official Giving Day website closely. In very small font at the bottom of the site was the text: "This website and related posters are in no way affiliated with Northeastern University." The site has since been deactivated.
Giving Day will take place April 11. The university established the day for its "students, alumni, parents, partners, friends, faculty and staff" around the world to unite "to support Northeastern's trailblazing research, acclaimed athletics, global connections and so much more," according to the website.
Giving Day events are set to include free donuts and coffee, a free lunch from The Sausage Guy food truck, a pie-in-the-face fundraiser, a staff lunch and a senior-exclusive social catered by Chicken Lou's.
The fake posters were taken down throughout the day on Thursday but not before photos of the posters spread on social media. One photo garnered more than 43,000 upvotes and 1,000 comments on Reddit. Many users appeared to not know the posters were fake, with one user commenting, "Time to find a new school, that's absurd."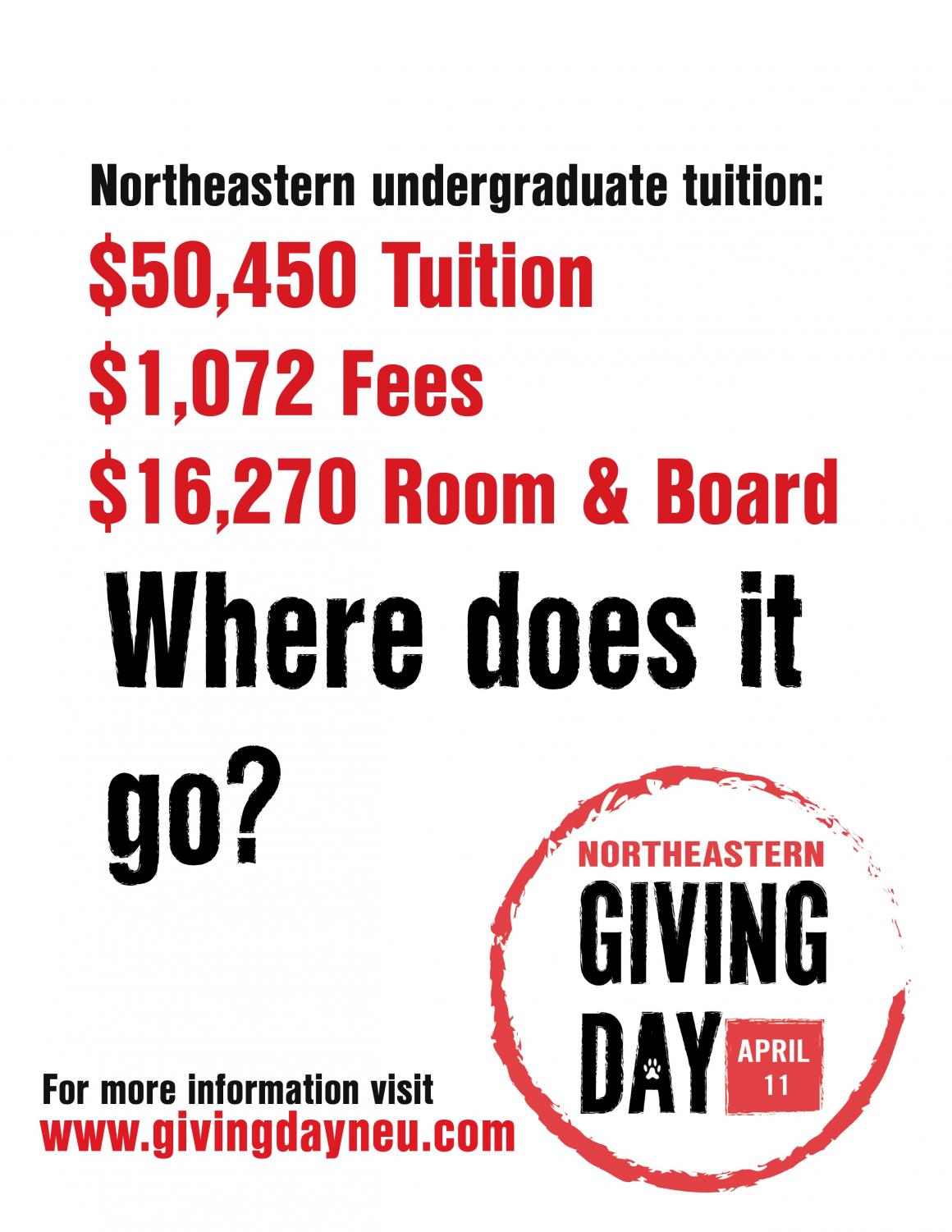 A photo even made its way into a Boston University student Facebook group with the caption, "Northeastern has no sense of shame."
The creators of the satirical posters and website have not revealed themselves to the public.
The posters' criticism of Giving Day is not isolated — across the Northeastern community, Giving Day does not have a good reputation among many students.
Echo Gagush, a first-year mechanical engineering major, said Northeastern's marketing of Giving Day shows that the administration does not understand the student body.
"I'm curious how effective giving day has been in the past and why the school is continuing to do it, even with the backlash. Do they not notice how much their students dislike it?" Gagush said.
A university spokesperson said Giving Day is a positive occasion for the school.
"Every year, thousands of Northeastern alumni, parents, students, friends, faculty and staff participate in Giving Day," said Renata Nyul, NU's vice president for communications, in a March 26 email to The News. "It's an opportunity for the Northeastern community to show their spirit and enthusiasm, and the university is grateful for their generosity and partnership. At the same time, one of the hallmarks of a great university is people feeling free to offer alternative viewpoints. It's called academic freedom."
Gugash said that even the real Giving Day advertisements around campus could have a negative effect on prospective students.
"The signs that are plastered around buildings are semi-invasive, and I feel like they don't present a good image of Northeastern to prospective students," Gagush said. "I would not want to go to a college trying to pressure me into paying more money."
Ben Winslow, a fifth-year industrial engineering major, said Giving Day is often misunderstood.
"People think it's just more money for NU to use at their discretion, when in reality it encourages alumni and students alike to donate to the changes they want to see in Northeastern," Winslow said.
Winslow pointed out that when making donations, contributors can choose where the money goes.
"Alumni donations increase NU's national ranking, which is good for everyone," he said. "If you're in any student organization, large amounts of your funding can come from Giving Day. If you want to see certain causes get more attention, donating to that cause is a great way to be the change you want to see."
Some Northeastern parents and alumni are among those expressing concerns about Giving Day.
Gayle Pickering, whose son is a fifth-year student at Northeastern, said she has mixed feelings about the fundraiser.
"On one hand, I can understand their push for money," said Pickering, from Sag Harbor, New York. "On the other hand, I've spent five years writing checks. I'm a bit over the request for money. But, if that's what it takes to run a first-rate, diversified university in a great city, I'm okay with that."
Laurie Ayala-Alvarez said she believes paying tuition for her son, a health science major, has been enough of a donation over the past four years. She said she gets calls and emails about Giving Day every year and often laughs at them with her husband.
"I find it almost offensive that they have the nerve to ask parents who are currently paying upwards of $70,000 a year for money," said Ayala-Alvarez, who lives in Brewster, New York. "I think it's insane and they shouldn't do it."
Andrew Mensch, who graduated from Northeastern in 1987 and now lives in Randolph, New Jersey, said he has conflicting views as both an alum and a parent of a first-year communication studies major.
"As an alum, I think it is a great idea," he said. "As a parent who is paying for school, I think that asking for donations while we are paying ever-increasing tuition every year isn't effective or right."