After Epstein protest, MIT students host community forum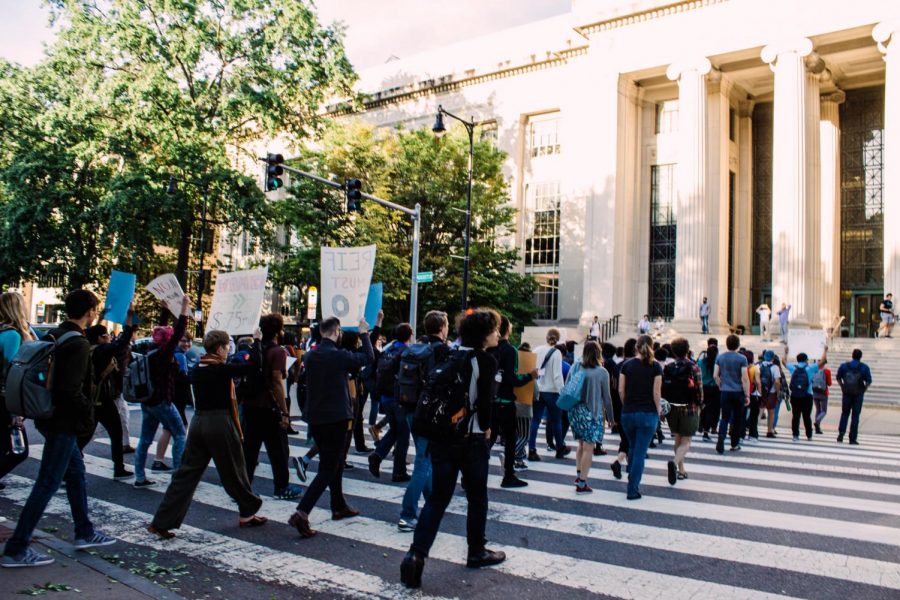 Following a Sept. 13 student-faculty protest, student activists from the Massachusetts Institute of Technology, or MIT, invited community members Wednesday to share their thoughts on the students' demands.
The meeting, hosted by MIT Students Against War, focused on the late financier and convicted sex offender Jeffrey Epstein's collective contribution of $7.5 million to the institution, which has prompted backlash against the current MIT administration under President L. Rafael Reif.
"We wanted to get the broader community input into the matter and figure out how we want to move forward collectively," said Husayn Karimi, an organizer with MIT Students Against War. 
The group established a list of demands of the Reif administration, including a board made up of students, faculty and staff to review and approve donations. 
Karimi also mentioned a need for more transparency regarding financial relationships, an end to anonymous donations, public access to donation listing and the resignation of "all senior leadership that was aware of the issue" as demands from the protesters.
Karimi was skeptical about the credibility of MIT's investigation into Epstein's ties with the institution, which is being conducted by law firm Goodwin Procter.
"Our feeling is that the administration can't be trusted to investigate themselves and hold themselves accountable," Karimi said.
Professor Jonathan Alan King, chair of the editorial board of the independent MIT Faculty Newsletter, and one of the organizers of the protest, said Goodwin Procter has a financial history with MIT.
"They're investigating themselves," King said.
Both King and Karimi said MIT's decision to donate an amount equal to Epstein's contributions to a charity that works with victims of sexual assault does not address the root of the problem.
"It's not just one isolated incident. It exposes the corrupt nature of the entire process and structure of funding at MIT," Karimi said.
King referenced MIT's financial ties to Saudi Prince Mohammad bin Salman as one of several instances of ongoing controversy regarding MIT's financial income. 
"There's been a systematic pattern of elevating income over the academic and research and student needs of the MIT community," King said.
President L. Rafael Reif spoke on the situation at a faculty meeting Wednesday.
"What we really have is a culture problem, because, as I am learning, our processes and practices reflect some entrenched and destructive attitudes and cultural assumptions at MIT," Reif said.
In a letter to the MIT community, Reif said "members of [his] senior team allowed" Joi Ito, the former director of the MIT Media Lab, to retain Epstein's donations in 2013, and that "they knew in general terms about Epstein's history."
Ito apologized in a letter of his own to his "friends and colleagues, and most importantly to the survivors." 
"In all of my interactions with Epstein, I was never involved in, never heard him talk about, and never saw any evidence of the horrific acts that he was accused of," Ito wrote. 
Ito was unavailable for comment.
In response to the report of Epstein's financial ties to MIT Media Lab, some faculty of the institute resigned, including Director of the Center for Civic Media Ethan Zuckerman, who declined to comment.
Others defended Ito's decision to accept the contributions, including David H. Koch Institute Professor Robert Langer, who was unavailable for comment. In an interview with WBUR Edify, Langer said, "To me, the tremendously good things [Ito has] done for MIT, and for the world, so far outweigh the bad things."
For the next step for protesters and organizers, Kamiri said, "the only way we're going to be able to effect change is through a genuine coalition of groups."
Karimi is optimistic about his group having their demands met.
"The fact that hundreds of people came out and a good amount of those people want to be organizing actively, I think that gives us hope that we can accomplish what we want moving forward," Karimi said.