Brown ends goaltender battle with late game-winner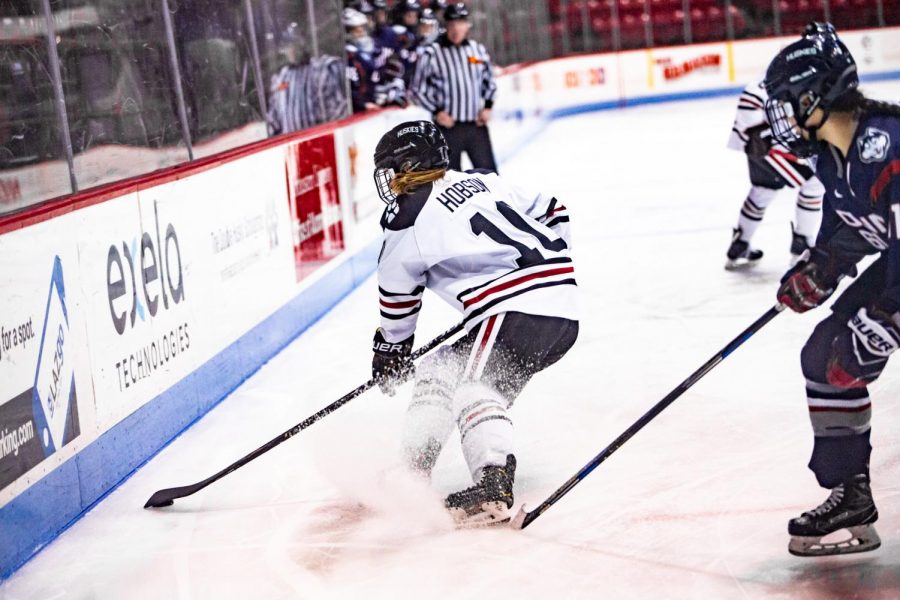 Backed by another impressive performance by Aerin Frankel, Northeastern women's hockey earned a narrow 2-1 victory over Syracuse by scoring the game winning goal with just 23 seconds left in regulation.
The game was dominated by excellent goaltending, as NU's (2-0) junior netminder Frankel earned a .963 save percentage which was nearly matched by Syracuse's (0-4) own junior goalie Allison Small, who saved a ridiculous 36 shots on her way to a .947 save percentage. 
Both teams managed their fair share of shots early on, with the Orange testing the reigning Hockey East Defensive Player of the Week Frankel nine times in the first period. The Huskies managed their own 15 shots on goal for Small to handle. Both team's penalty killers were sharp early, as despite four penalties in the first, the teams entered the early intermission tied 0-0. 
Another period came and went without any scoring. With NU again dominating in the shot column, doubling Syracuse's seven shots on net with 14 tests for Small, all of which she turned away. 
The Huskies powerplay struggled through the first two frames. They failed to convert a 30 second five-on-three opportunity and a five-minute power play chance in the second period. NU finished 1-7 on power play opportunities in the game. 
After the netminders turned away 54 combined shots, someone finally managed to light the lamp in the seventh minute of the third period. Junior blueliner Kristen Siermachesky scored her first goal of the season to finally break the scoring drought and give the Orange a mid-third period lead. 
Once the first puck found the back of the twine, it didn't take long for another to make it home. The Huskies tied it up on the powerplay as sophomore forward Alina Mueller found junior defender Brooke Hobson near the point. Hobson sent a shot through traffic past Small to tie the game up just two minutes after 'Cuse's goal. Small was screened on the play by sophomore forward Mia Brown.
Entering the final minute, the game looked poised for overtime as Frankel and Small each made important saves to preserve the tie. However, the Huskies managed to punch through one more time with just 23 seconds to spare. 
Freshman forward Peyton Anderson skated up the left side and behind the cage, where she lost her footing. Before she completely hit the ice, she managed a remarkable pass to Brown who was skating into the slot. She roped a shot past Small to win the game for the Huskies. 
NU stayed undefeated early with the win, moving to 2-0 as Syracuse fell to 0-4. The same teams meet again tomorrow at 3 p.m.