Madden's scoring powers men's hockey to series split at St. Cloud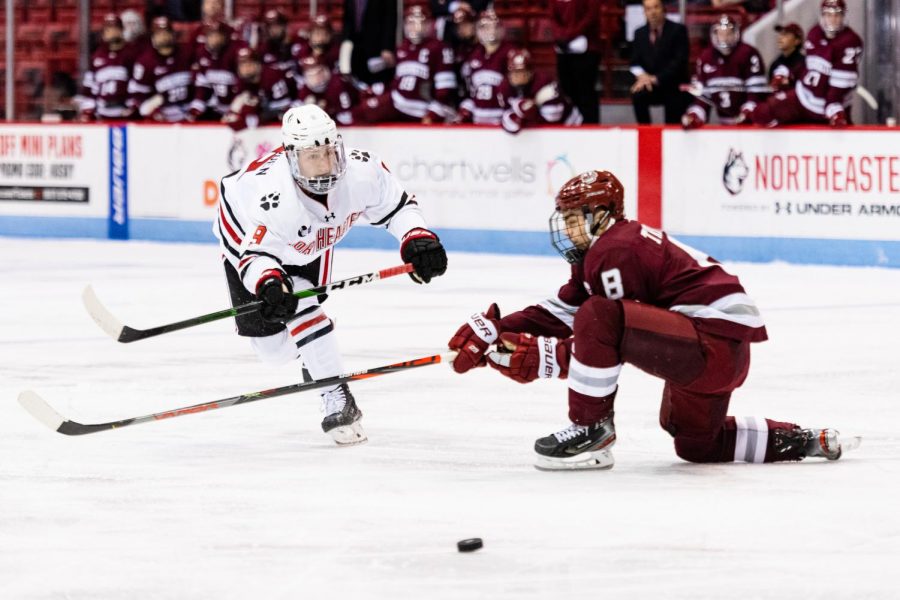 Coming off a tie with unranked Holy Cross, men's hockey needed to bounce back. They got a mixed bag, splitting their two-game series at perennial NCAA powerhouse No. 14 St. Cloud State with a 4-1 win Friday and a 2-1 loss Saturday.
While SCSU (1-1-2) has struggled this year, coming into Minnesota for a back-to-back is no picnic for the visitors, as St. Cloud didn't lose a single non-exhibition game in their own arena last year. The N0. 11 NU Huskies (4-1-1) picked up their fourth win of the season Friday but bookended the series with their first loss of the season. 
NU locked up the first game in dominant fashion, outshooting the home team 34-20 and never trailing in the contest. 
In a goal of firsts, senior forward John Picking scored his first goal of the season and the first of the series eight minutes into the first period. Freshman forward TJ Walsh and senior forward Brendan van Riemsdyk both earned assists on the marker, giving Walsh his first NCAA point and van Riemsdyk his first point as a Husky. 
St. Cloud managed to tie it up four minutes into the second, but that was the only time they beat NU netminder Craig Pantano, who has thrived since transferring to NU from Merrimack. He saved 19 of the 20 shots sent his way in Friday's contest. 
The tie lasted a mere five minutes, as sophomore forward Tyler Madden potted the first of his two Friday night goals off assists from sophomore defenseman Jordan Harris and senior forward Matt Filipe. 
Madden followed up with another score as the second period came to an end, giving the Huskies a two goal lead. Picking and Walsh each picked up their second point of the contest with assists. 
An uneventful third period was iced by an empty-net score from Biagio Lerario, giving the senior forward his second goal on the young season. Lerario has already reached half of his goal total from last season and looks poised to emerge as additional secondary scoring for NU. 
SCSU came back firing in the second game of the series, flipping the series on its head with their own strong victory. The Husky offense was largely stifled, with only 18 shots on goal in the contest.
Madden lit the lamp again on the power play in the 17th minute of the first to give NU the early lead. Madden's tally was the only NU score of the night, as the Huskies couldn't reward Pantano's second strong outing of the series. 
Five minutes into the second, sophomore forward Sam Hentges made a beautiful backhanded pass from the corner to trailing senior Jack Poehling, who beat Pantano from right in front to tie the game. 
Four minutes later, Hentges scored his own goal, as a nice two-man scoring chance with freshman forward Chase Brand gave SCSU another score from right in front of Pantano, who otherwise had a strong game with 31 saves on 33 shots. Brand earned his first career NCAA point on the assist. 
The Huskies return home with a strong 4-1-1 record, 1-0-0 in Hockey East, as they prepare for a tough home-and-home matchup with the No. 3/5 UMass Minutemen, who are 4-1 on the year so far. NU can head to Amherst with confidence, as UMass' lone loss on the year came against NU Oct. 15.