Defense and goaltending shine as No. 3 women's hockey downs BC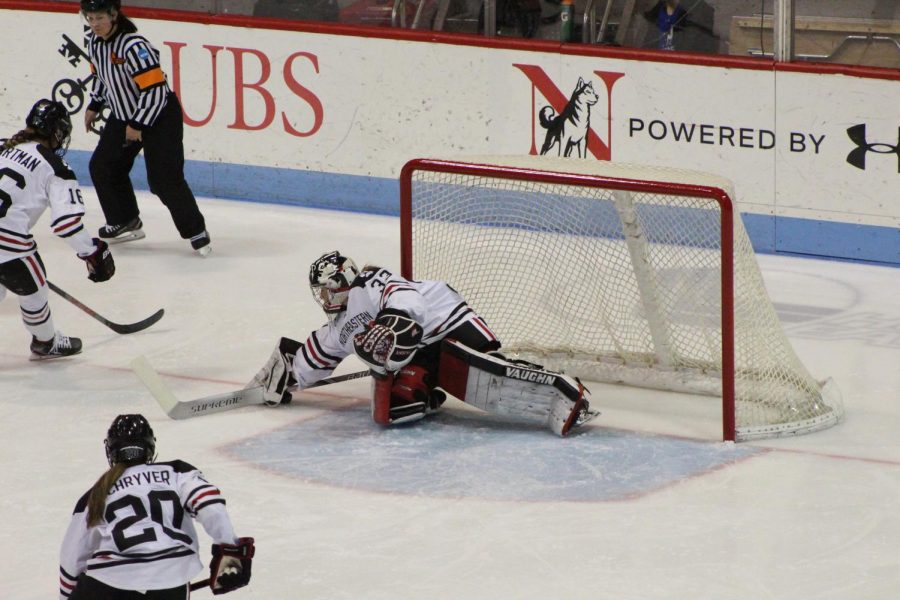 Northeastern women's hockey continued its domination of Boston College Sunday afternoon, as Aerin Frankel and the Huskies' penalty kill shined in a 3-0 win.
"We battled, the goals didn't come as easily as Friday. We had to grind it out a little bit, got a little bit of penalty trouble," said NU head coach Dave Flint. "They have a pretty explosive offense even though they struggled to put pucks on the net right now. Aerin held the fort when she needed to, as she always does."
The consequential victory gives the Huskies a series sweep over BC and a strong seven point lead in the race for the regular season Hockey East title. 
NU (17-3-1, 14-2-0 HEA) boasts the nation's best penalty kill unit, – with a success rate of 94.7% coming into today's game – and it showed against BC (11-9-2, 10-7-1 HEA). NU picked up five penalties, but the Huskies consistently limited the Eagles' time on attack each time and shut down BC's special teamers. 
"Our PK forecheck is really good. They execute it to a tee everytime," said Flint. "We apply pressure when we need to apply pressure. We got kids out there willing to block shots. Your best penalty killer has to be your goalie, and she's a pretty good penalty killer. It's fun watching them kill penalties."
Junior goalie Frankel certainly played her part, flashing the leather and making a handful of athletic saves to frustrate BC's powerplay skaters. Frankel stopped 25 shots en route to her second shutout in a row over BC, placing her in a two-way tie for the NCAA lead in that category with six shutouts. On multiple occasions, she moved out of the crease and stretched to stop high-danger scoring chances. Later, she bested BC senior forward Delaney Belinskas on a one-on-one breakaway chance. 
Her counterpart across the ice, BC sophomore netminder Kelly Pickreign, had a strong game of her own, stopping 32 of 35 shots faced. Additionally, in the eighth minute of the third, she turned away junior forward Katie Cipra's penalty shot with ease. Outside of the first goal she gave up, it was hard to point any fingers at Pickreign's performance, but Frankel's excellent game saddled her with a hard-luck loss. 
The Huskies, evidently still feeling confident after their 6-0 destruction of BC Friday night, got started early. Senior forward Matti Hartman skated through BC's zone and beat Pickreign with an opposite corner snipe just over a minute into the game, giving the Huskies an early 1-0 lead. Hartman's goal was NU's first shot of the game and the only score through the first 40 minutes.
"Anytime you can get up on a team, especially a strong team early on in the first period, it's a good way to start off the game," Frankel said. "That doesn't tell you to back off at all, but you feel a little more relaxed. That was big for us."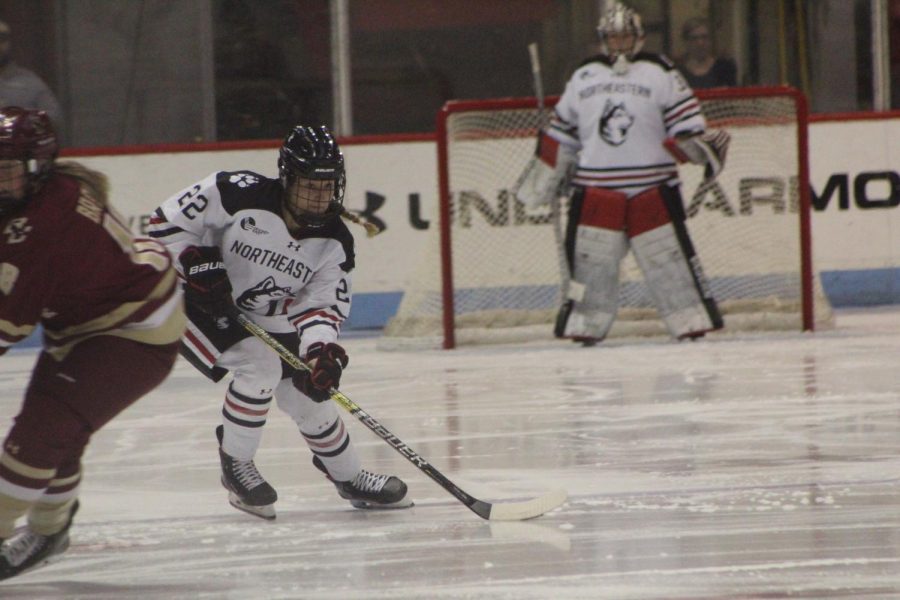 Both defenses held strong and prevented either team from getting set up too much in the offensive zone. NU was outshot 12-6 in the first, mostly due to picking up three minors in the period, but overall BC and NU played at a similar level in the opening stanza. 
In the second period, it was BC's turn to show off their penalty killers. The Eagles picked up four minors in the period and managed to grant NU a long five-on-three opportunity. NU did a lot more with their power-play chances than BC did and picked up plenty of offensive momentum, managing to put tons of dangerous shots on Pickreign, but the Eagles netminder stopped all 17 shots she saw in the second. 
While NU outshot BC 17-4 in the second, they couldn't cash in and grow their lead. That changed seconds into the third period, as the growing momentum for the Husky offense paid off with a Katy Knoll power-play goal 10 seconds into the third. The reigning Pro Ambitions Rookie of the Month (her second award in a row) finished a nice feed from sophomore forward Alina Mueller which bounced off Pickreign's glove into the net and made it 2-0 in favor of NU.
"I told them going into the third period, we got to pop one in early here, for us we did. [We] took care of business," Flint said. 
Shortly after, in the fourth minute of the third, NU scored their second power-play goal of the period and took firm control of the game with a 3-0 lead. This time, it was junior defender Skylar Fontaine making BC pay for a penalty, giving the offensively-gifted blueliner her 10th goal of the season. 
The game got chippy at times, as BC was clearly frustrated by the back-to-back shutouts and overall dominance by the Huskies. Regardless, the win pushes NU's Hockey East win streak up to five. 
"Anytime we can beat BC or BU, another Boston school, it is just a good feeling," Frankel said. "They've beaten us in the past and those losses hurt, but this year, we swept the series so that's a really good feeling."
The Huskies stay home for their next contest, as UConn will come to Matthews at 6 p.m. this Friday.