Fourth straight shutout for No. 3 women's hockey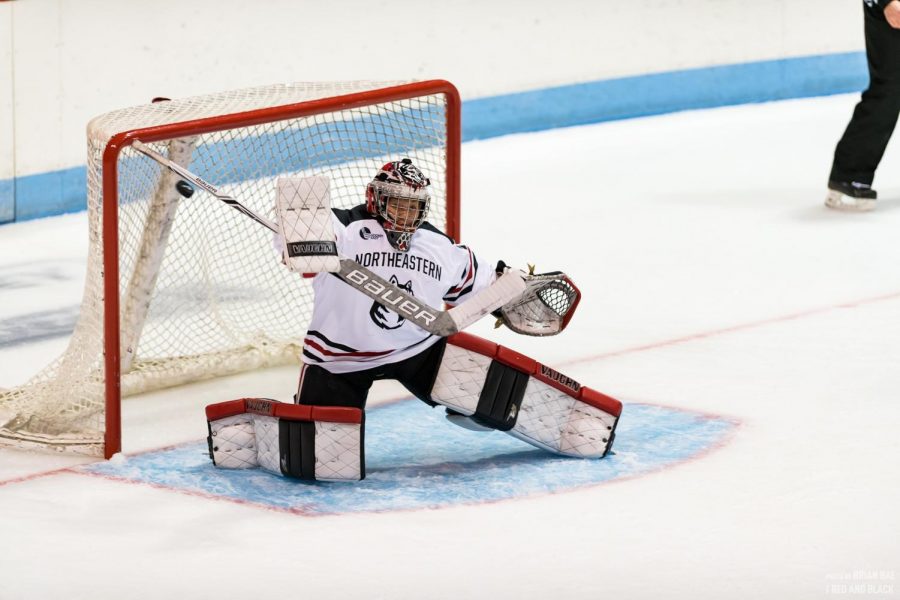 No. 3 Northeastern women's hockey continued their stretch of strong play, getting their fourth shutout in a row and second over UConn in two games as they defeated the opposing Huskies 3-0. 
It would be difficult to overstate just how impressive this recent stretch of Husky hockey has been. In the past four games, NU has outscored their opponents 16-0. NU hasn't had four consecutive shutouts in over 20 years, and now have two goaltenders in the top ten in the NCAA for shutouts (Aerin Frankel is first with seven, freshman backup goalie Gwyneth Philips is ninth with three). 
Frankel turned away 33 shots, extending her personal shutout streak to three games, spanning just under three hours of scoreless hockey. The last team to score on her was No. 1 Wisconsin who beat her four times, the only game this season where the star netminder has surrendered more than three goals. 
Junior forward Veronika Pettey had a stellar performance of her own, picking up two first period goals within four minutes of each other to give the NU Huskies a strong first. Freshman forward Jess Schryver assisted on both of Pettey's tallies as the duo combined to spearhead the Husky offensive.
Sophomore forward Chloe Aurard had her own impressive marker late in the second period, an unassisted shorthanded goal to give NU a 3-0 lead to carry through the third. Aurard now has a goal in back-to-back games and 14 so far on the season. 
NU isn't done yet and will face off against Vermont in a two game series in Burlington starting this Friday at 6 p.m. NU will look to keep their hot streak alive against the struggling Catamounts who are just 9-10-6 on the season.