Women's hockey shutouts out Catamounts to start two-game series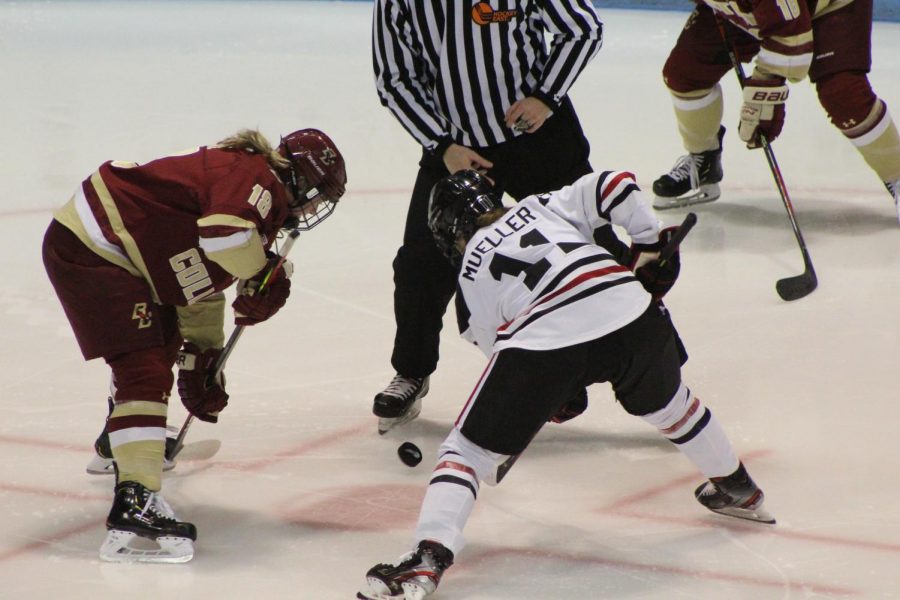 Another women's hockey game, another shutout. This time, the UVM Catamounts fell victim to NU's all-nation defense as the Huskies picked up a commanding victory, winning on the road 4-0. 
The Huskies (20-3-1, 17-2-0 HEA) outshot UVM a staggering 36-16, with four different skaters picking up goals and eight Huskies tallying points. With her 16 save shutout, junior goaltender Aerin Frankel stayed on top of the save percentage leaderboard and leads the NCAA with a .966 mark. In 20 games this season, she has allowed just 16 goals. NU has not surrendered a goal in the last 300 minutes of Husky hockey.
Beyond Frankel, the Huskies had excellent performances from senior forward Tessa Ward and freshman forward Peyton Anderson, who each put up a goal and two assists. In addition, sophomore center Alina Mueller picked up an assist and dominated in the faceoff circle, winning 15 of her 18 draws.  
The scoring started early for NU, courtesy of junior blueliner Skyler Fontaine, who picked up her 11th goal of the year in the fourth minute of the contest. Like Frankel, Fontaine finds herself locked in a tight battle for an NCAA lead, as she is currently tied for first among defenders in goals and second in points (24) among her position group.
The next Husky goal was another early period tally. This time, it was Tessa Ward who would victimize the Catamounts (9-11-6, 6-9-4 HEA), with the senior forward finding the twine just over four minutes into the second. Last night's goal was the senior forward's fifth of the season and she's been a great low volume shooter for the Huskies this year with a strong .250 shot percentage. 
Anderson was the next Husky to come through as she lit the lamp in the fifth minute of the third period. She was assisted by Ward and sophomore defender Brooke Tucker, which was Tucker's first point as a Husky. 
The final goal for NU came midway through the third, when junior forward Katie Cipra, who has played every NU game this season, picked up her first marker of the year. The Anderson-Ward duo was truly buzzing, as both Huskies earned their third points of the evening on Cipra's marker to finalize the score at 4-0. 
NU, tied with Cornell for first in the NCAA for goals allowed, will stick in Burlington for another matchup against the Catamounts. The puck dropped at 4 p.m.