No. 3 women's hockey knocks off BU 2-1 in close contest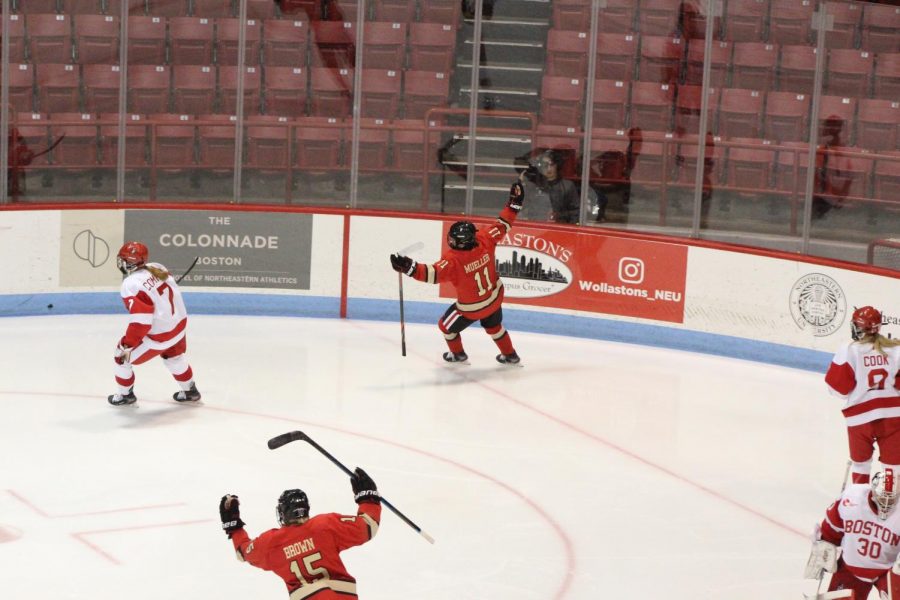 In one of the most energetic and overall electric hockey games Matthews Arena has seen this season, the No. 3 Northeastern women's hockey team took it to No. 8 Boston University, winning 2-1 in a furiously fast game of hockey. NU outshot the Terriers 31-24, but the game was intense throughout as even though the Huskies controlled the puck, there was never much distance between the two top ten squads.
"Obviously, I think the fans got to see a pretty entertaining game that was all it was built up to be," said NU head coach Dave Flint. "It was fast paced from the drop of the puck, great chances at both ends, both teams played really well, good goaltending and for us, some timely scoring and great penalty kill was what ultimately got us the win."
Sophomore center Alina Mueller played a critical role for the Huskies (22-3-1, 19-2-0 HEA), acting as the catalyst for two shorthanded Husky goals. Coming off a spectacular five-point performance against UVM, her two points tonight were huge for NU in one of the closer games the conference leading team has played all season.
Penalties were abundant throughout the contest, testing the NU penalty killers constantly. As usual, they didn't disappoint, killing all five of BU's powerplay chances. For BU, junior netminder Corrine Schroeder impressed, keeping her squad in the game despite the deficit in the shot column and puck possession. She finished with 29 saves on 31 shots.
"Their power play was tops in the league and right up there in the country, so for us to get two shorthanded goals and to keep their power play off the board is pretty impressive," Flint said. "Our penalty kill has been pretty impressive."
The game's first goal came just as the eighth minute was coming to a close. Despite NU controlling the momentum throughout the first minutes of the contest, a fortuitous bounce and a well positioned Deziray De Sousa foiled the Huskies' seemingly hot start. BU's senior forward had her stick on the ice just feet from junior goalie Aerin Frankel and once the puck found her, she didn't hesitate and beat Frankel gloveside with a quick wrister.
"It's one of those plays where a loose puck was in the slot and Deziray De Sousa spun around and threw it up at the top corner and there probably was a whisker of a screen there that didn't allow Aerin to see the puck fully and again, it was a quick turnaround shot that will sometimes catch goalies," said BU head coach Brian Durocher.
The NU fans weren't quieted by De Sousa's tally, nor were the Huskies' shooters. The pressure continued to heighten, but so did the penalty minutes. A Husky power play turned into a BU scoring chance within seconds, as BU was given a four-on-three, quelling the hot start NU had put together. NU came through with an all important kill, keeping the margin at a goal as they sought to take back control of the game.
In a much more even second period, NU was able to tie it up. The NCAA's best penalty killers had another miscue to kill off and they went above and beyond, as star sophomore Alina Mueller took the puck coast to coast and beat just about every Terrier on her way to Schroeder's net. Mueller slowed just enough to fool Schroeder into looking for a pass to the trailing junior defender Skyler Fontaine, but Mueller kept it and beat the Terrier 'tendie herself with a rope of a shot stick-side to tie the tight contest at one goal each.
"It brings huge momentum, especially when we're down," Fontaine said. "Once we got that first goal on a PK, we got that momentum going and we ended up getting the second in that same period."
The penalty kill unit would strike again minutes later. Again, Mueller's defensive talents and remarkable skating ability were on display as the leading scorer in Hockey East came through with another beautiful play. And again, Fontaine was a trailer, bringing extra pressure.
"We have very good skaters out there, especially Skylar. It helps me a lot that she's out there," said Mueller of Fontaine, who she set up for the tally. "Same goes for her," Fontaine responded.
The Swiss star cut down a BU cross-ice pass, took it down the ice and deked her way into a strong scoring chance for NU, hitting senior forward Matti Hartman with a perfectly timed pass across the ice. Hartman couldn't finish it herself, as a remarkable diving save from Schroeder denied the first attempt, but a blazing Fontaine found the skittering rebound and launched it past the defenseless Terrier netminder to give NU a hardfought one-goal lead.
"I think the skillset on those two players is tops in the league and pretty close, if not tops in the country," Flint said. "With Skylar's speed and Alina's speed and vision and playmaking ability and scoring ability, they're so dangerous on the PK. They're a threat to score every time they're out there."
The Huskies kept their foot on the gas in the third, and while they didn't score, NU defenders consistently stood right in the shooting lane to protect Frankel. Their physicality didn't dip and they kept the pressure on Schroeder constantly, but she didn't waver, showing off her skills on a beautiful cross-crease save on a Chloe Aurard try with six minutes left in the contest.
BU had a chance to bring their team back into the game with a long five minute power play with just barely over five minutes left in the game. The culmination of a physical, penalty filled contest, freshman forward Katy Knoll was called for a major penalty and a game misconduct for hitting from behind. Knoll had been physical throughout the contest in response to the intense crosstown rivalry.
With one final test to decide the game, it was time again for NU's PK unit to take the ice. One more time, they came through, even as BU pulled their goalie to pick up a six-on-four chance. On 15 minutes of BU power-play time, NU's shorthanded squad won in goal differential, shutting down the BU shooters while picking up their own two tallies of their own.
"It is a testament to the team for them to kill off that five minute major there at the end against a team like BU. Just really shows the character of these girls," Flint said. "It hasn't just been one line or two players … we have a lot of kids who contribute in different ways and that is what it is going to take for us to win a championship."
With the rivalry contest ending in NU's favor, the Huskies move to 22-3-1 as they continue to control the Hockey East. Next on the docket for NU is UConn at home this Friday at 2 p.m. While the Beanpot is approaching rapidly, where the Huskies might see the Terriers again, Flint's squad is still taking it one step at a time.
"We have done a really great job to take it game by game and not look too far ahead or back," Mueller said. "I think that is the key to why we have so many wins so far."