Jordan Roland: Reaching record highs and keeping close ties
The numbers don't lie: 42 points in a single game (an NU record), 99 three-pointers in a single season (another NU record) and 1,000 points in his college career. Redshirt senior guard Jordan Roland is the type of player colleges see once a decade, and it's his final season.
His journey started young, at the age of 3, since he grew up in a basketball family in Syracuse, New York. His father, Rahsaah Roland, played at Mercyhurst University, and his younger brother, Ryan Roland, is a current senior guard at Le Moyne College. 
By the seventh grade, he started to pursue basketball as more than just a hobby, taking the time to do extra drills on his own. It clearly paid off as he joined Westhill Senior High School's varsity team as a freshman. 
"I was kind of a role player, and then I kind of just got a bigger and bigger role as we went on," Roland said. 
He was able to play on the same team as his brother, where the duo won two New York state championships in his junior and senior years and the elder Roland won New York State Class B Player of the Year after both of those years. In his junior year, he averaged 23.9 points, followed by 21.3 points the following year. 
After a stellar end to his high school career, he was recruited by George Washington University for the 2015-16 season where he played 35 out of 38 games and reached a career high of 11 points. In the 2016-17 season, he started in 10 of 35 games and hit a career-high of 27 points. 
Although there was a coaching change and playing was relatively inconsistent, Roland says he had a pretty good experience overall.
"I had a lot of fun at GW," Roland said. "I met a lot of my best friends there."
It was around this time that the coaching staff at NU decided to recruit Roland, after their failed first attempt when Roland was a senior in high school.
"The first time around we didn't get the opportunity to get him to campus," said NU head coach Bill Coen. "When he decided to make a change, we wanted to reintroduce ourselves, and lucky for us, he decided to come."
Northeastern's track record of excellent guard play was a major factor in Roland's transfer decision. 
"They sold me on the idea that they were really good at developing guards," he said. "They have had really good guards in the past, and I wanted to be the next one. They definitely fulfilled that promise, and I credit that to them."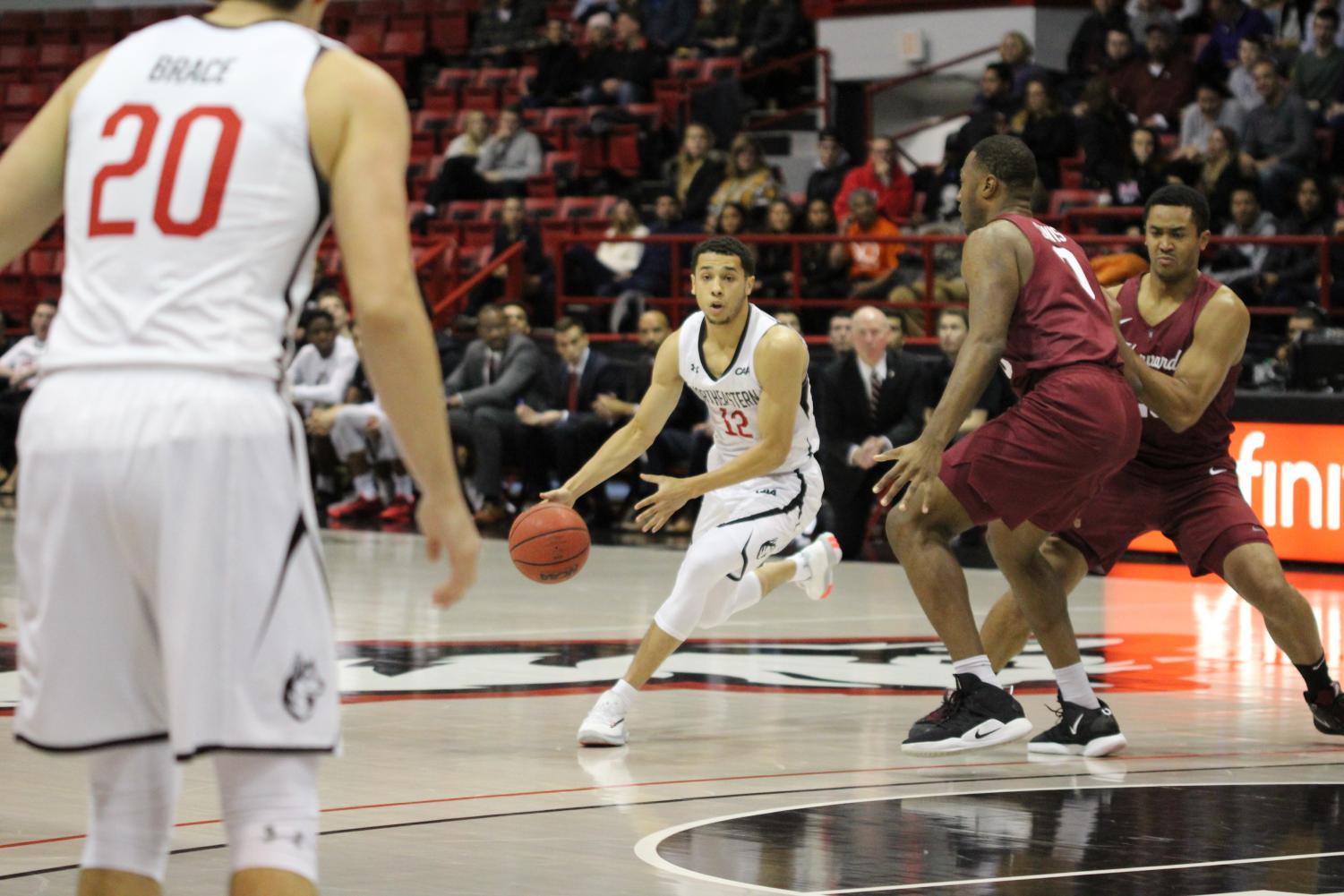 However, when a student transfers to another university, the NCAA does not allow transfers to participate in a sport during their first year on campus, which made Roland a "redshirt." Unable to travel and go to games, he still trained and practiced, but spent the year focusing on himself.
"I thought it was a pretty beneficial year," Roland said. "When the team went away, I had to stay back, which was tough, but I got to go back home more."
Since coming to NU, Roland has broken multiple school records, helped the Huskies win last season's CAA championship and took the Huskies all the way to the NCAA tournament for the first time since 2015. The CAA championship and the NCAA tournament appearance were both his proudest moments at NU.
"I've seen him grow most as a person," Coen said. "Coming in after his GW experience, he lost a little bit of confidence in the game. But to watch him this year and see him play at such a high level, I think it's a tribute to his work ethic."
Now a senior in his final semester of graduate school, Roland is not only trying to carry the scoring load, but he is also working on his leadership skills. 
"He commands a lot of respect [from the team] because of his game," Coen said. "He's a guy that comes in each and everyday and does his job, and when you've got somebody that behaves like that, the mutual respect just rolls."
When he's off the court, he spends his time relaxing and reconnecting with old friends from GW and family via Fortnite. Although he is often the center of attention on the court, his usual demeanor is quiet and humble, and he focuses his time with those that matter most in his life.
"I think it takes a little while for him to get used to people, but once he does he's an awesome guy," said roommate and NU senior guard Bolden Brace. "Jordan's pretty lowkey. He's a hard worker, really funny and overall an awesome guy. He's always looking out for people."
His loyalty and supportiveness seem to come from those who raised him.
"I don't know if his parents have missed a game in the last two years," Coen said. "If they have, it's only a couple. They drive down from Syracuse for every home game, and when we're on the road, they'll show up. They love the game, and they love their son, so they'll come and support him."
Just when you think you've figured Roland out, you discover a new talent that only adds to his character, including the fact that he won his high school chess tournament in his sophomore year and still plays a little.
"He's actually left-handed. He does everything with his left hand but shoot, which is pretty funny and uncommon," said Brace. "But I think it's accurate and reflective of him as a person."
With future plans to play professionally or "at the highest level possible," the only other box to check off is another CAA championship.
"Obviously he wants another CAA championship," Coen said. "When they're a senior, they see the hourglass ticking, and they want to make the most of it."