No. 3 women's hockey defeats Harvard 3-1 to move to Beanpot final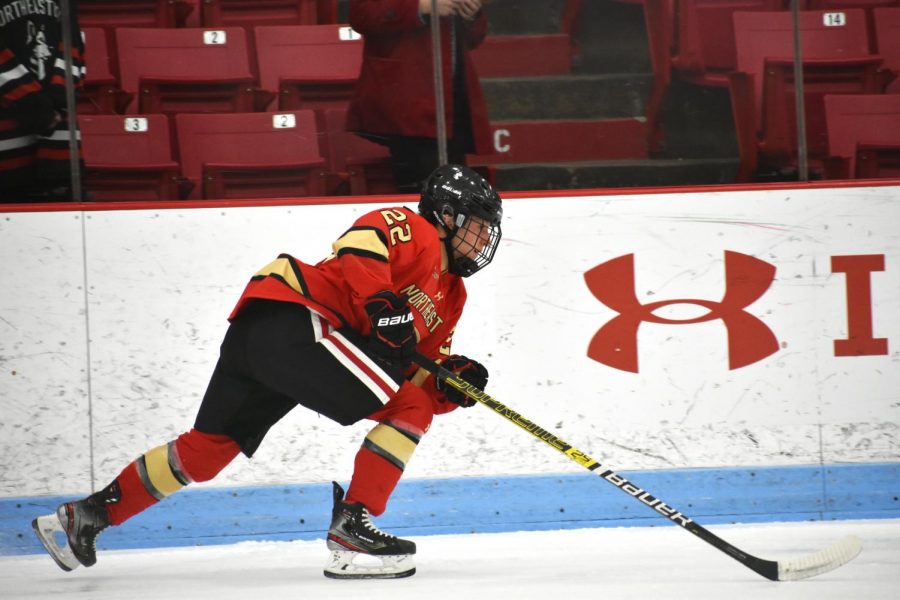 After a tough first round exit last year, No. 3 women's hockey started the 42nd annual Women's Beanpot strong, picking up a 3-1 win over the No. 10 Harvard Crimson thanks in part to some fantastic work in net by Husky junior goalie Aerin Frankel and her 31 saves.
"It's a good feeling. We definitely have had some trouble at this tournament in the past, but I think that just made us come into today with a little chip on our shoulder," Frankel said. "It was an extra special feeling just knowing that we haven't had success. Now we have a fresh mindset going into it and I guess we finally broke the curse."
Both netminders were strong, as the Crimson's junior goalie Becky Dutton hung up 35 saves of her own. Frankel endured multiple stretches of strong Crimson offense and escaped nearly completely unscathed, stifling the Harvard offense which came into the contest averaging over three goals a game. NU's offense was propelled by sophomore center Alina Mueller, who scored 3 points off a goal and two assists, and junior blueliner Skylar Fontaine who chipped in a goal of her own.
"[Frankel] reads the plays extremely well. She's been really good this year and has really improved at finding pucks through traffic," said NU head coach Dave Flint. "When you're a shorter goalie and there's a lot of traffic in front of you, sometimes it's really really difficult and she's been really good at finding pucks."
NU controlled the first few minutes, trapping the Crimson in their own zone and putting constant pressure on Crimson junior netminder Becky Dutton, who was making just her third start of the season. She's been lights out so far, with a .967 save percentage, and kept the Huskies blanked long enough for the Crimson skaters to wake up. While the Crimson finally started peppering Frankel with shots, she was perfect through the first.
"[Dutton] is probably the toughest kid we have on our team, and I don't mean to insult the others on our team, because we have a lot of tough kids," said Harvard head coach Katey Stone. "She wills herself to make saves and she wills herself to put us in a position to be successful and keep us in a game. She has battled all kinds of ailments and injuries here and there throughout her career, and her compete level is just over the top."
The opening goal of the tournament came from the country's third leading point getter, star sophomore center Alina Mueller. After a scoreless first 15 minutes which featured 12 impressive saves from Frankel, Mueller broke the tournament open by swiping a puck in Harvard's zone, driving into the slot and beating Harvard netminder Becky Dutton off her pads on NU's ninth shot of the contest.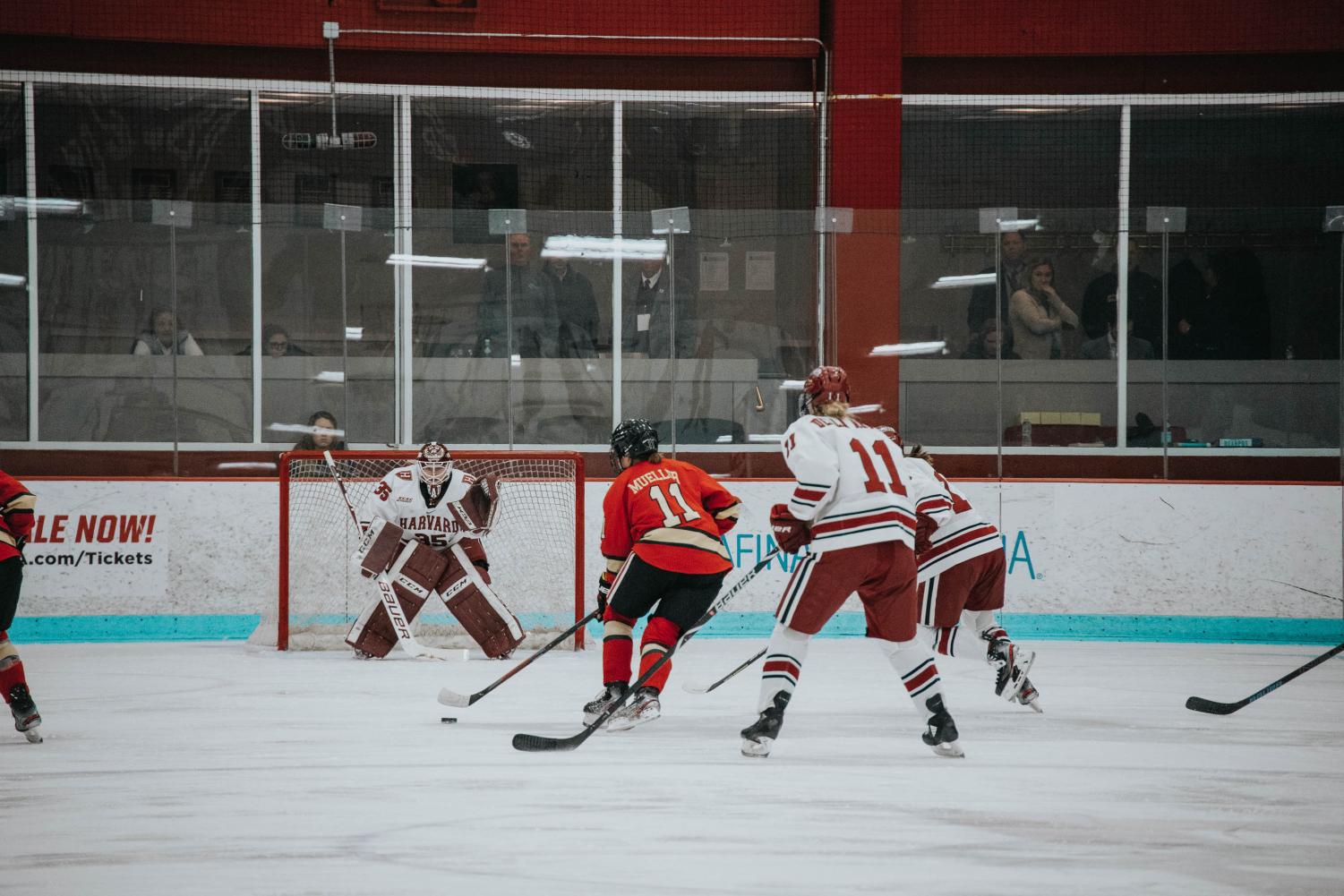 The next goal came soon after, just over three minutes into the second period. Mueller was involved again, picking up the secondary assist on junior defender Skylar Fontaine's 13th goal of the year. Fontaine received a pass near the point from sophomore winger Chloé Aurard and promptly sent it through traffic on net. Dutton couldn't find the puck between all the bodies in front and in the slot, giving the Huskies a 2-0 lead to defend.
"I definitely think that getting bodies in front of the net and in front of the goalie was a huge thing, especially for the second goal; she couldn't see it going through," Fontaine said. "I saw Alina pass it to Chloe and I saw Chloe coming around the net, so I thought it was a perfect opportunity for me to jump down towards the net and call for it … got the puck to the net and it went in."
Frankel continued to be strong throughout the second, stopping multiple strong scoring chances and surviving periods of intense pressure. But, she wasn't quite perfect, as freshman forward Shannon Hollands was able to sneak a hard wrister off the post into the Husky net with 12 minutes left in the second. Just her second goal of the season so far, Hollands was assisted by her sophomore linemates Kristin Della Rovere and Anne Bloomer.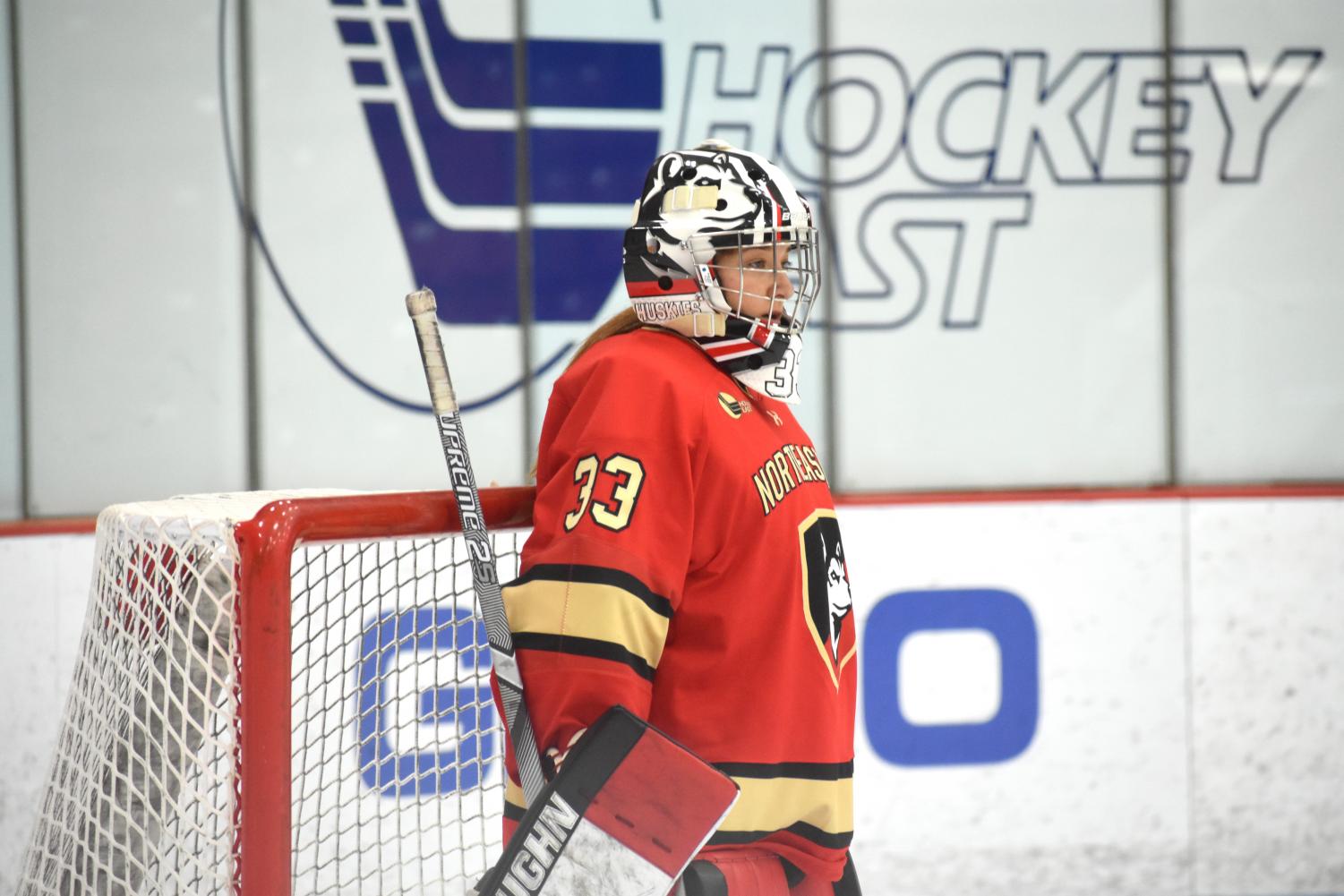 Fontaine's goal wasn't her only highlight of the period, as she and Frankel teamed up to stop one of Harvard's many golden scoring chances. Frankel stopped a tough shot, but as the puck bounced towards the net, Fontaine was able to scoop it before a looming Crimson forward had a chance to pounce on the rebound. Frankel picked up another 10 saves in the stanza while Dutton had her own impressive 13 to boot.
"She defends well and she can score. When she's out there, it's like having four forwards. The thing is, she'll beat the forwards to the net then she'll beat everyone else back to our net," Flint said. "That's how fast she is and that's how good she is. She adds another dimension for us."
In the third, while both teams racked up shots on net, the impressive goalie play continued. Both Frankel and Dutton were forced to step up to keep their respective teams in the contest, with no save quite as remarkable as Dutton's diving stop cross-crease save to keep a Husky rebound out of the net with three minutes to go.
The game reached a peak with 2 minutes and 48 seconds left as junior defender Lauren Macinnis took a minor penalty for body checking. Lucky for NU, the Huskies boast the top penalty kill unit in the NCAA and killed off the last gasp from the Crimson, nearly potting a short-hander in the process.
"I felt pretty good, our penalty kill has been rock solid all year and our goaltending has been really good. Last Tuesday, we had to kill off a five minute major against BU with a one goal lead and did it. I feel really comfortable with our penalty kill," Flint said. "It's a testament to the team in the fact that they know how to grind it out, they don't panic and they find ways to win hockey games."
After the kill, Harvard pulled their goalie which backfired quickly as speedy linemates Aurard and Mueller teamed up for the icing on the cake with an empty-netter from Aurard as the game winded down.
"There were chances at both ends, went down to the wire and it was exciting to be a part of it. Credit to my team for grinding it out, killing off that penalty at the end and coming away with the win," Flint said.
Next for the Huskies is a Beanpot break at Merrimack Friday at 6 p.m. After that, they will face either BC or BU a week from today, Tuesday at 8 p.m.