No. 2 women's hockey handles Merrimack with ease, 5-1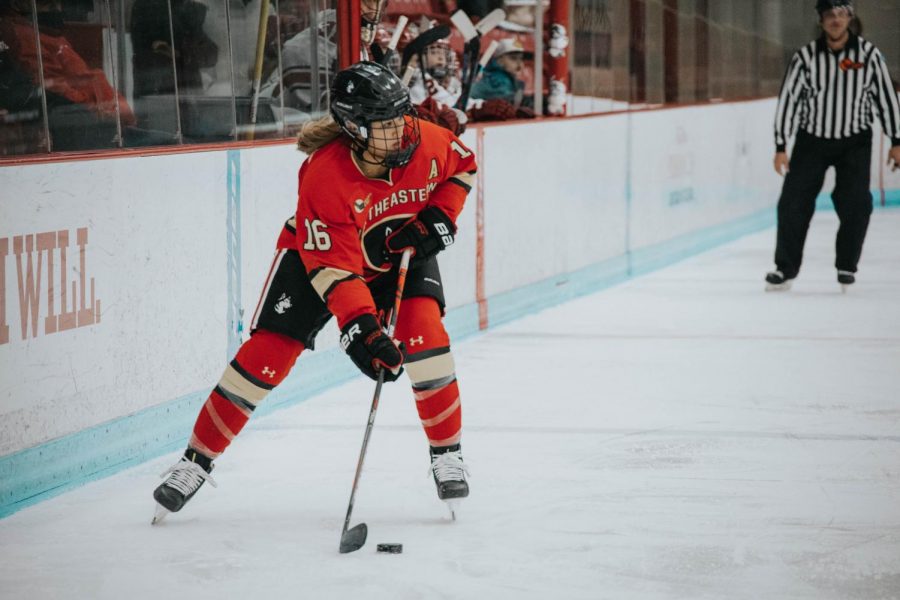 During their Beanpot intermission game, No. 2 women's hockey handled a struggling Merrimack team with ease, rolling past them 5-1.
The Merrimack Warriors (4-21-4, 1-16-4 HEAW) have just one Hockey East win this year, setting them up as an easy win for the Huskies (25-3-1, 21-2-0 HEAW). Freshman netminder Gwyneth Philips started her fourth game of the year for the Huskies and picked up 17 saves on 18 shots, seeing her nearly 250 minute shutout streak to start her career finally end. Junior blueliner Brooke Hobson returned from a long injury-related absence and came back strong, picking up two goals for the Huskies. 
There was no question who was the better team last night. NU outshot Merrimack by an absurd 52-18 margin. The Warrior's freshman goaltender Emma Gorski had her work cut out for her and performed admirably, earning a hard-fought .903 save percentage with a career-high 47 saves. However, her saves were not enough against one of the nation's top offenses. 
NU got the scoring started early, a trend for them recently. Sophomore forward Mia Brown scored her ninth goal of the year in the fifth minute of the first and the Huskies never looked back. They scored another four goals in the second period, one from sophomore center and reigning WHCA National Player of the Month Alina Mueller and another from senior forward Matti Hartman to accompany Hobson's two tallies. 
In the third, Merrimack had their highlight of the night. Senior forward Mikyla Grant-Mentis knocked in a short-handed marker as the game winded down, forcing Philips' first mistake as a Husky with just two minutes left in the game. Grant-Mentis' goal was her 113th career point, tying her for the Merrimack program record for career points. 
The next game for the Huskies is one of their most meaningful ones left before the Hockey East playoffs. They faceoff against No. 8 Boston University this Tuesday at 8 p.m. in search of their first Beanpot title since the 2012-13 season.