Women's Beanpot final preview: NU heavy favorites to redeem past Beanpot losses
February 10, 2020
It's been a little while since Northeastern women's hockey has had a chance like this. For the stars on this roster, juniors Aerin Frankel and Skylar Fontaine and sophomores Alina Mueller and Chloe Aurard, this is their first chance at a Beanpot title with NU falling in the first round each year since they arrived. For the seniors, who knocked off Harvard in the 2016-17 season but fell to Boston College in the final by virtue of a heartbreaking mid-third period goal, it's a chance at redemption. 
From across the ice and across the city, the No. 8 Boston University Terriers have a different story. They have a chance to repeat as Beanpot champs following their OT win over Harvard in the finals last season. This will be the Terriers third straight appearance in the championship.
NU is skating into the finals on fire. They've won their last 10 games, most in a dominant fashion, including a five-game shutout streak, a 10-2 win over Vermont and a momentum-building 5-1 victory over Merrimack Friday. During that 10-game win streak, NU defeated BU 2-1 at Matthews Arena in an exciting contest where the Huskies won on the back of two short-handed goals. Their last loss was in overtime to the top-ranked team in the nation, Wisconsin. 
The Terriers have played well lately too, but a recent tie against Merrimack (4-21-4, 1-16-4 HEAW) stands out. NU just crushed Merrimack, dropping them 5-1 and outshooting them 52-18. BU is a formidable opponent for sure, but the Hockey East standings tell the story well. NU leads the conference with 42 points. BU is second, but they lag far behind with 29 points. 
In three matchups, BU has done well limiting the Husky offense, which is among the best in the nation. NU scored just two goals in each of their meetings this year. 
Huskies to watch:
NU head coach Dave Flint preaches a 'never get too high or too low' mentality to his players, and even on a No. 2 ranked team, the NU stars stay humble and composed. Here are a few that are likely to contribute this Tuesday.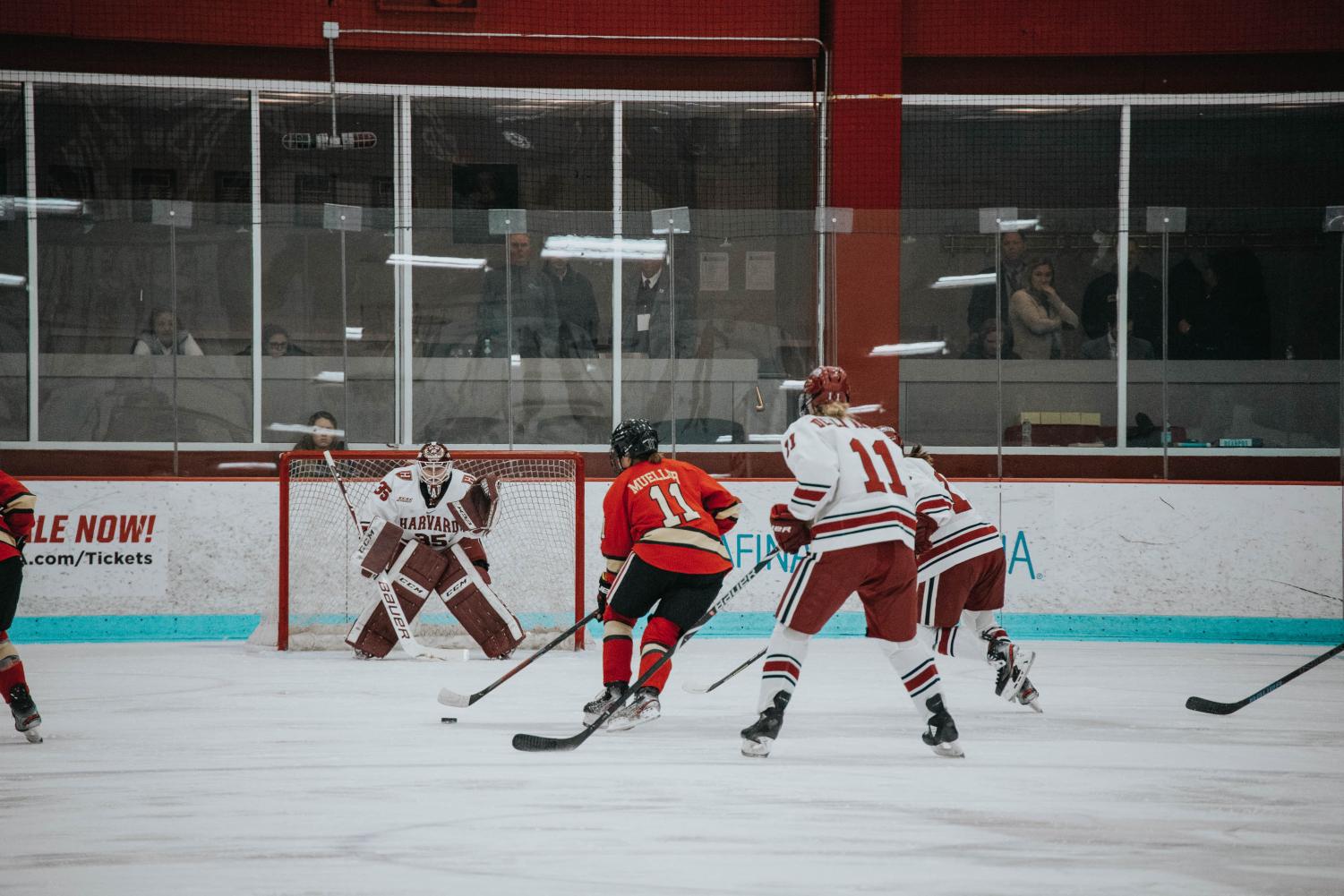 Alina Mueller, sophomore forward
The top skater on the Husky roster, Mueller is one of the best scorers in the country. She is second in the nation with 53 points in 28 games. Every game, she showcases her Olympic caliber skating and stickhandling, and with a hard shot to pair with excellent awareness on the ice, Mueller affects the outcome of the game nearly every time she steps on the ice. She played a big role in the semifinals and was just awarded the Women's Hockey Commissioners Association National Player of the Month award. The last time NU faced the Terriers, she was involved in both of the Huskies goals, picking up a short-hander while assisting on a second under-manned tally. Expect her to contribute again on Tuesday, and if the Huskies win, she will almost surely be one of the three stars.  
Aerin Frankel, junior goalie
Aerin Frankel just might be the best goalie in the nation. If she isn't, she's pretty close. She has numerous awards this season including the NCAA First Star the week of January 14th and two Hockey East Goaltender of the Month awards. In just under 1,500 minutes of hockey, she has allowed 26 goals. Her save percentage is .959 and she allows just 1.06 goals a game. She has allowed more than three goals just once this season — against No. 1 Wisconsin in an overtime thriller where she recorded 51 stops. Against Harvard, she was lights out with 31 saves on 32 shots. She is tied for first in the nation in shutouts (9), and NU has allowed the second least goals in the country. There is simply no overstating how impressive Frankel has been this season. When she's locked in, the Husky defense is nearly unbeatable. 
Skylar Fontaine, junior defender
After NU's opening round victory, Flint said of Fontaine: "When she's out there, it's like having four forwards. The thing is, she'll beat the forwards to the net then she'll beat everyone else back to our net. That's how fast she is, and that's how good she is. She adds another dimension for us."
He isn't exaggerating. Fontaine's speed shows up nearly every time she hops over the boards. On the penalty kill or on the rush, it is game-changing and has fueled multiple short handed chances for the Huskies this season. In the offensive zone, she is always well positioned to keep a cycle alive and has a knack for knowing when to jump into the play. In both goals and points by defenders, she leads Hockey East and is second in the nation with 12 and 29, respectively. While her offense may be what produces the gaudy stats, her defense is strong too as she is rarely beat to her own zone. 
Chloé Aurard, sophomore forward
Aurard is another offensive force for the Huskies and is second on the team in both goals and points. Mueller's linemate on even strength and special teams, Aurard is constantly getting involved in scoring plays and testing goalies with an excellent shot. Don't forget that she is second in the conference in points with 39, and ninth in the nation in scoring. Much like the above-mentioned scorers, her skating ability is a killer on the penalty kill. She flies across the ice defensively and offensively and is tied for first in the NCAA with three shorthanded goals. She looks fearless during games and plays with a high intensity. When she's bearing down the ice on a two-on-one, you may as well sound the goal horn already.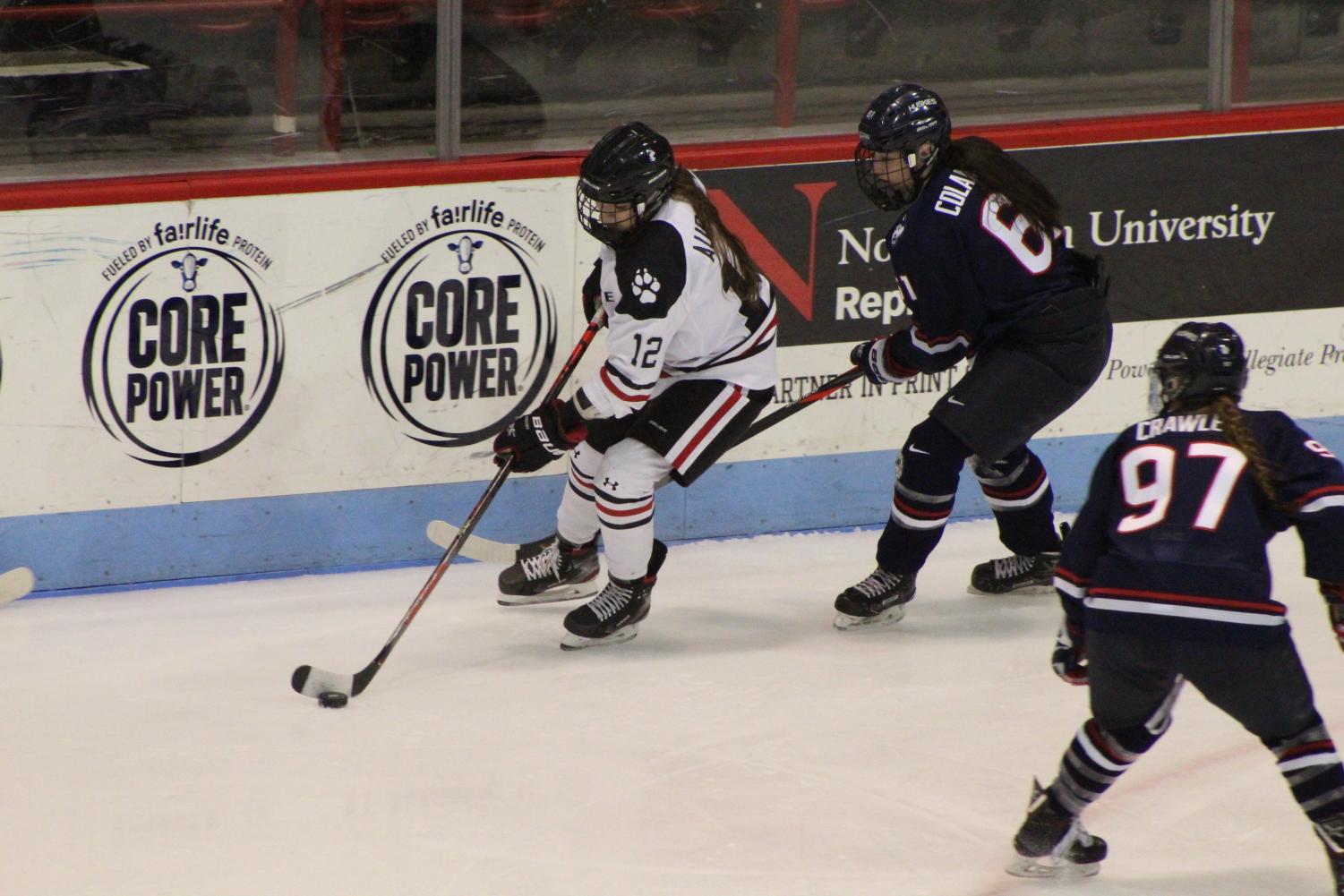 Other notable Huskies: 
On offense: 
Sophomore forward Mia Brown, a key component to the secondary scoring efforts with nine goals and freshman forward Katy Knoll, who has played a major role for the Huskies this year and has emerged as a dangerous power forward with a sharp shot. 
At the blueline: 
Keep an eye on freshman defender Megan Carter who provides major defensive efforts in the Husky zone and constantly jumps into the shooting lanes to block shots. Senior blueliner Codie Cross brings experience and a defensive prowess of her own, but went down with an injury during the semifinals and could miss Tuesday's contest. Junior defender Brooke Hobson could wind up filling Cross' absence if necessary, or provide a boost to the backend if Cross suits up by bringing a solid two-way game after returning from a long absence due to injury. 
Terriers to watch:
BU has a handful of impressive skaters of their own, but stats-wise, their offense doesn't impress quite as much as No. 2 Northeastern's high-flying attack. 
Corinne Schroeder, junior goalie
The "other" impressive Hockey East goalie, Schroeder has a fantastic resume of her own. While Frankel has her beat this year, during NU's loss to BU in last year's Beanpot, Schroeder had the upper hand as she outlasted Frankel in the shootout. Schroeder has her own National Goaltender of the Month award, and, like Frankel, has backed a strong defense as one of the top goalies in the nation. She has plenty of experience and has seen the Huskies a few times in her career, largely faring well against NU. With a 1.50 GAA and a .943 save percentage, both top five in the country among netminders with 20 or more starts, she is the largest obstacle to a Husky Beanpot victory. 
Jesse Compher, junior forward
Compher has missed some time this season, but when she has been out there, she has been incredible. In just 20 games, she has 25 points from 10 goals and 15 assists. Last year, she was a top 10 finalist for the Patty Kazmaier Award, which is given to the best player in women's college hockey. In her last three games, she has seven points, including two goals against BC during the Beanpot semi-final. She has also controlled the faceoff circle, winning 27 of her last 30 draws on the dot. With a high hockey IQ and a great scoring touch, she is likely a key to the Terrier's game plan in the final. 
Sammy Davis, redshirt senior forward
The 2019 Beanpot MVP, Davis is among the Terrier's top threats to score. Hailing from nearby Pembroke, Massachusetts, the tournament likely means more to her in her final year, too. She sits third in scoring in the conference with 33 points and provides a steady presence for the Terriers. She carries the big C as BU's captain, has 134 career points and a lot of ice time in the tournament under her belt. If the moment gets to anyone on Tuesday, it won't be Davis. 
Abby Cook, senior defender
A solid two-way defender for the Terriers, Cook is second on the team in points and blocked shots. Outside of Fontaine, she might be the top offensive force coming from the blueline in Hockey East and is third in points among fellow defenders in the conference. Another veteran presence on the BU roster with a packed resume (New England Division I All-Star and Hockey East First Team All-Star during the 2017-18 season), Cook will likely be a steadying hand for both the Terrier attack and defense Tuesday.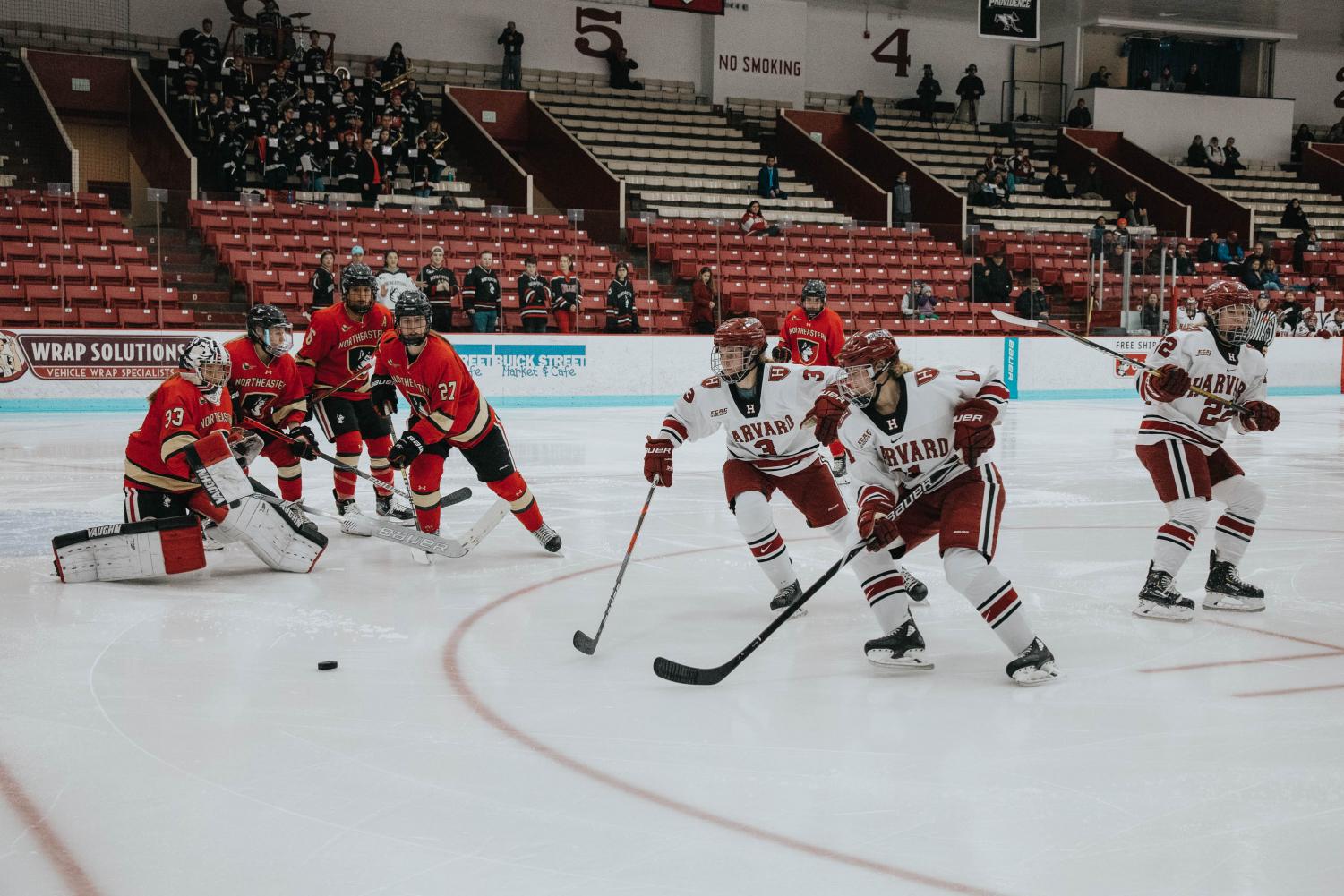 Predictions
Here are our expectations for how the Beanpot final will shake out this Tuesday.
George Barker, sports editor, current women's hockey beat reporter: There haven't been a lot of teams to give the Huskies a real fight this season, but BU was one of them two weeks ago. Still, I'd be shocked if NU didn't come out on top this tournament. They've been consistent, have a top-flight offense and possibly the best defense in the country. They are heavy favorites thanks to the players mentioned above and more, but at the same time, they've struggled in this tournament in the past and surprisingly dropped a playoff game early in the NCAA tournament last season to Cornell. After their close win over Harvard though, it seems like the "curse" is broken, and I expect the same talented team that already clinched the regular season Hockey East title to come out on Tuesday and hoist the trophy. BU is no slouch, but the Huskies have looked nearly unstoppable this season. Score: NU 3-1
Mike Puzzanghera, news staff, former sports editor and women's hockey beat reporter: This game features some of the best players in the country: Alina Mueller, Aerin Frankel and Jesse Compher. Frankel has shown her ability to produce wonder saves against some of the top scorers in the country (see her save on Wisconsin's Daryl Watts) and makes Northeastern the favorite. Still, I can't imagine BU getting shut out on their home ice in the Beanpot final. I'm going for a bold scoreline, one that may just boost Northeastern's national ranking even further. Compher and Julia Nearis tally for BU, while Mueller, Aurard, Brown and Hobson each get a goal for Northeastern. Score: NU 4-2
Valeria Vazquez, deputy sports editor: The Huskies have been on fire this season. They are consistent, and they are fierce defenders. Having already beat the Terriers on three separate occasions, they can without a doubt do it again and better. The team itself has some of the best players in the nation that standout on their own, but still connect and harmonize together on the ice. It will be exciting to see them devour BU, and I expect they'll do it with a hefty lead. Score: NU 4-1
Jordan Baron, news staff, former sports editor: With one of the top defenses in the country, backed by Skylar Fontaine and the freshly returned Brooke Hobson, the Huskies are most definitely the favorites in this match. Aerin Frankel has been almost unbeatable in net, averaging 1.06 goals allowed per game with nine shutouts on the season thus far. Her backup, freshman Gwyneth Philips, is almost even more impressive; in her six appearances on the season, she has shut out the opponent five times and put up a 0.23 goals per game average in those games. The freshman doesn't have any big game experience like the beanpot final, but I would not be surprised to see her get some minutes. With Chloe Aurard and Alina Mueller anchoring the front end (the two have combined for 92 points on the season thus far), the Terriers will have to apply steady pressure throughout all 60 minutes to have a chance. I predict a solid performance from Frankel in net, with the Terriers sliding one goal across, proving too little to get past the Huskies. Score: NU 4-1.