Women's hockey finishes UVM trip with 10 goal outburst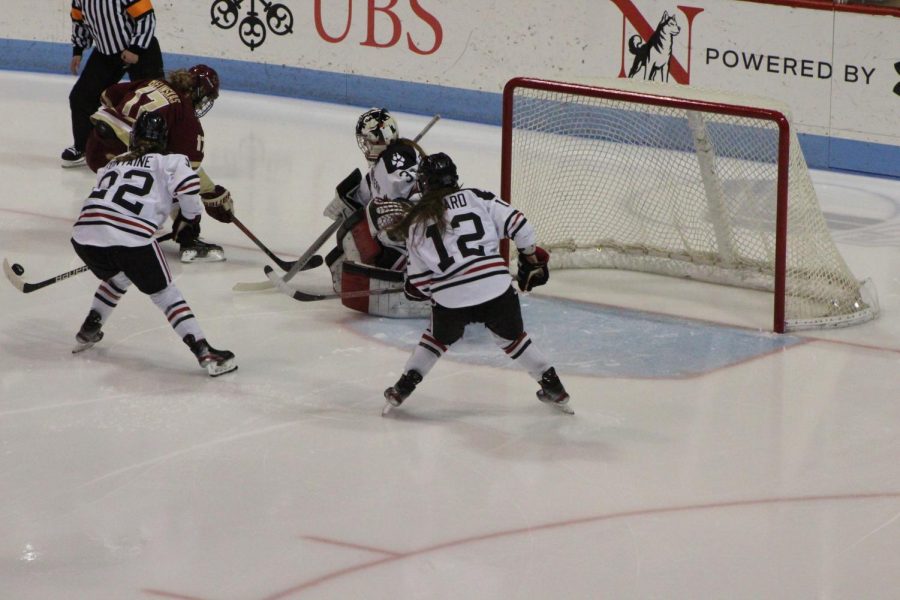 While the women's hockey team's five-game shutout streak finally came to an end this evening, the Huskies will surely be happy with today's outcome anyways. NU destroyed the Catamounts for the second day in a row, this time scoring an impressive 10 goals, including six goal second period, en route to a 10-2 victory.
Shockingly, the Huskies (21-3-1, 18-2-0 HEA) were outshot by the UVM Catamounts (9-12-6, 6-10-4 HEA) 30-29, but it didn't matter to the surging Husky scorers. NU's dynamic scoring duo of sophomore forwards Chloe Aurard (three goals, one assist) and Alina Mueller (one goal, four assists) was on fire today, combining for nine points. Aurard's hat-trick gives her 17 goals on the year while her linemate Mueller now has 44 points on the season, placing both near the top of the NCAA in scoring. 
Mueller and Aurard were far from the only Huskies to shine in Burlington today. Freshman forward Katy Knoll earned a goal just 36 seconds into the contest and had an assist later in the game. Freshman forward Jess Schryver earned three points off a goal and two helpers while senior forward Tessa Ward and freshman forward Peyton Anderson carried over their success from yesterday, earning two more points each. 
NU had a chance to flex their goaltending prowess again, as both junior Aerin Frankel and freshman Gwyn Philips saw time between the pipes. Frankel stopped 21 of the 23 shots sent her way, while Philips continued her perfect start to her career by turning away all seven shots she saw in the third. 
The Catamounts never stood a chance against the likely national championship contending Huskies, as Knoll and Aurard got the scoring started early, putting NU up by two less than seven minutes into the game. While UVM junior forward Val Caldwell mustered a comeback effort to close the gap to 2-1 as the first neared an end, the Catamounts would soon walk into a buzzsaw. 
In a true "burn-the-tape" period for UVM, NU took 15 shots and scored on six of them. This was the period for Aurard to complete her hat-trick with two tallies, sophomore defender Lauren MacInnis to score her third goal of the season, Mueller to earn two assists, senior forward Matti Hartman to score her 28th career goal and five other Huskies to earn points. The period would end 8-2 NU. 
The onslaught wouldn't end in the third, as the Huskies picked up their final two goals to reach double figures. Mueller picked up her fifth point with a goal from an Aurard assist while Ward assisted Anderson for the Huskies 10th goal. 
Boston University is next on NU's hit-list as the Huskies will faceoff in a rivalry game at Matthews Arena Tuesday at 7 p.m.