No. 3 Women's hockey splits home-and-home with Providence Friars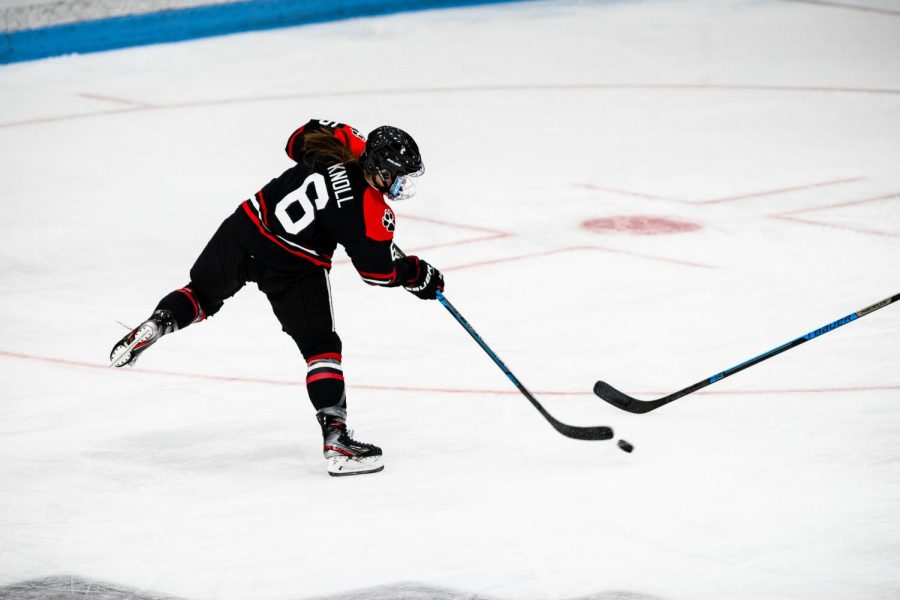 No. 3 women's hockey took an overtime loss to the Providence Friars 2-1 on Friday, making the Friars the first team to beat NU twice this year out of a prestigious group of three teams to knock off the impressive Husky group. They bounced back this afternoon, securing a strong 4-1 bounceback in.
In game one, freshman defender Lauren DeBlois starred for Providence with two smartly timed rips from the point for power-play goals and her first career multi-goal game.
In the series, NU freshman forward Katy Knoll shined, notching four points on three goals and an assist including two in the second contest.
Friday Night Lights – 2-1 Providence OT win
The Huskies (26-4-2, 22-3-0 HEAW) got up early. Knoll scored one of the quickest goals you'll see, just 56 seconds into the contest. She's made a habit of that type of play, with multiple first minute goals this season.
From then on, over 64 minutes of hockey, the Huskies were shut down. Redshirt sophomore goalie Sandra Absteiter continued an impressive season as her GAA dropped to 1.60 thanks to her 31 saves. NU managed to get two other pucks through, but both sophomore forward Alina Mueller and senior forward Matti Hartman had goals called off following official reviews.
NU junior goalie Aerin Frankel did everything she could to match Absteiter's performance, notching a remarkable 37 saves on 39 shots, but she needed at least one more to get a win. Both goals scored by the Friars came with a strong net-front presence, making it tough to blame Frankel for either tally.
Providence tied the game late in the second period off the stick of DeBlois. The Friars jumped on a four-on-three power play after a mess of penalties ended with Knoll picking up a minor for hitting from behind, giving the traveling team a chance to even Knoll's early tally. DeBlois was assisted by senior blueliner Whitney Dove and sophomore forward Sara Hjalmarsson.
The Friars ended it late in OT, again scoring on the power play. NU came into the game having allowed just seven goals on 101 opposition power-play chances, but the Friars cracked their code.
Again, DeBlois, Dove and Hjalmarsson teamed up, with DeBlois picking up her second goal of the game and fifth of the season. Dove and Hjalmarsson eached earned assists on the game-winning marker.
Saturday afternoon comebacker – 4-1 NU wins
This time, the Friars got the early goal. Four minutes in, Hjalmarsson burnt the Huskies yet again, this time scoring an unassisted goal on a breakaway where she flashed a nice move to make the backhand viable.
Freshman goalie Gwyn Philips got the start in the net to spell Frankel. After her early mistake, she bounced back, going on to save the next 22 attempts by Providence. Absteiter couldn't match her performance from the night before, surrendering three goals on 31 shots.
NU's first goal came from Mueller four minutes into the second. In a remarkable display of skill, Mueller received a pass from junior defender Skylar Fontaine and made multiple moves with the puck in seconds, rapidly deceiving Absteiter and opening up the net for a game-tying tally. After having one taken back last night, she left no doubt of her scoring abilities on this one.
Later in the period, Knoll gave NU the lead, scoring from nearly the same spot Mueller did five minutes before. Knoll scooped up a Friar defensive zone turnover and closed in on Absteiter and ripped a clean unscreened wrister from the left circle, pushing the score to 2-1.
The defensive performance from NU matched the offensive in the second as well, keeping the Friar skaters to just six shots on goal in the period. The third period was a reversal of roles, as NU managed just five shots as they looked to protect their lead, but they scored on two of those.
The first goal of the third came from recent Beanpot hero Lauren MacInnis four and a half minutes in the period. The junior blueliner scooped up a great drop pass from Hartman and moved toward the left circle. A great net-front presence from sophomore forward Mia Brown kept Absteiter from located MacInnis' shot and the NU lead moved to 3-1. Knoll also earned an assist on the goal.
The final Husky score came from Knoll. Her final point of the series came on an unassisted empty netter with just over two minutes left in the game to ice the contest.
Next on the agenda for NU is a home-and-home against lowly Merrimack (5-22-5, 2-18-5 HEAW) next week to end the regular season. They face off Friday night in Andover at 6 p.m.