No. 3/4 women's hockey celebrates senior night with a 3-0 win over Merrimack, Frankel breaks records
For one final time in regular season action, seniors Paige Capistran, Matti Hartman and Codie Cross took to the ice. Among the many amazing memories for the three veteran Huskies are two Hockey East tournament championships to propel two NCAA tournament berths, a Beanpot trophy and today's win, as NU came out on top against the Merrimack Warriors, 3-0.
"I think you if ask any one of their teammates how important they've been… they've been really instrumental in our success. Look at what they've achieved over their four years – how many wins, how many regular season championships, postseason championships, NCAA tournaments and a Beanpot this year – they've created a winning culture, they've helped create that," said NU head coach Dave Flint. "They've done a great job this year and it is really good to see."
Junior goalie Aerin Frankel, one of the stars of the team, agreed with her coach.
"The three of them have been awesome. They're great leaders on and off the ice and really nice people. I think they've done a lot for this program, not only on the ice but off the ice as well," Frankel said. "Our culture has grown a lot and it started with them as freshman learning from their seniors and they've done a really great job carrying that out to this team."
Each of the three seniors came in hovering around their individual career highs for points in a season, and while neither were able to add onto those totals, their careers at NU are far from over. The Huskies are now heading into the playoffs with a chance to repeat as Hockey East champions.
"For me, I get more passionate on senior weekend just because, even though it was a long time ago for me, I remember what it was like. I remember when you know your career is coming to an end. So I always want the seniors to go out on a winning note," Flint said. "Last night, we weren't playing well at the start of the game and I got on the team pretty hard because this is important. It is important for the seniors."
Before the postseason begins though, the Huskies had to take care of business against the Warriors. The normal lineup was out there for NU despite the lack of ramifications as standings and the playoff picture go, which gave the Husky stars a chance to bolster their already remarkable regular season resume.
Junior goaltender Aerin Frankel and sophomore center Alina Mueller are each high up in the running for this year's Patty Kazmaier Award, the most prestigious award in women's college hockey. They both bolstered their case this afternoon, with Frankel grabbing her second straight shutout to claim the Husky single season record for shutouts with 10 and move into second all time in total shutouts for NU. The single season record, previously held by Erika Silva, has stood since the 1999-00 season.
Mueller impressed as well, securing her third shorthanded goal of the year to give her 23 on the season. The impressive two-way forward has been a staple of the penalty kill all year, as her linemate sophomore forward Chloé Aurard and junior defender Skylar Fontaine have combined to spearhead one of the NCAA's best penalty kill units this season.
The game started out slow for both sides, and neither team took much control in the first period. NU kicked off the scoring with their aforementioned short-hander when halfway through the first, Aurard forced a turnover on the kill and found Mueller for a from-the-knee one timer just outside the crease which Mueller capitalized on, sending it hard into the top right corner of the net.
Outside of that, neither team did much in their opponents zone. While both teams got plenty of time on attack, the high danger scoring chances were limited. In the next period, that was exacerbated by NU's lethal defense in their own zone. Each time Merrimack got past the blue line, NU kept them to the outside and kept the pressure off Frankel.
"We kept things more simple, we were getting pucks to the net and were good on our forecheck. The last few weeks, we've kind of been through the course of 'We get going and then we kind of take our foot off the gas then we get going then we take our foot off the gas,'" Flint said. "I felt like the second period was our best period, I thought we were going better."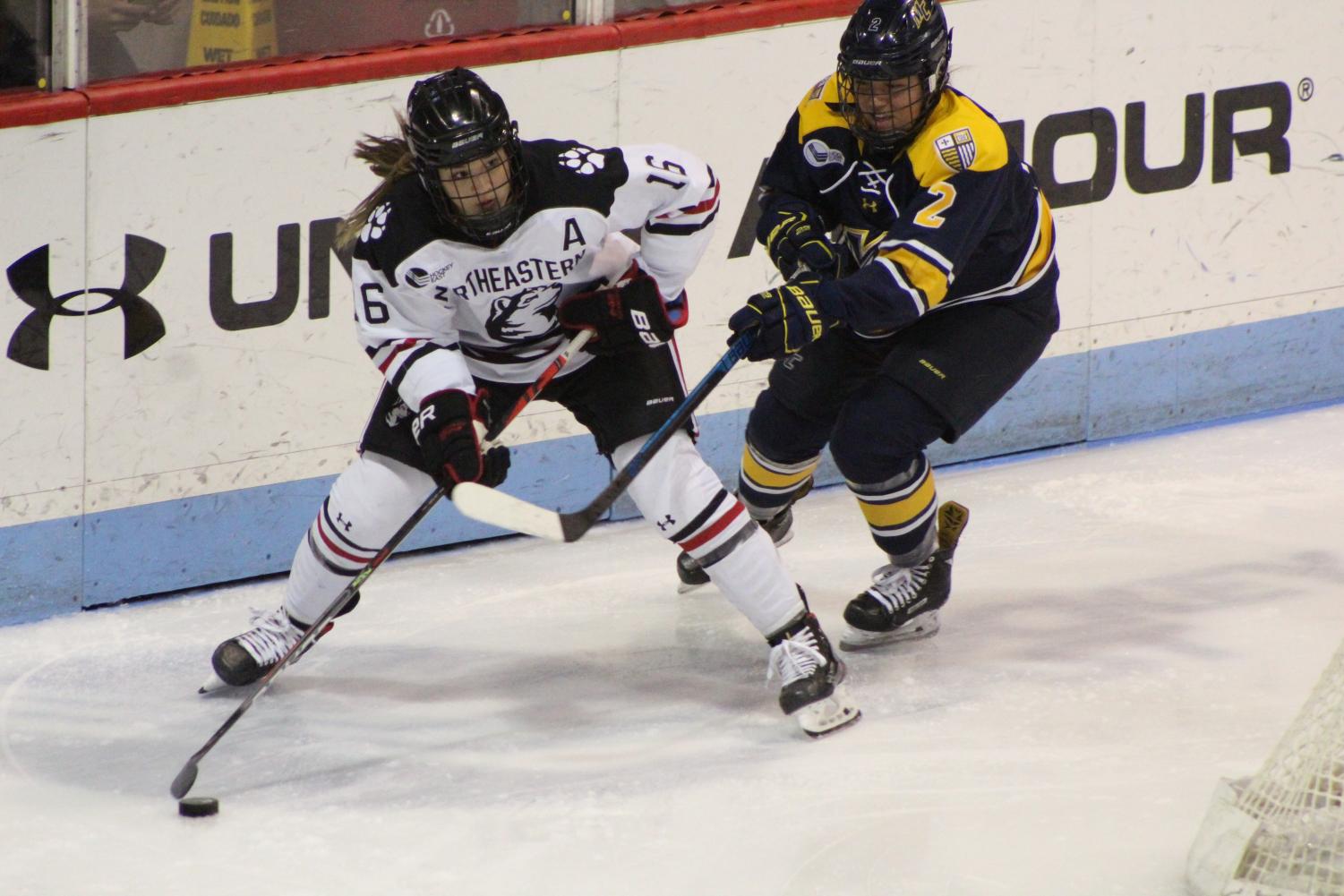 The defense led to offense. All the time NU was able to keep the Warriors away from their net they spent down close the senior goalie Lea-Kristine Demers of Merrimack, who was forced to stand on her head throughout the game to keep her squad in the contest. Her second mistake of the game came very early in the second. Two minutes in, sophomore winger Miceala Sindoris had her shot blocked, but junior blueliner Brooke Hobson scooped and scored the rebound, pushing the Husky lead to 2-0.
Frankel did have to make a few tough saves, but as usual, she stepped up when she needed to. Most notably, with just three minutes left, Frankel made one of the best saves you'll ever see. The puck snuck past her pad during a Merrimack power play and looked to break her shutout, but the Briarcliff Manor native came through. She whipped around and found the skittering puck with her stick and cleared it out just moments before it could cross the goal line. She would finish with 25 saves in the contest.
"I kind of lost it for a second, I think it slid through my pad and hit the post and I saw it up in the air so I just whacked at it and was lucky enough to hit it," Frankel said. "It was kind of a frantic moment with a lot of chaos in the crease. I know that my D had my back, so if I didn't get it maybe they would have."
NU's next goal came again on the back of an excellent penalty kill. Although the penalty was officially over, Fontaine was just exiting the box as her teammates came through with their third goal of the contest. Junior center Tessa Ward coasted toward the back of the net with the puck as sophomore right wing Mia Brown sat in the slot. Ward hit Brown's stick with a crisp tape-to-tape pass and Brown didn't hesitate, launching a quick wrister into the back of the net and pushing the score to 3-0.
The third period moved along slower than the first two, with plenty more whistles, but in the end, the change of pace had no effect on the Husky momentum. They continued to pepper Demers with shots, she had to save 38 on the contest, while Frankel and her D-core stayed strong to hold onto yet another NU shutout, their 13th of the season as a team.
"I feel good, I'm pretty confident with the way we've been playing. We've been practicing really well and have good energy, I think we are coming to the point where our team is really clicking chemistry wise," Frankel said. "It is really nice to see, especially this time of year. Coach Flint always says you want to be playing your best in February, not September and I think we can do that."
Next on the Husky agenda is the Hockey East playoffs. They open the postseason with a best of three series against Vermont next week, with the first puck dropping at 1 p.m. on Thursday. Last time these teams faced off for a two game series at Vermont, NU won both games by a combined margin of 14-2.
"I just told them in there, one season is over and the second season starts. We need to play with the same passion in the regular season as the postseason," Flint said. "If we got everybody going, from the goal line out, and everybody is giving their best effort, we'll be fine. If we're not playing the way we're capable of, we let Vermont outwork us, we think going in that it's going to be an easy series, we could get ourselves into trouble. We need to be focused, we need to be ready, and they're a good team, well coached.
It's playoffs, anything can happen."