Reopening updates: Further COVID-19 testing details announced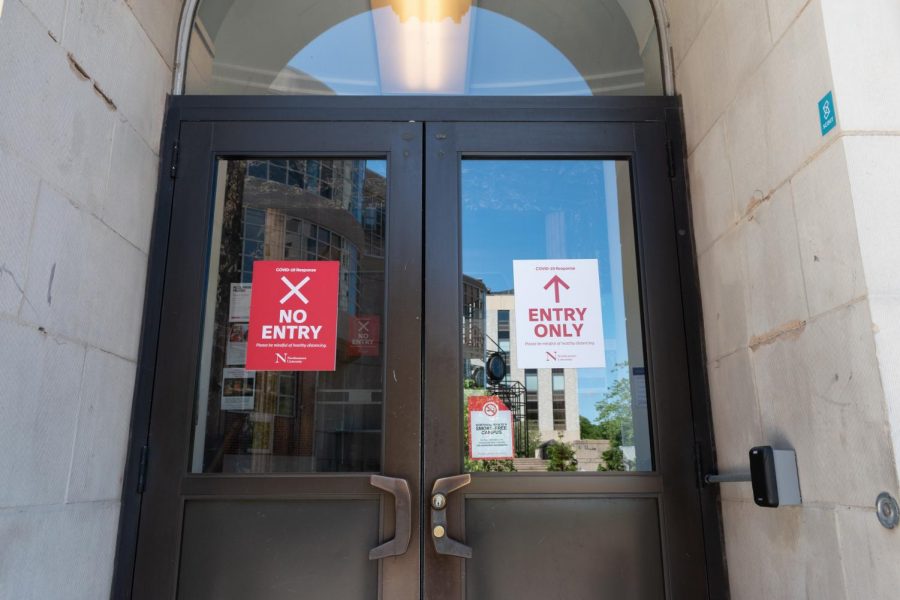 This story will be updated continually as new information comes from the university and elsewhere that pertains to Northeastern students.
12:00 p.m. July 13: Further COVID-19 testing details announced
Northeastern released more details of its COVID-19 testing plan in a [email protected] article Monday morning. The article included the following new information:
Testing requirement: All students and staff returning to campus will be required to get tested for the virus within the first couple days of arriving on campus and regularly throughout the semester. If a student refuses to be tested, they will be required to "transition to a fully online learning experience" and will not be allowed on campus.
Testing schedule: Amaura Kemmerer, associate dean for wellness, said the university is looking into setting up a testing site that runs up to 10 hours per day, seven days a week. They are considering multiple options, including mobile testing options for different locations and flexible schedules to accommodate students and employees who may not be available outside traditional working hours.
The article did not include a specific testing schedule for community members, stating that "the number of days between each test will be informed by multiple variables, including the infection rates in Boston, as well as the average number of people a single person with a viral disease such as COVID-19 can infect."
Testing process: Students, faculty and staff will sign up for testing appointments using an online form. At the testing site, they will swab their nostrils themselves with anterior nasal swab, a process that is expected to take about five minutes. This is a less invasive test than the nasopharyngeal swab, which goes deeper into the nasal cavity. "Having participants swab their own nostrils reduces the risk of infection for healthcare providers, who won't be in close contact with the participants. And, since it is less complex, it will also result in faster sampling."
The swabs will be sent to Northeastern's Life Sciences Testing Center as well as an undisclosed "third-party testing facility." Participants will receive their results within 36 hours through a private, online portal.
Kemmerer said the university is planning to be able to test 5,000 people per day, if not more.
Testing locations: Asymptomatic testing will take place at the Cabot Physical Education Center on Huntington Avenue. Those experiencing symptoms of COVID-19 will be tested at a different, smaller facility. The location of this facility has not been disclosed. For these tests, the swabs will be administered by a clinician.
Plan for positive cases: Students who test positive for the virus will be placed in single-occupancy isolation rooms with a private bathroom and food delivery assistance. The location of the isolation housing has not yet been disclosed. "Students who become ill should coordinate with their instructors directly about their classwork," the article states.
Kemmerer said that all community members who test positive for the virus will be given healthcare resources as well. "If it's a positive test, they will be hearing from a member of the university's contact tracing team," Kemmerer said, according to [email protected] "If it's a student, there will be an offer made from a medical provider at University Health and Counseling Services. If it's the faculty or staff, that person will be directed to follow up with their primary care or their general practitioner."
1:15 p.m. July 9: New details on classroom recordings, campus protocol
Provost David Madigan and Chancellor Kenneth W. Henderson provided an update Thursday on Northeastern's reopening plans. Posted to the Northeastern website and emailed to the community, it contained new information about recorded classes, testing and NUFlex. Here's the new information:
NUFlex: Northeastern has renamed NUflex,  its system for having classes this fall split between online and in-person participation, "Hybrid NUflex." It was previously reported that each class would be recorded with a new set of cameras and microphones in each classroom. In Thursday's email, Madigan and Henderson wrote that all recording will be at the discretion of the instructor, and instructors must alert students that the recording is taking place. If students object, they must be allowed to opt out or the recording must be stopped.
Students will indicate their preference between online and in-person instruction through a new online interface called the Student Hub. Thursday's email noted that the hub should launch in mid-August.
The Hybrid NUflex FAQ page says that the aim is for students who opt for in-person learning to be granted at least one in-person experience each week. 
The FAQ page also notes that the format of exams will be left up to each instructor, and tools are available to administer exams remotely.
COVID-19 testing: The News previously reported that Northeastern is preparing to have capacity to administer thousands of COVID-19 tests each day. Thursday's update provided more specifics, saying that the capacity is thought to be between 2,500 and 5,000. It says all students, faculty and staff will be required to undergo testing "regularly," though the update did not specify a schedule. 
Harvard University recently announced that students living on campus will undergo viral testing every three days this fall.
Campus protocols: Thursday's announcement included new rules for those who go to campus for class or any other reason. All students must wear their Husky ID card on a lanyard. The mask requirement — which applies both indoors and outdoors — includes hallways inside residence halls. Students must check into campus buildings on the SafeZone app and complete a daily health assessment to check for COVID-19 symptoms.
12:15 p.m. June 30: Housing cancellation deadline extended to July 15
10 a.m. June 25: "Update on Fall 2020 Reopening Plans" email
Provost David Madigan and Chancellor Kenneth Henderson provided new details Thursday morning on Northeastern's reopening plans. An email sent to the university community included the following new details:
Testing:

Northeastern plans to employ "frontal nose swabs." Baseline testing will take place at the beginning of the fall semester, and then symptomatic testing will be available throughout the term. Routine testing will be conducted, but it's unclear how asymptomatic testing will be organized at this point. The university is not planning to use antibody testing, citing that it is not yet known if a positive result indicates immunity from future infection.

Tracing:

The university has a contact tracing team trained by Johns Hopkins that will act as case workers for anyone who receives a positive diagnosis. In addition, they will also help those who test positive to understand next steps and access to care.

Calendar:

The reopening team, which includes Madigan and Henderson, considered altering the academic calendar like some other universities have done. However, they decided against it since NUflex will give students the chance to individually decide when to arrive and depart.

Online portal: Henderson and Madigan had previously told The News about a new online interface called "single pane of glass." According to Thursday's email, it is now being called The Student Hub. It will include email, calendars, course information and COVID-related information, among other features.
Cleaning:

The university is currently employing 250 cleaners to disinfect the Boston campus. Occupied buildings will have commonly-touched surfaces cleaned three to four times per 24-hour period. Cleaning kits and instructions will be provided for shared bathrooms and kitchens in residence halls.

Housing: Housing assignments will be released in late July and early August. Move-in will take place across 12 days, instead of the usual five. There will be a limit on the number of people who can help a student move in. Students will be limited to one hamper, which will be sanitized between uses.
June 17: Northeastern shares additional NUflex details on cleaning, visas, sports in Tuesday town hall
Read our coverage of the town hall here.
June 16: Q&A: Provost Madigan and Chancellor Henderson discuss reopening
Read the Q&A between The News and the administrators here.
June 11: Northeastern details NUflex program
Read about the details of NUflex here.
June 11: Northeastern shares further reopening details on dining, NUflex, sports in Thursday town hall
Read our coverage of the incoming-freshmen town hall here.
June 5: Northeastern announces 'NUflex' hybrid learning model for fall
Read our coverage of the university's announcement here.
June 2: Activist groups form coalition to advocate for safe reopening
Read our article about the coalition here.
May 25: NU releases safety protocols for initial reopening of research labs, administrative offices
Read our coverage of the first reopening steps here.
May 8: Northeastern announces plan to reopen classrooms, residence halls in the fall
Read our coverage of the university's intention to reopen here.