No. 2 women's hockey drops home opener to BC, 2-1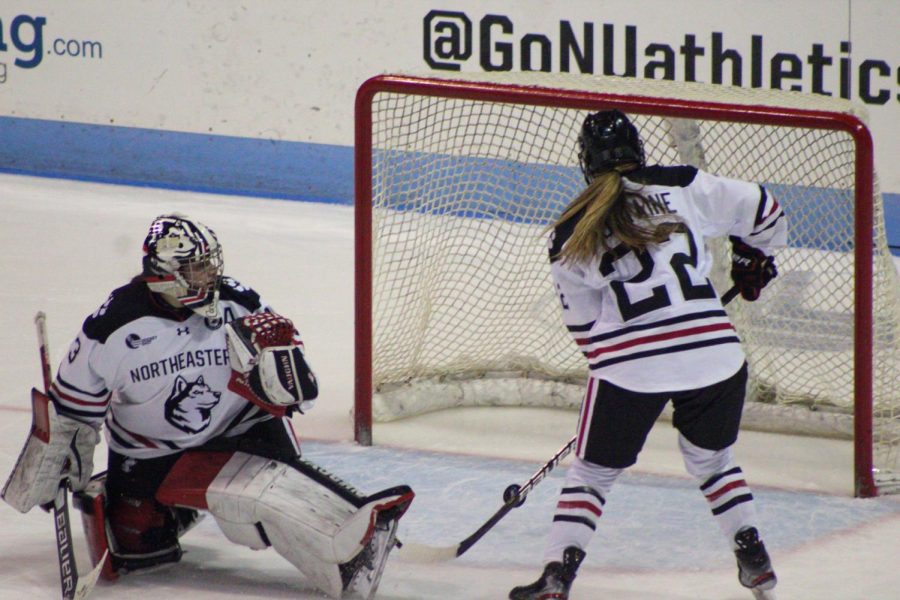 The No. 2 women's hockey team fell in their home opener to the visiting No. 9 Boston College Eagles by a score of 2-1 Sunday night. The Huskies struggled with a slow start and some defensive zone turnovers, but unlike their season opener, they weren't able to turn it around in time to pick up a win. 
"Not our best effort. I think we played pretty good in the third, but 20 minutes of hockey isn't going to win you a game, especially against a team like BC," said head coach Dave Flint. "It just seemed like pucks weren't connecting all night, just missing by an inch on passes, and we needed to bear down on our opportunities too." 
Both the Eagles (5-3-0) and the Huskies (1-1-0) struggled to maintain consistent pressure in their opponent's offensive zone in the first two periods, with wayward passes especially costing the Huskies scoring chances. Once the buzzer for the third period sounded, it seemed to wake up each team's offense, but it was not enough for the Huskies to come away with a win. This was just the Huskies' second game of the season, while their opponent already had seven contests under their belt, so the Huskies will look to iron out a few of their inconsistencies from the contest and get closer to peak game-shape going forward. 
"It's our second game in and it's their eighth," Flint said. "We're still trying to figure out lines and different things like that, so, we'll chalk this up to a lesson learned today." 
Senior goaltender Aerin Frankel finished with 32 saves on 34 shots, but was narrowly edged by her BC counterpart junior goalie Abigail Levy, who turned down the Huskies on 32 of the 33 shots she saw. Frankel's performance was enough to keep her team in the game despite an uncharacteristically slow game from her skaters, but a communication miscue in the third led to her being out of position and behind the net on the game's deciding goal. 
"[Frankel] played great. We were pretty bad at times in our D-zone … and she bailed us out a few times. We were just sloppy in our own end, and usually that's one of our strong suits," Flint said. "Aerin kept us in it the whole time, and that's what she usually does. We just need to get better."
Sophomore forward Hannah Bilka, who helped spark a goal for the Eagles on Friday, was once again in the scoring mix with the game's first goal. Junior center Jilian Fey, the Eagles' lone goal scorer on Friday, came through for them again Sunday with the game-winning goal, while the Huskies' lone tally came from sophomore forward Katy Knoll, her second in as many games to start the year.
Bilka's goal was an odd-looking one, as she looked to make a pass through Husky traffic to a trailing teammate, but the puck instead caught the stick of NU freshman defender Abbey Marohn. Frankel, who was sealing the short post on Bilka's side, was unable to stop the unexpected deflection, and Bilka's pass found the net and gave her team a 1-0 lead late in the first. Neither team was able to pressure the goalies much in the first stanza, as the Husky shooters struggled to pull the trigger early on. 
"We were better in the third period than we were in the first two, but we got to get to the front of the net to score goals. BC, they're like vultures around the net, and we have to get that mentality," said Flint, who felt that his shooters remained on the perimeter too much. "We get a little too cute sometimes and try to pass the puck and make that extra pass when we need to shoot the puck. We'll just keep stressing that and working on it, and hopefully they realize that if you want to score goals you got to be down in the dirty areas around the net." 
The second period came and went with no scoring from either squad, as both Levy and Frankel continued a goaltender duel. Both teams were able to ratchet up the offensive pressure a bit, managing a few decent scoring chances each, but no pucks were able to meet the highly coveted twine of the net. Outside of just Levy's strong play in net, the Eagles worked hard to block the Huskies scoring chances and clog the shooting lanes, making it difficult for the Huskies even once they notched up their aggressiveness on offense. 
"[BC] played hard for the whole game. They had 26 blocked shots, so they played with a little more intensity, and they out worked us in stretches. It kills me to say that, because I don't like when we get out-worked, but we did get out-worked at times," Flint said. "They were blocking shots, and they were gritty. That's what you need to win hockey games, and they had it today and we didn't."
In the third, the Huskies finally began to wake up. They were able to get sustained pressure on Levy multiple times in the period, even ringing a shot off  both posts, but Levy was able to turn the Huskies away. Her play throughout the game was strong, but she particularly impressed in the third with a few sequences of multiple saves in a short succession. 
"[Levy] played great. She's a big goalie, takes up a lot of net. We didn't make it difficult for her the first two periods; she was seeing all the shots and we weren't jumping on rebounds, but the third period she came up with some big saves for them and helped secure the win for them," Flint said.
Finally, Levy wavered midway through the third. Senior defender Skylar Fontaine looked to send the puck to sophomore winger Peyton Anderson, but the puck got tied up and wound up loose outside the crease. Knoll took advantage, and from just outside the goalie's paint, she ripped a hard shot to tie the game for the Huskies midway through the third. 
The tie was short-lived though. On a defensive miscue, Fey stole the puck from Frankel behind the Husky net and wrapped it around for the game-deciding goal with just over eight minutes to go, giving the Eagles the 2-1 lead they'd take to the finish line. 
"[Frankel] went out to play the puck and [Fey] came up from behind her, [Frankel] didn't see it… [Fey] jarred the puck loose, and then just got it and wrapped it in," Flint said. "We need to just be better on communication, the D needs to communicate with [Frankel]. She needs to understand too, that if there is a lot of pressure back there, just to dump that puck into space. It's a learning lesson for everybody, and that's the first time I can recall that's happened to us in a long time, so it's just an unfortunate miscue."
The Huskies will have a long stretch to work on their game with their next contest scheduled for January 1st against UConn (1-3-1). Flint expressed some optimism that they could get another game scheduled before that date, but for now, the Huskies have a couple weeks off to practice.