Hat trick against Boston College puts Lund on the map
Cam Lund's hat trick, buzzer-beating finish and shootout goal against Boston College Nov. 11 sent Matthews Arena into a frenzy and solidified the newcomer's name amongst Northeastern hockey fans. 
Before making his way to Boston, Lund spent the 2021-22 season with the Green Bay Gamblers of the United States Hockey League, earning 50 points with 25 goals in 62 games. Hailing from Bridgewater, Massachusetts, the freshman forward had his sights set on returning to his home state.
"[The commitment process] happened really quick," Lund said. "I accelerated a year in school so I was able to commit, and then it happened all within like a week. I talked to all the Boston schools and when it came down to picking the school, I just thought Northeastern was the best fit after talking to coach Madigan, coach Keefe [and] the whole staff. And then obviously being in Boston — the Beanpot — definitely contributed to me coming here."
Living only 40 minutes outside of Boston, Lund's family is able to attend every game at Matthews Arena. The first-year in the general studies program attributes his successful hockey career to his family, especially his father who put him on skates when he was just two years old. 
"[My dad] is a big reason why I got into hockey," Lund said. "He's definitely my biggest supporter, even now, showing up to all my games. He sacrificed so much for me to get where I am so I owe a lot of respect to him for that."
All those years on the ice paid off for Lund when he was selected in the second round of the NHL draft by the San Jose Sharks this past summer. The freshman was picked 34th overall, becoming the highest Northeastern draft pick since 2011. Lund recalls being speechless when his name was announced to an arena filled with hundreds of other hopeful talents.
"It's definitely crazy," he said. "I mean, it's been my dream ever since I was a kid and started playing hockey to get drafted." 
Although a tremendous achievement, getting drafted to an NHL organization has only urged Lund to continue to improve his craft.
"Obviously, every guy out here on the team is a really good player, so I don't think [being drafted] changes anything … I kind of use it as motivation. I mean, there's always people coming for your spots," Lund said. 
Even though the newcomer is only 18 years old — a rarity amongst college hockey freshmen, as many high school graduates elect to spend a season in the junior leagues to develop their skill — his expertise on the ice defies his age.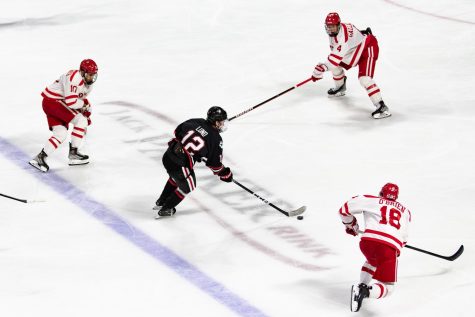 "Cam has number one elite speed, [he's] one of the faster guys I've coached," head coach Jerry Keefe said. "He's long, he's got a great skill set and he's got underrated power to his game, too. When he wants to play a power game, he's good at it. He's one of the more dangerous forwards I think in all college hockey … The puck's on his stick and good things usually happen. And now that he's gotten even more accustomed to playing college hockey and he's got a couple of months under his belt, he's starting to understand how we want to play more within our identity and our team systems."
This seamless transition to the collegiate level was on display for a packed Matthews Arena when Northeastern faced Boston College Nov. 11.
The Huskies were down 1-4 heading into the third period, their only point coming from Lund in the first four minutes of the game. Following a goal from graduate forward Jakov Novak, Lund narrowed the gap to 3-4 with less than three minutes to go. With 0.6 seconds remaining in regulation, Lund knocked the puck into the back of the net to tie the game and record his first career hat trick.
After five scoreless minutes of overtime, the Huskies sought to defeat Boston College in a shootout. The first two rounds were unsuccessful for both the crosstown rivals. Victory depended on Lund, and he did not disappoint, securing a win for Northeastern with a shootout goal as the rink roared with excitement.
While the rookie boasts an impressive stat sheet, his impact on the men's ice hockey program is not confined to the rink as he has already forged meaningful connections with his teammates.
"He's an awesome guy," junior forward Gunnarwolfe Fontaine said. "Everyone loves him in the locker room. He just has good relationships with everyone. He's easy to talk to. He's a funny kid. He's always laughing so he's a great teammate to have because he's always smiling. He never brings anyone down and he's always in a great mood."
In fact, Lund and Fontaine dub each other as best friends in their matching Instagram bios. When The News asked Fontaine about the story behind this, the junior commented their friendship was happenstance. 
"We sit next to each other in the locker room and we have the same dry stalls next to each other so we're just around each other a lot," Fontaine said. "I think we were just joking around with each other and one thing led to another. We just put each other's bios in and every now and then we check in with each other to make sure that we're still in each other's bios."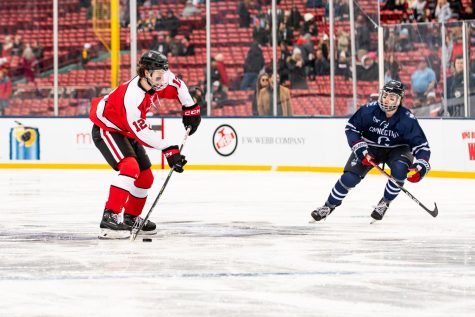 Only in his rookie season, Lund is racking up accolades and national recognition. He was named to USA Hockey's preliminary roster for the 2023 US National Junior Team and attended training camp but was not selected for the official competitive team. Sporting a USA jersey is nothing new for Lund — he also made an appearance for the US National U18 Team during the 2021-22 season. 
For the Huskies, Lund aims to be a consistent performer and team player. If the freshman's execution Nov. 11 was not telling enough of what his future holds, Keefe emphasized Lund's importance within the program.
"We think he's going to be a guy that's a game-changer, a big time difference-maker for our program," Keefe said. "I want him to be part of a winning team — a championship team — and play a big role in that. For us to have success this year, we need Cam Lund to be really good and be a real big part of that success."