Hundreds protest trans genocide in Transgender Day of Resistance March
Hundreds gathered in Downtown Boston March 18 to protest transphobia and trans genocide in the Transgender Day of Resistance March. The protest, organized by grassroots organization Stop Trans Genocide, started in front of the Government Center MBTA station, where organizers gave speeches demanding the state protect transgender lives. Marchers then set off on the 1.5 mile route to the steps of the Massachusetts State House in Beacon Hill.
The protest comes after a wave of anti-transgender legislation in many states has raised concerns the United States is beginning a genocide of trans individuals, or the systematic eradication of transgender people. Among these pieces of legislation are bans in multiple states on gender affirming care for minors, and drag bans that could criminalize any kind of visible gender nonconformity. At the Conservative Political Action Conference earlier this month, event speaker and conservative commentator Micheal Knowles called for "transgenderism" to be "eradicated from public life entirely."
The march was part of a mass day of action for transgender rights across North America. Stop Trans Genocide demands that Massachusetts become a sanctuary state for transgender people, especially those seeking gender-affirming healthcare, according to speeches given at the protest by organizers. 
The group also demands that Title IX, a law prohibiting sex-based discrimination, be expanded to include sexuality, gender identity and gender expression. A Safe Schools Program for LGBTQ+ students must be nationally enacted, and the Equality Amendment must be ratified at the federal level, as well as similar measures in state constitutions, they say.
"The right's tactics, misinformation and fear are threatening trans folks' rights to exist in public, and that is a problem for all of us," said Amny Cerritos, a march organizer and program manager at Boston GLASS, an LGBTQ+ social services organization. 
The disturbing increase of anti-transgender sentiment stirred people to organize protests and the day of action, she said.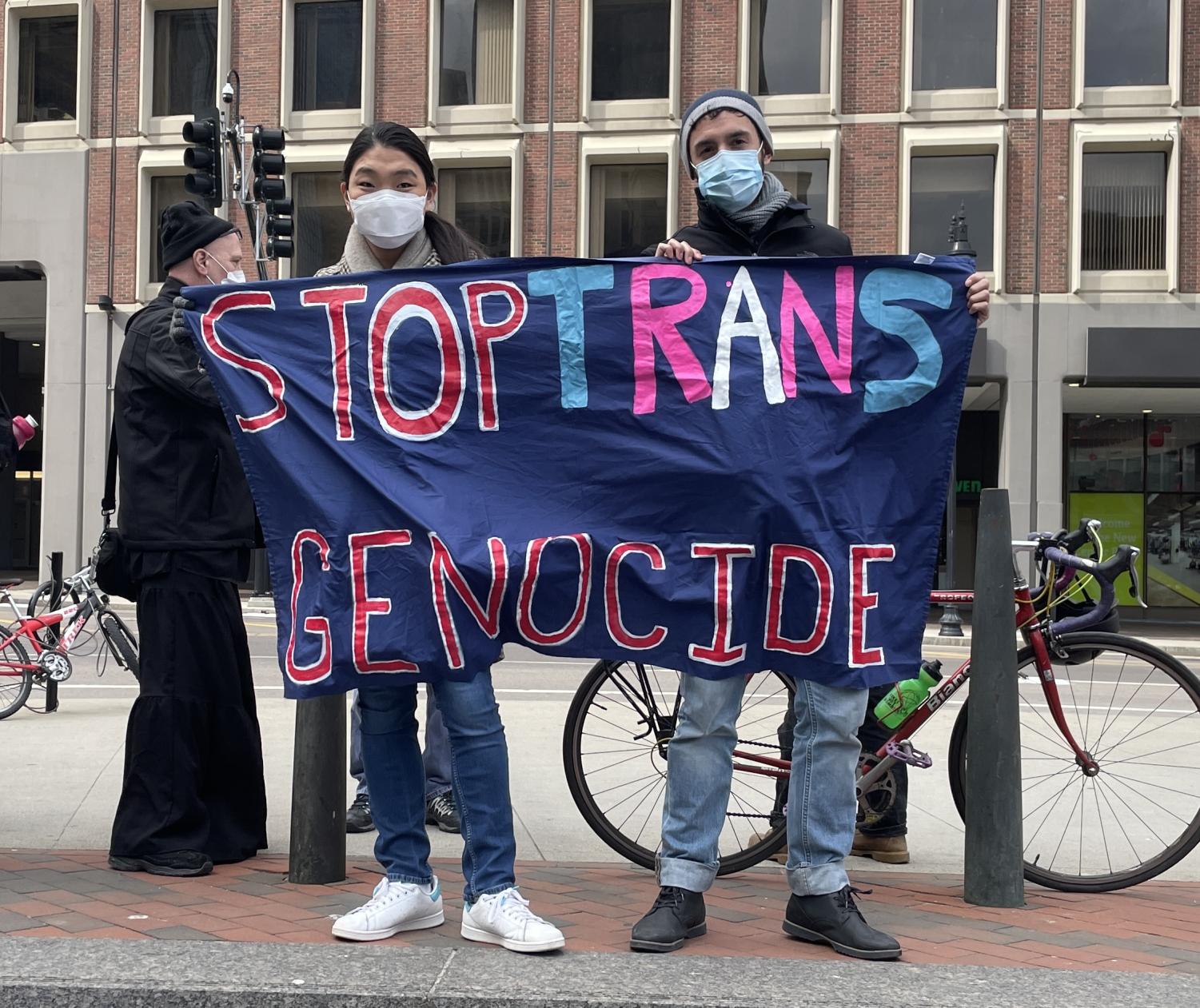 "There are 43 states that have proposed anti-trans bills so far this year, with 378 bills introduced, and just the uptick of violence against trans folk constitutes an emergency," Cerritos said. 
Though anti-trans legislation poses a threat, the national support for the Transgender Day of Resistance has shown "how important it is to amplify each other's actions and localize solidarity," Cerritos said.
In addition to rallying against transphobia, the march was also a celebration of trans joy. 
"Of course, we are against all the anti-trans legislation, and we are countering it and that's what really mobilized us," Cerritos said. "[But,] I mean, look at the amount of people that have shown up today. It's really, at the end of the day, a great celebration of trans joy." 
Several members of the Boston Sisters of Perpetual Indulgence, an organization specializing in LGBTQ+ activism, also participated in the march. 
"Joy is part of resistance when people are trying to oppress you," said Sister Brother Freddie Anne Willing, a member of the sisters. "One of the biggest things you can do is show joy in the face of oppression, because it shows them that what they're doing is only ever going to be so effective."
Throughout the march, energy was high as protesters chanted and held signs demanding that transgender individuals will not be erased. Passing trucks and cars honked in support, and passersby stopped to watch or join. 
Once at the State House, demonstrators shared passionate speeches and poems chronicling the bullying, discrimination and violence they experience as transgender individuals in the United States, demanding accountability from lawmakers. 
"This is a genocide, we need to name it," said protester Mateo Rojas in a speech. "I want to point out that as a Jew, when we say never again, were we fucking unclear?" 
Rojas drew parallels between the modern banning of books with LGBTQ+ characters and themes to the book banning that occurred during the Holocaust. Legal attacks through legislation on transgender people existing in public spaces are now taking place as the next step in eradication, he said. 
"Talk about what's going on," Rojas said. "Draw those parallels. Don't hold back by naming that this is genocide."