Third annual WISE Summit celebrates courage of female entrepreneurs
Women entrepreneurs across Northeastern met in ISEC earlier this month to attend the annual summit held by the Women's Interdisciplinary Society of Entrepreneurship, or WISE. The event's theme was "Created by Courage," recognizing the risks women take in creating their own businesses. 
Over the course of nine hours March 18, students attended lectures and workshops led by female businesswomen, breaking to network and chat over coffee and lunch. 
Meghan D'Arcy, WISE's head of summit, explained that preparations for the conference have been "a year in the making." Her team began working in the summer of 2022, establishing their theme and vision for the event.
"We picked this theme because a lot of times these great people had key moments in their lives where they picked a certain path over others," D'Arcy, a fourth-year business administration and design combined major, said. "It takes a lot of courage to get over the fear of choosing that path, so we wanted to honor those women who were created by courage."
WISE received support from all of Northeastern's schools and colleges, in addition to a number of corporate sponsors. D'Arcy said her team worked closely with Betsy Ludwig, Northeastern's executive director of women's entrepreneurship, to make the event possible. 
In her opening remarks to the audience, WISE co-director Valerie Robert, a fourth-year computer science and political science combined major, recognized the unique risks female entrepreneurs face in the business industry. 
"WISE was created because our founders noticed the lack of women in entrepreneurship," Robert said. "One of the biggest challenges preventing women from becoming entrepreneurs is the fear of failure. When women do fail, they are judged more harshly than their male counterparts. We want to give women and non-binary students resources to support them and their ideas."
The event kicked off with two keynote speakers. Melinda Smith, a former chief financial officer at Venmo, shared her experience working at technology startups during economic downturns. She reassured her young audience that opportunities for women in technology would continue to grow, despite the current state of the economy.
"I know that the WISE organization is newer, and it helps promote a unique women's-only space," Smith said in an interview with The News. "I've been in my career for 25 years now and I thought that empowering and encouraging the student population here would be a great message to send."
She was followed by Emily Herrera, a former WISE member who currently works as an investor at Night Ventures and is the founder of The Wiress, a community for women in startups. Herrera, who described herself as an "'aggressive girls' girl," discussed her experience feeling isolated in the male-dominated world of venture capital, creating her community for women to share their experiences. 
In 15-minute "lightning talks," Colette Divitto of Collettey's Cookies shared her experience starting her own company as a woman with Down syndrome, and Crissi Cole of Penny Finance shared how she transitioned from working at Goldman Sachs to starting her own business. 
Cole was transparent with her audience, sharing her best and worst moments that led her to where she is today.
"Entrepreneurship is not straight up — life is not straight up," Cole said. "I thought my life was a series of highs and lows but it turns out that everything was a stepping stone. All those years in New York I learned how to invest and build tech so that I could eventually start Penny [Finance]."
Kimberly Nguyen, a second-year business administration major, said it was reassuring to hear about Cole overcoming her obstacles.
"I think that as women in business, we're really scared to face failure," Nyugen said. "It was really nice to hear that she went through those obstacles and learned from it."
Event programming continued even through the lunch break, allowing attendees the chance to network as well as directly engage with female entrepreneurship in the small business marketplace.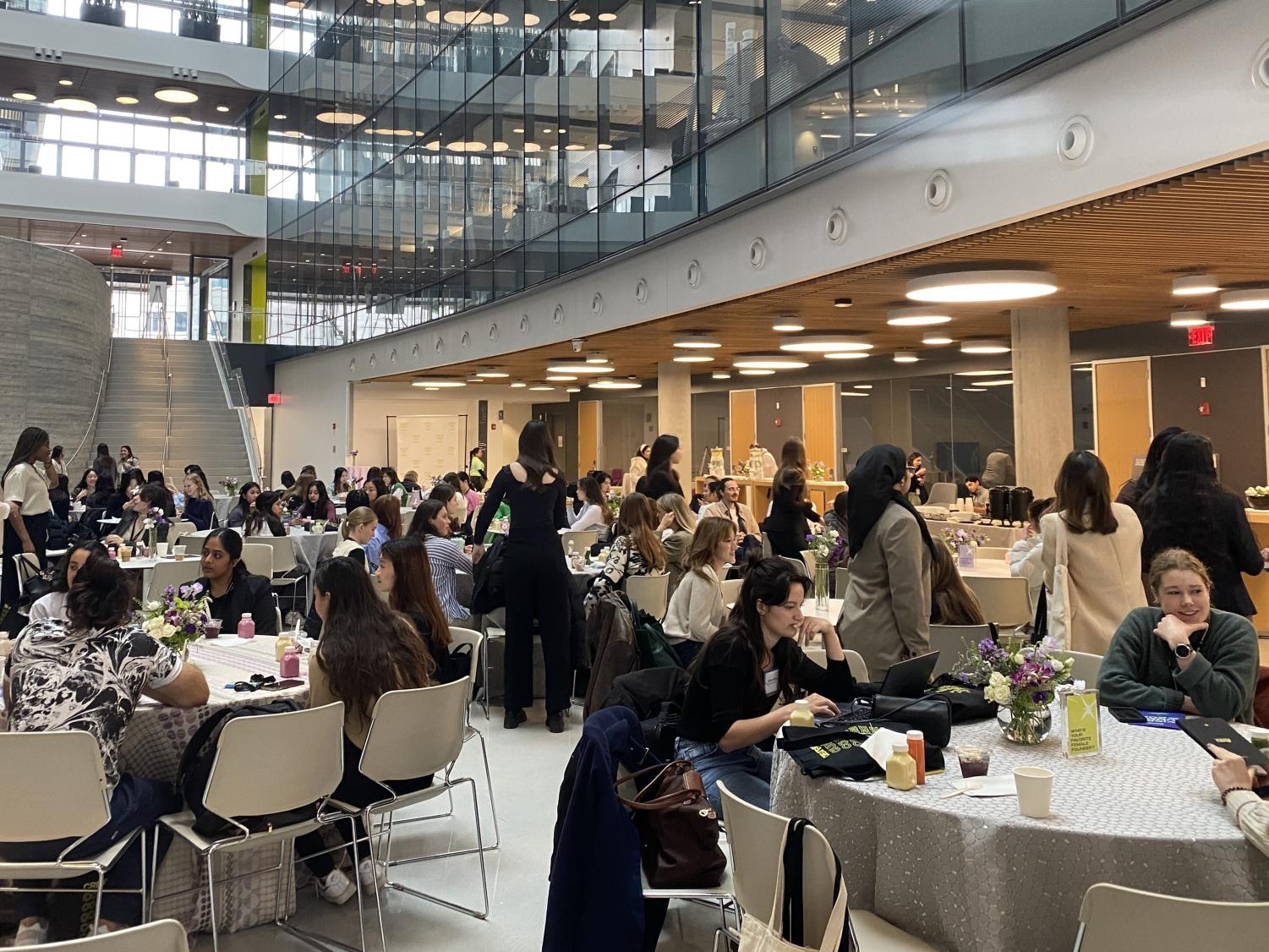 One of the vendors, Laurel Greenfield, creates colorful prints and paintings of food. She came to the event not only to sell her products, but also to share her knowledge with a new generation of female entrepreneurs.
"I went to Boston University, and when I heard about WISE, I was so jealous that Northeastern has this organization because it isn't always easy to meet young female business owners," Greenfield said. "I love speaking with younger women who want to start a business and talk about all the different ways they can do that. It's important to me to connect with that community and show younger women what's possible."
Throughout the one-hour break, the first floor of ISEC continued to buzz with energy. Attendees chatted with old friends and met new connections while discussing various entrepreneurship-related questions sitting atop the tables.
Emma Jepsen, a second-year business administration major, said the positive environment is what drew her back to the summit for the second year in a row. 
"I came last year and I didn't know anyone, but I was immediately so well received," Jepsen said. "Everyone here is so welcoming and loving. The energy is amazing."
Attendees then had the opportunity to participate in two workshops, with topics ranging from personal finance to storytelling for business. Leading these sessions were female founders and CEOs of Boston-based businesses such as JUICYGREENS, Chew Innovation and Wyllo.
The event finished off with a keynote by Jules Pieri, founder, CEO and investing partner at XFactor Ventures, a female-founded investment company.
Claire Healy, a second-year business administration and political science combined major, said she appreciated the diverse backgrounds of all the speakers.
"It's cool to see that the vast majority of them ended up doing something that wasn't their college major or what they had expected to do," Healy said. "It was great to hear as someone who isn't exactly sure what I want to do."
Healy said she has attended other business events, particularly those focused on venture capital, that are often male dominated. 
"I saw this event that was created for women, by women, and I knew that it was something I was interested in," she said. 
Attendee Lizzie Beckett, a second-year economics major, said the focus of these lectures wasn't what she had expected when signing up for the event.
"I like that the focal point isn't necessarily female empowerment," Beckett said. "It's just about their success in business, and it normalizes female success instead of pretending that it's special. It's my first WISE event and it's really interesting to see their approach, not treating female entrepreneurship like it's exceptional."
This feeling of normalizing female success in business is what made D'Arcy love summit in the first place and keeps her involved in the event year after year.
"I attended the very first summit during my freshman year, and it was like my second week on campus," D'Arcy said. "It was the first time that these big ideals and goals actually felt attainable. I loved that feeling and I want other members of the Northeastern community to feel that too."