Column: 2018 is shaping up to be the year of the underdog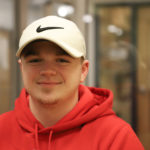 By Thomas Herron, sports columnist 
It's natural for sports trends to be broken, and every now and then we see an underdog defy all odds and win on a stage that they were never supposed to be on in the first place. So far, 2018 has had a complete disregard for common trends established throughout the history of sports.
Two backup quarterbacks won the most prolific games in their respective levels of their sport. Philadelphia earned its first major professional sports championship in a decade. We see 17- and 31-year-olds alike dominating in the Olympics, and the women of Team USA won more medals than the men for the first time in 20 years. Northeastern won the biggest in-season tournament in college hockey for the first time in 30 years after coming painfully close and losing the championship game in four of the last seven seasons.
The championships thus far, from the Superbowl to the Beanpot, have favored the underdogs. But this year's College Football National Championship saw Alabama win their fifth title in 10 seasons, which prompts the question: What about that makes them an underdog? After trailing to Georgia, coach Nick Saban handed the keys to freshman backup quarterback and textbook underdog Tua Tagovailoa over former SEC player of the year Jalen Hurts. Tagovailoa took over and bringing the Crimson Tide back into the game. The team forced overtime and ultimately fought their way back to win, marking yet another underdog victory.
In terms of individual performances, Tom Brady, against all odds, found the fountain of youth and became the oldest athlete to ever win an MVP award out of the four major sports — baseball, basketball, football, and hockey. Brady, even in a loss, broke his own record for passing yards in the 2018 Super Bowl with a monstrous total of 505 yards.
Shaun White, at 31 years old, and the oldest snowboarder competing, won his third gold medal — not to mention the 100th in U.S. history — 12 years after he first won gold at age 19.
Brady and White are both supposed to be past their prime, but somehow both look ageless in conquering their sport and playing at the highest level possible.
As the aforementioned pair defies the perception that athletes are only useful up to a certain age, Olympic snowboarders Chloe Kim and Red Gerard refute the idea that athletes can't achieve anything until they reach a certain "prime" age. Both won gold at age 17 and became the youngest champions in both the male and female snowboarding divisions, doing so in true millennial style. Gerard not only fell on his first two runs, but also admitted to watching Netflix way too late, sleeping in, barely arriving on time for his event and forgetting his Olympic jacket. Ultimately, none of it mattered as Gerard overcame all of this en route to the top of the podium. Kim decided to tweet about how "hangry" she was just before she won gold.
Barely three months into 2018, the world of sports has seen commonalities completely disregarded. The underdogs, whether that status marks a circumstance of matchup, age or some other extraneous factor, have dominated. Spectators should learn to expect the unexpected this year.
As a fan, there is nothing better than to see a team or individual conquer on the highest stage after they were whose been counted out again and again.
With the year in sports just beginning, it appears that the underdogs are set to take over. The only question is, who's next up?