NU alumni reflect on Boston Marathon bombing 10 years later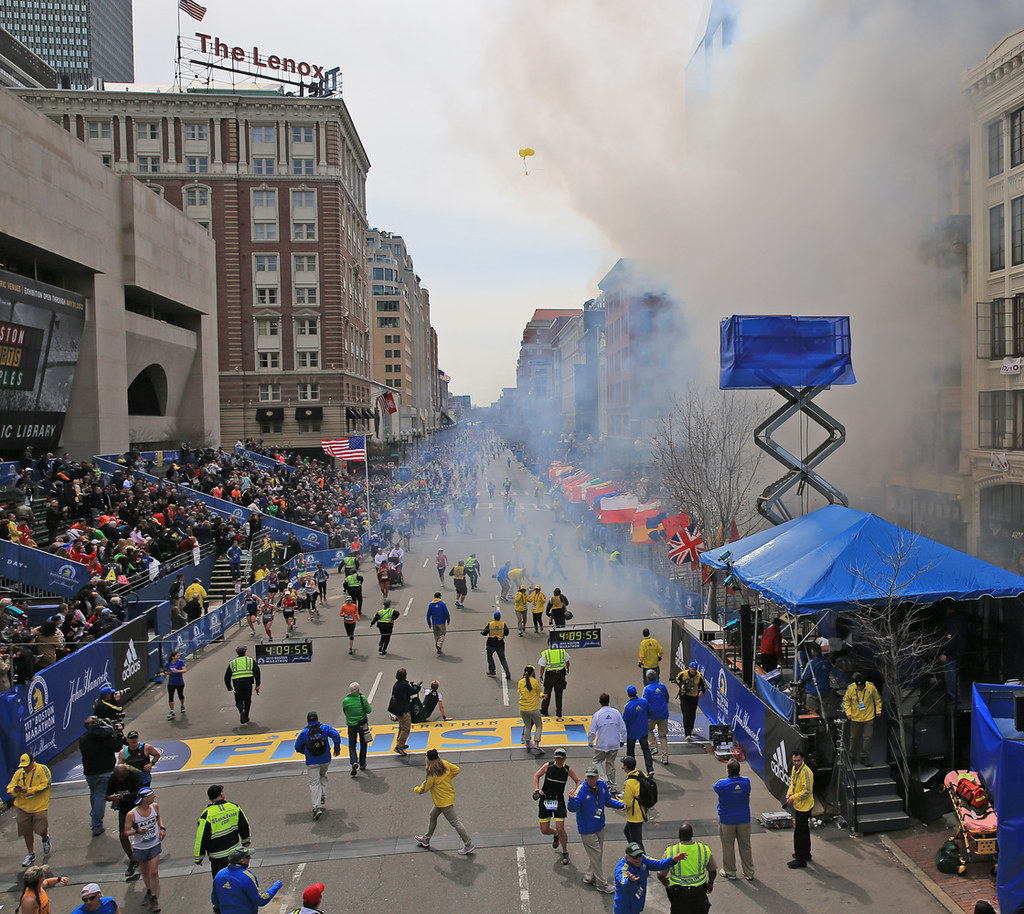 It was April 15, 2013. Thousands of runners sprinted down Boylston Street during the Boston Marathon on Patriots Day, usually a lively celebration in the city of Boston. 
At 2:49 p.m., everything changed. Two homemade pressure cooker bombs planted near the finish line of the marathon detonated 14 seconds and 210 yards apart. Screams erupted from the crowd. Shrapnel littered the street. Three people were killed in the attack, and hundreds others were injured. 
Over the following 101 hours, the Boston Police Department and the FBI conducted an unprecedented manhunt for the two suspects, putting the entire city in lockdown. When the perpetrators, Tamerlan and Dzhokhar Tsarnaev, had been apprehended, the city rejoiced. A surge of pride, unity and resilience filled Boston. 
Ten years later, vivid memories of the Boston Marathon Bombing still impact the victims, witnesses and first responders who were there. The News spoke with five Northeastern alumni whose lives were forever changed. Here are their stories, in their own words. 
The following interviews have been edited for length and clarity.
---
John Guilfoil '07 
In 2013, Guilfoil was the deputy press secretary to then-Mayor of Boston, Thomas Menino. He was standing at the corner of Exeter and Boylston Streets when the first bomb detonated.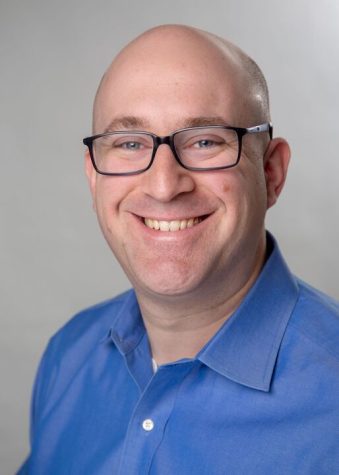 HN: Why were you there that day at the Boston Marathon?  
Guilfoil: I was actually off that day because Mayor Menino was in the hospital. He had actually broken his leg recently. So, I was there to watch some of my friends who had gotten numbers, and were running in the marathon and just trying to continue my tradition.  
HN: What happened when the bomb went off?
Guilfoil: I was standing with my girlfriend, who's now my wife. And all of a sudden, we heard a massive explosion to our left. And the weird memory of it is that it was an extremely loud noise, followed by a couple of seconds of silence, followed by the smell of gunpowder. It was a real clear smell that you never forget, almost smelled like fireworks or something like that. And it just left us bewildered, we thought. And before I could get my bearings, the second bomb exploded to our left. And at that point, it was obvious that we were in trouble.  
HN: What did you do after the bomb went off? 
Guilfoil: It was a very chaotic scene. I looked around a bit, and even though I had the day off, it was obviously over now. I need to get to City Hall because that's where I'm going to be needed. I had two phones in my hand, my work phone and my personal phone. I called the mayor's hotline, and some poor Northeastern co-op answered the phone in a cheerful voice. "Good afternoon, Mayor's helpline. How can I help you?" And I told them what had happened and who I was. I think I scared this poor student. Even the first news reports and social media reports were very unclear about what had happened. But I was there. City Hall was placed in lockdown. And I worked. I took over the mayor's Twitter account and the media calls from every local, state, international and national outlet in the world. I remained for about three or four days.
HN: Can you shed a little light on the aftermath? 
Guilfoil: For a long time, I was filled with an enormous sense of guilt that I wasn't helping people directly. It took me a long time to realize that the best thing I could do at that point was to inform people of what was going on. But it was very hard, and I haven't talked a lot about everything else that happened that day, but I remember the chaos. The silence was followed by this deafening amount of noise of everything going on at once. And we saw a woman covered in blood, walking, looking at her hands. We didn't know if it was her blood or not. We saw people crowded around both bomb sites trying to help injured people.
HN: If you could tell people one thing about your experience with the bombing, what would it be?  
Guilfoil: What I want people to know is that there were a lot of people that did a very good job during that day, who had a lot of different jobs. It reinvigorated why I chose to live in this city, because Boston came together in all walks of life. All neighborhoods, all races and all religions came together.
HN: How has this event shaped the rest of your life?
Guilfoil: It's been a major watershed moment in my life. It's a core memory. It's something that was a major turning point and chapter for me. It affected my ability to do my work for a while. I think it also led me to have to reimagine my own career a bit. So I think every good, bad, horrible and great thing you go through sort of leads you to where you are.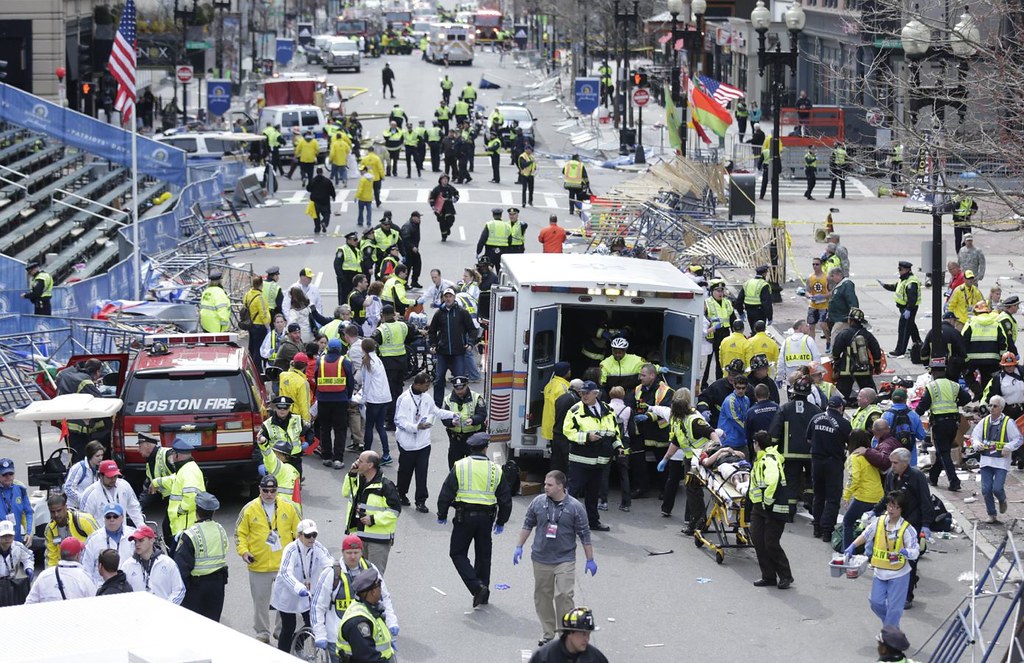 ---
Shores Salter '16 
When the bombs went off on Boylston Street, then-20-year-old Salter ran towards the smoke. He carried a stranger, Roseann Sdoia, to an ambulance and helped save her life. He's since maintained a close relationship with Sdoia, and Northeastern has established a citizenship award in his name.
HN: What happened when the bomb went off? 
Salter: Right before it went off, I was walking down towards the southern part of where the finish line was with a friend. The first bomb that went off was a little bit away from us, we didn't see anything, but we heard it, obviously. So we kind of just stopped, just like everyone did. Then, 12 seconds later, the second one went off, which was much closer, and was really just right across the street. And that one we saw, we heard, so we knew what it was. So that's kind of what got us to start running.
HN: What did you do after the bomb went off? What was your first move?
Salter: I was surprised, in shock and scared. Immediately, it was like a flight or fight-type mentality. So my friend and I started running away from the bomb. And then, after that, all the chaos was around us, and I kind of stopped. I took a second to look around and take in my surroundings, and see pretty much what was happening. And then we just ran.
HN: Tell me about the moment you saw Sdoia. When you saw her, what were you thinking and feeling?
Salter: From the moment I stopped and looked around, my friend and I immediately lost each other because everything was happening really fast around us. I found myself looking over everywhere at the carnage of the second bomb. I can't really put a finger on it, but something drew me over there. And so I ran around the guardrail, ran across the street and found Roseann. I just remember hearing Roseann's voice calling out for help, and that's what drew me over to her; that is what connected us.  
HN: Describe to me the scene that unfolded when you were helping her.
Salter: I asked if she was alright. She told me she was not. And that was a gut-wrenching response. I remember exactly what she said. And it was the moment, I think, where the reality of everything really hit me, because I was like, "Oh, wow, this is like, this is really happening." There really wasn't that much thought behind it, other than just in the moment, to save her. We're in a moment of carnage. We're right at the center of it. I needed to get her to a safe spot.
HN: Can you tell me a little about how you and Sdoia were connected, about that process and how you eventually found each other? 
Salter: We got separated after I helped her. So then from there, it was about two weeks until we were connected. That was probably the most difficult time for me personally throughout that experience, because I didn't know what had happened to Roseann. And the last time I saw her, she was in a really, really bad state. But I was doing my own due diligence, trying to sort through all the different articles and content around the bombing to try to piece a story that sounded like mine. One day, I was on the couch, and I got a text from a friend. Something was posted online, and it was a picture of me, and that kind of set off that process.
HN: How has this event shaped the rest of your life?
Salter: It was probably the most pivotal moment of my life. It changed it dramatically. Taking inspiration, as far as the mindset of forming a close relationship for Roseann and me, is probably the most predominant one that I think about each day. Not to sound like a fortune cookie, but life is short. Things can change. And I think that you do need to really embrace it.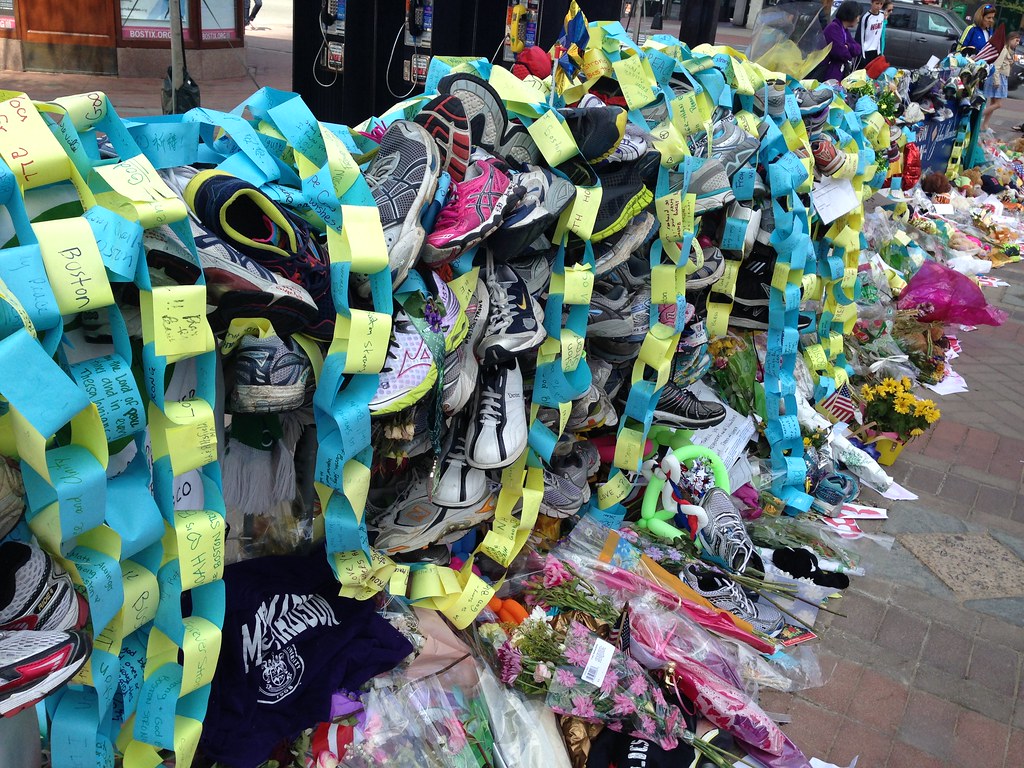 ---
Gina-Maria Garcia '15
Garcia, a journalism student, was at Dillon's Bar when she heard the first explosion reverberate down Boylston Street. That's when her journalistic instinct kicked in — she recorded interviews with runners and bystanders that were later published in The News.
HN: Why were you there that day at the Boston Marathon?  
Garcia: If you're a student at Northeastern, everyone looks forward to Marathon Monday because the whole city has Monday off, even school. So, it was normal for us to spend every Marathon Monday whether it was at the finish line, or at a local bar along the finish line.
HN: What happened when the bomb went off? 
Garcia: My memory of the event was [that] I was in the front bar, the Red Sox game was on and I was talking to one of my friends. And all of a sudden, we heard a big pop or boom. And my initial thought was, "Was that a gunshot?" And my friend said, "No, those were fireworks." And I remember being like, that's kind of weird. I kept talking to my friend, and then we heard it again. I remember being like, this doesn't feel right, and then all of a sudden, the Red Sox game just turned into the news, and they were showing footage of the scene of the crime. And I remember telling my friends, "We have to go, we have to go." 
HN: What was your immediate reaction when it happened?
Garcia: I remember everyone was very confused. They didn't really understand what was going on. But I was a journalism student at the time and my journalism instinct just kind of kicked in. In this particular situation, I knew it was something that had to be documented. I remember seeing some people had blood on them.
HN: You had an instinct to pick up your phone and record. What compelled you to do that?
Garcia: I always took photos of everything I was doing. It's truly documenting a piece of history, which is incredibly important. As a journalist, it's our duty. I remember I think I had like an iPhone 4, it was grainy photos and stuff.  I remember some of my friends were like, "This is not the time or place, put your phone down," because they weren't journalism students. And I was just like, "I'm going to record this, this is history." I don't regret recording and doing that. I instinctively knew that this was a historical moment.
HN: How did you reflect and grieve upon the event after the fact?
Garcia: The Boston bombings were such a significant event in my life because I experienced so many emotions with this. When it happened, there was confusion and chaos. And then the whole city was locked down. We were watching the chase go on and when they finally captured suspect number two, there was an overwhelming feeling of camaraderie and unity in the town. I could honestly say that from that whole experience, I had never felt more proud to be a Boston resident. I think that in any kind of traumatizing event, there is some sort of silver lining and for me, it was that sense of community and feeling safe after.
HN: How has this event shaped the rest of your life?
Garcia: When I think back on it, I think about the aftermath and how the community came together. I feel very proud to be associated with the city of Boston, and I think it's powerful to see how Boston came back stronger after that.
VIDEO
:
Northeastern students celebrate on Hemenway Street after Dzhokhar Tsarnaev is apprehended. Courtesy Gina-Maria Garcia.
---
Jim McGrath '14
McGrath was cheering on runners in Brookline, about a mile away from the finish line, when tragedy struck. Moved to action, he launched Our Marathon, a crowd-sourced remembrance project in partnership with WBUR, Northeastern Archives and Boston City Archives.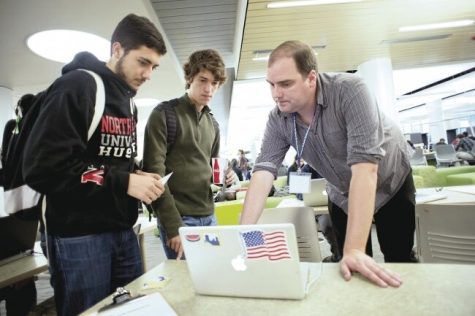 HN: Can you describe what the scene was like when the bomb went off?
McGrath: I was watching in Coolidge Corner, so that's about a mile away from the finish line. When it happened, we actually were the ones that had to be like, "Turn on the TV." If you talk to people who were living here at the time, it was a pretty intense week because they had to search for the suspects. It kind of reminds you of how small and kind of interconnected Boston can be. Everybody kind of had either an immediate connection to the marathon that year or like one or two degrees removed from it.
HN: What was your immediate reaction and the reaction of the people around you?
McGrath: There was this kind of emotional aftershock, you know, psychic aftershock that really messes with people and went on until the summer. Nobody had really been by the finish line since this happened. There was still something lingering in our heads about the discomfort that this caused, it did have these kinds of aftershocks, rippling effects on everybody in the city.
HN: What made you want to do the project on the marathon, and what was its purpose?
McGrath: This is clearly a big moment in the recent history of Boston, and where does this stuff go? It's a heavily reported thing, there was a lot of media coverage. But what about all these smaller stories? What about the neighbors in Watertown? What about the people who were displaced because of the uncertainty around it? So we got really interested in the question of, what's the value of sharing these stories and creating a space where people can see other people's stories and think about the impact? We hired world historians who are professionally trained, and what they did was they started to identify clusters of people who had compelling things to share. We shared that on the website so people could still see it. All this work culminated with the one year anniversary, and there was an event at the Boston Public Library in Copley Square, which was right by the finish line, where they had a physical exhibition.
HN: How did being at the marathon during the bombing affect you?
McGrath:  If the topic comes up, everybody has a story about where they were. People who were in the immediate vicinity have a very specific relationship to the marathon. It was a very traumatic experience for them, a violent experience in a lot of ways. In Boston, it was really interesting to see how many people were really trying to be there for each other, and also kind of acknowledge the severity of this. It does make me think about archives and how to tell stories about these events. Not just for the historical record and for the researchers, but also just for people who are just curious.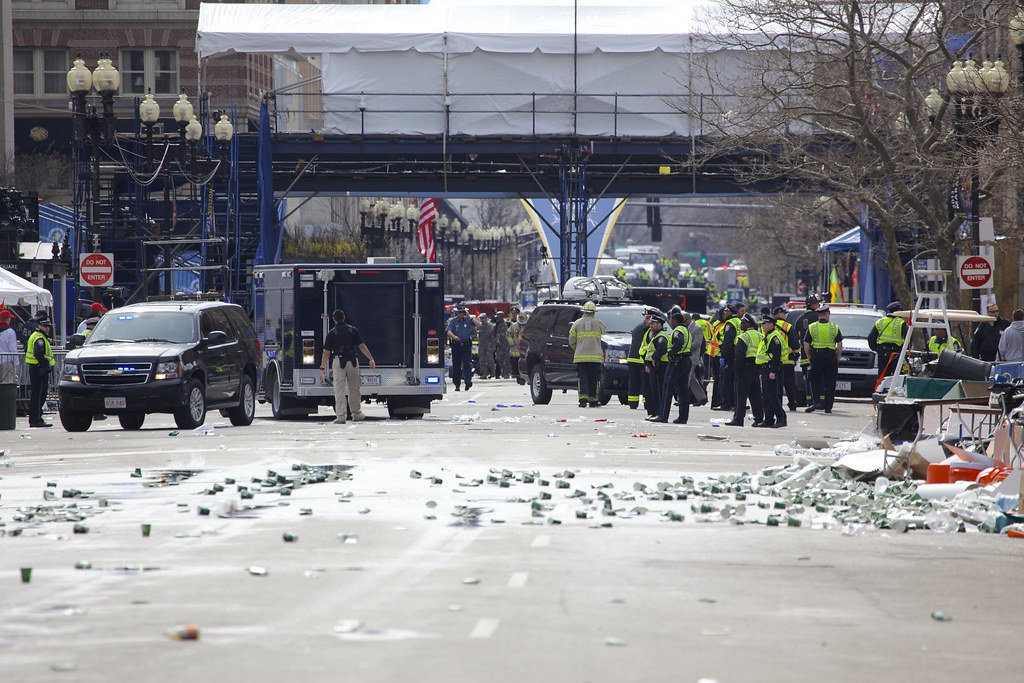 ---
Andy Robinson '15
Robinson was studying in Snell Library when he heard the news about the bombing. In the following week, he documented the aftermath and then-President Barack Obama's visit to Boston in photos for The News and NU Political Review. 
HN: What happened when the bomb went off?
Robinson: Everyone was just like, all of a sudden, on their phones. I'm seeing the New York Times notification, and you're just frantic for more information because it was so close. Like, you can just feel the intensity sitting in that library that day. I just went to a friend's place and followed the news as it happened. When we left the library, you could hear the sirens, hear the helicopters, hear the energy of that. So that was surreal for sure. Then, it got crazier. They locked everybody down for a week during the manhunt because you weren't allowed to leave your dorms, really, at all. We were just camped out for a week, just kind of listening to police scanners that we found online.
HN: Tell me a little about the photos you took.
Robinson: The memorial happened a couple of days later. Obama was speaking, and I wanted to go. I got there early in line, but so many people were there, both from the neighborhood and even high-profile people, too. I just wanted to go. It just felt like the right thing to do. And I got some photos of that experience, all the memorial stuff and one picture of Obama. It felt very Boston. Some people were wearing Tom Brady jerseys to a memorial service, which was kind of fun. It just shows you the character of the city. 
HN: How did the people of Boston respond to such a tragedy?
Robinson: There was so much unity. I remember when David Ortiz said, "This is our fucking city." I'm not from Boston, but it was incredible to see when everyone came out supporting one another. It was a very positive thing. People felt closer and united, and that was so great to see. 
HN: How has this event shaped the rest of your life?
Robinson: That feeling I had that day never goes away when I am on Boylston Street. You feel that tragic energy.