New show immerses audience in temp worker's life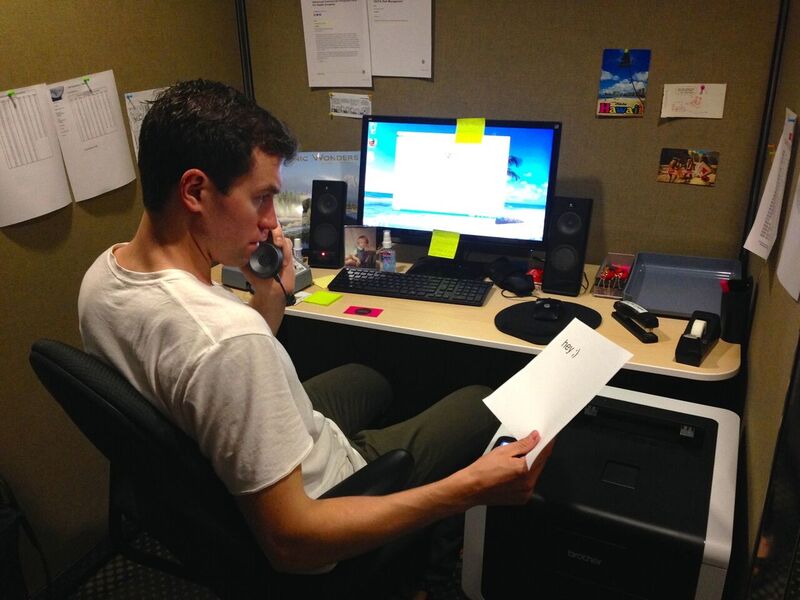 By Priya Amin, news staff
American Repertory Theater (ART) will be presenting "temping," an interactive theatrical work designed for a single audience member. The audience member uses a Windows PC, a corporate phone, a laser printer and the Microsoft Office Suite to play a temp for 53-year-old Sarah Jane Tully as she takes a long-awaited vacation from her job.
The creator, Wolf 359, a narrative group with expertise in technology, began the piece by trying to create a work using technology, without actors.
"General traditional theatre doesn't involve any activity from the audience at all," said Asa Wember, sound designer for Wolf 359 and one of the creators of the show. "The audience is a passive spectator and sits back and experiences what the creators deliver to them. It's a one-way pipeline. Here, we do exactly the opposite."
The show will be part of "The Mini Series," which is composed of works designed for small audiences, on ART's Oberon stage in Harvard Square.
ART uses the Oberon stage to experiment with new projects. This show is different from traditional theatre in many ways, requiring the audience member to become a character in the setting and create the story on their own.
"We're interested in how audiences put things together in their own minds and how they suspend their disbeliefs and imagine certain stories," said Michael Rau, director of Wolf 359. "I think that's what's interesting and significant about this piece. It moves the art form forward so that you don't need a live actor in front of you."
The creators hope the audience will learn about how large corporations and businesses work through this piece. They want people to imagine how seemingly ordinary lives may be more complex than they seem. It highlights how deeply capitalism is intertwined with mortality, Rau said.
Representatives of Wolf 359 said they did a lot of research when creating "temping" to make sure cubicles, numbers, data and everything in the workplace seems realistic and true to life. The group also incorporated actuarial science, a subject related to approaching risk business world.
"One big idea we want people to look at is how capitalism works, how labor works and how it intersects with our own mortality," Rau said. "Understanding how corporate America can tell how long people have left to live and that it's real people's jobs to calculate your life expectancy and they know how long you're going to live is kind of crazy."
Wolf 359 has worked with ART before. Its work "Song of a Convalescent Ayn Rand (Giving Thanks To the Godhead in the Lydian Mode)" was also performed at Oberon.
Both groups were excited to work with each other again. Rau said ART is always very supportive of their artists and always willing to take risks. He said he imagines not many other theatre groups would have been as inclined to give space to a show meant for one audience member at a time.
"They're [Wolf 359] an extremely creative company in the way that they use technology and in the kind of stories they want to tell," said Emma Watt, the programming manager at Oberon.
Watt said one of ART's missions is to push against and to expand the boundaries of theatre, which Diane Paulus, artistic director, often emphasizes. Watt said another reason "temping" was chosen was because it can offer audiences a greater sense of adventure in their own life and capture people on a personal level.
"I think 'temping' is [a] really special show because it takes mundane activities that those who work in offices experience all the time and gives them an added significance and a greater sense of meaning," Watt said.
Wolf 359's "temping" will run until March 19. Tickets are available on ART's website, but have limited availability. Student tickets are available at a discounted rate of $15, with valid ID.
Photo courtesy American Repertory Theatre