Event Calendar: Nov. 6-12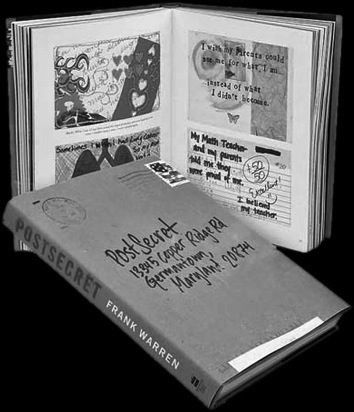 Hang on for a minute...we're trying to find some more stories you might like.
By Rowena Lindsay, deputy inside editor
Entry of the week: Thursday, Nov. 6
See Frank Warren, founder of popular blog PostSecret, give a talk at Boston University, hosted by the Active Minds organization. PostSecret, a community mail project, allows people to anonymously share secrets with Warren, who publishes a few of the secrets on his blog PostSecret.com, every Sunday. The project supports suicide prevention and awareness efforts, and is an attempt to spread the message that no one is ever really alone with their secrets. His presentation will include a discussion of his book and a chance for members of the audience to share their own stories. Tickets are available on eventbrite.com and will include a copy of the coffee-table book "The World of PostSecret." 871 Commonwealth Ave., Rm 129; 7 p.m.; $20.
Friday, Nov. 7
Learn the ins and outs of the music industry at a workshop this Friday at Mmmmaven, a music production school. Called Re-imagining the Music Industry, the event will be hosted by drummer Kiran Gandhi. She has toured internationally with M.I.A., worked for Interscope Records as a data analyst, is currently getting her MBA from Harvard University and is committed to the creation of a more inclusive music industry through collaboration. The class is intended for musicians and DJs looking to expand their target audience. It uses business school topics, such as the blue ocean strategy and human-centered design, but applies them to the music industry. 614 Massachusetts Ave., Cambridge; 7 p.m.; free.
Saturday, Nov. 8
If one of those "your e-bill is now ready" emails has got you feeling down, then you will probably be able to sympathize with new musical "Nickel and Dimed." Based on the book "Nickel and Dimed: On (Not) Getting By in America" by Barbara Ehrenreich, the show gives a voice to the many Americans struggling to make ends meet. Despite having a Ph.D. in cellular immunology and a successful journalism career, Ehrenreich took on the persona of a low-wage employee by going undercover and working in low paying jobs. The book, a best-seller, was adapted for the stage by playwright Joan Holden. Tickets are available for a reduced price at goldstar.com. Trinity Episcopal Church; 131 West Emerson St., Melrose, 8 p.m.; $8.50.
Sunday, Nov. 9
Now that the first snow has fallen, it's officially time to get in the holiday spirit. See the timeless and tragic love story "Swan Lake" performed by the Boston Ballet this Sunday. Swan Lake is composer Tchaikovsky's first ballet and is considered by some to be one of the best classical ballets of all time. It tells the story of Odette, a beautiful girl who has been turned into a swan by an evil sorcerer, and Prince Siegfried, who tries to free her. The new production was choreographed by Mikko Nissinen, who drew inspiration from original Swan Lake choreographers Marius Petipa and Lev Ivanov. Robert Perdziola, who was nominated for the 2008 Helpmann Award, created the costumes and sets for the show. Boston Opera House; 539 Washington St.; 1 p.m.; $29.
Monday, Nov. 10
Learn about Amanda Palmer's new novel "The Art of Asking" at a midnight release party at Porter Square Books this Monday. Palmer is the lead singer and pianist of The Dresden Dolls, a punk rock duo based in Boston. The book is part manifesto, part memoir and focuses on Palmer's experiences with crowdfunding – asking her audience for everything from couches to sleep on while on tour to raising money on Kickstarter to record her new album. Throughout the book she discusses her journey and becoming aware of the fact that she is not alone in life, and can ask for help. During the event, Palmer will give a talk, sign books and perform her songs. 25 White St.; 10 p.m. – 1 a.m.; free.
Tuesday, Nov. 11
WBUR's new comedy series "Serious Fun" is kicking off Tuesday night with an evening of stand-up by Ophira Eisenberg, who recently released her second comedy album "BANGS!" The New York Times describes her comedy and storytelling as "bleakly stylish," and she has earned a number of local and national accolades. Boston audiences know her from her live appearances as the host of "The Moth Mainstage" with WBUR, but she has also hosted NPR's hit trivia show "Ask Me Another," appeared on The Today Show and Comedy Central and was chosen as one of New York Magazine's Top 10 Comics that Funny People Find Funny. Oberon Theatre; 2 Arrow St., Cambridge; 9 p.m.; $20.
Wednesday, Nov. 12
Living on the road is not just for the recluse Jack Kerouac types, but a reality that touring musicians face for months on end. The lifestyle is documented in a new exhibit at the Nave Gallery in Somerville. Called "I've Been Everywhere Man," the exhibit focuses on how fans elevate musicians as heroes, despite the fact that they have lived through unromantic conditions to achieve fame. This Wednesday, the gallery will host a panel of musicians including Dan Blakeslee, Laura Cortese, Will Dailey, Ward Hayden, Nicholas Ward and Brian Webb, who will discuss their personal stories of touring and living on the road. The panel will start at 7 p.m., while the gallery itself is open from 6 to 9 p.m. 53 Chester St., Somerville; 7 p.m.; suggested $5-10 donation.
Photo courtesy PostSecret Community, Creative Commons