Events Calendar: Jan. 29 – Feb. 4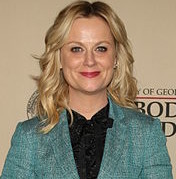 Hang on for a minute...we're trying to find some more stories you might like.
By Alana Dore, deputy inside editor
Event of The Week: Thursday, Jan. 29
Amy Poehler, comedian, producer, writer, author of a New York Times Best Seller, "Yes Please" and Golden Globe Award winning actress is coming to town. Poehler, who is currently starring as Leslie Knope in the last season of "Parks and Recreation" and hosts and produces her own award-winning online series, "Smart Girls at the Party," will be receiving this year's Woman of the Year award from Hasty Pudding Theatricals. Established in 1951, the Woman of the Year award is given to performers who have made a substantial contribution to the world of entertainment. The festivities will begin with a parade through Cambridge, led by Poehler, followed with a celebratory roast and the presentation of the Pudding Pot at Farkas Hall in Harvard Square. There will be a press conference to follow and a performance by this year's Hasty Pudding cast members' 167th production, "¡Oops!… Madrid it again!" 12 Holyoke Street; 2:45 – 5 p.m.; free.
Friday, Jan. 30
Brown Box Theatre presents, for a two weekends only, "Echoes," a play in two acts written by N. Richard Nash in 1973. Nash is remembered, almost solely, for his creation of "The Rainmaker in 1954, which was then turned into a movie with Katherine Hepburn. This show is about a young man and woman, Sam and Tilda, who search to determine the truth about their lives while falling in love despite being patients at an insane asylum. The three-person cast brings the play to life under the direction of Kyler Taustin. 290 Congress Street; 7:30 – 9:30 p.m.; free.
Saturday, Jan. 31
Prepare for Super Bowl Sunday with the 7th Annual Some Like it Hot – Chili Cook-off. Some of Harvard Square's best restaurants will be providing chili samples in front of Crema Cafe in Deguglielmo Plaza. Past winners of the cook-off include Redline in 2011 and Tory Row in 2010. The public is invited to grab some chili, cast its vote for the best and enjoy the free musical entertainment. Maybe you will head home with some new ideas for your own Super Bowl party. 27 Brattle Street; 1 – 2:30 p.m.; free.
Sunday, Feb. 1
If you still have the energy to venture out after the Patriots play the Seahawks in Glendale, Ariz.  hit up Zuzu Bar for The Ranger Zone comedy variety show. The night features stand-up from Gary Peterson, Tawanda Gona, Rob Crean and more. The night will also include a Punch and Judy puppet show from Puppet Master Jake aka Jake Schachter, a performance by Jady Sylvan, who The Boston Globe called a "risqué queer icon;" and comedian Dennis Hurley, recently featured on Comedy Central's Daily Show. 474 Massachusetts Ave.; 10 p.m. – 1 a.m.; free.
Monday, Feb. 2
Celebrate Black History Month this week at The African American Experience: Nourishing the Soul Through Music and Food. The night will feature musical performances by Jah Jah Drummers and Caribbean percussionists, food tastings and a panel discussion with guest speakers, including culinary historian Jessica Harris, Ph.D., Northeastern University associate professor Leonard Brown, Ph.D., and Babson professor of history Frederick Douglass Opie, Ph.D. 120 Tremont Street; 6 – 8 p.m.; free.
Tuesday, Feb. 3
This Tuesday night, Jamie Cullum, jazz and pop vocalist, will perform at the Berklee Performance Center. Cullum is known for his ability to reimagine top hits and classic standards, blending songs across different genres and providing listeners with unexpected, modern twists. He was recently signed to the iconic Island Records label. Cullum is the most successful U.K. jazz artist ever having a sold over 10  million records world-wide. His latest album, "Interlude," was created in collaboration with producer Benedic Lamdin of Nostalgia 77. 136 Massachusetts Ave.; 7:30 – 10 p.m.; $40.
Wednesday, Feb. 4
The French Cultural Center is debuting a new gallery of work by celebrated Hungarian photographer Béla Kalmann. Kalmann owned and ran Studio 350 on Newbury Street for over 25 years. The gallery contains the sixteen surviving images from his travels through France in the '60s and '80s. There will be complimentary food and drink at the opening reception on Wednesday. The exhibit will remain free and open to the public until March 2nd. 53 Marlborough Street; 6:30 – 8:30 p.m., free.
Photo courtesy MyCanon creative commons